Blog Menu
You Can Teach Percussion (Even if You Don't Play)
By Chris M. Bernotas | October 22, 2018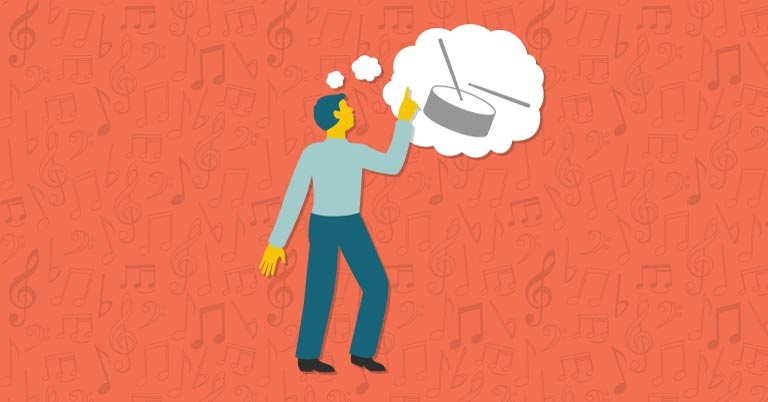 As a teacher, it has always been important to me to do my best to prepare for lessons with all students in my ensemble regardless of the instrument, or my primary instrument. There is a lot to learn about every instrument and as a life-long learner, I still get excited to discover new things about all things music! With percussion specifically, I have always felt that those students can easily be overlooked, maybe because they are way back in the room, but after many years of teaching, I have also come to realize that some teachers may not feel prepared or are intimidated when teaching percussion—especially as a non-specialist. Fun fact—my primary instrument is trumpet!
Here are five thoughts to consider when approaching percussion students and lessons.
1. Have Confidence
Have you ever heard the phrase, "Fake it til you make it?" I share this tidbit of wisdom with students often. What I mean by it is not to actually pretend you have the knowledge (or that you can really play that hard piece) but to approach it (whatever the task) with confidence. What it means to me is: Be confident. Own it. Stand tall. Speak clearly, and carry yourself with pride. You are a professional and are going to do a fantastic job with your percussion students, it starts with you believing in yourself.
2. Be Prepared
Now that you have the "faking it" part down to a science, work toward the "making it" part. It starts with preparation. One of the top priorities Dave Black and I had when writing Sound Percussion was to make sure that we were providing a resource that helps support teacher understanding of percussion specific skills. In other words, prepare by doing some personal study. Examine each student book from Sound Percussion and watch the videos available on SI Online. Once you see how the skills progress and watch the demonstrations of the exercises, you will be well on your way to "making it."
3. Plan Ahead
When students come for a lesson, either as a group or individually, it is important to have a clear plan. In other words, don't wing it. I advocate sharing that plan with students as well. When they know the goals of the lesson they feel more involved in the process. In one of my recent percussion lessons, goals were to reinforce the proper mallet grip and to begin building student confidence with their mallet note reading. We were approaching exercises 1–19 (see the sample below) from Sound Percussion, which only introduces the notes F, G, and A using a variety of rhythms from quarter notes through whole notes. It was really fun and even students with experience found it challenging and rewarding. Because my students knew the objectives of the lesson, they were focused and goal driven. They knew I had a plan.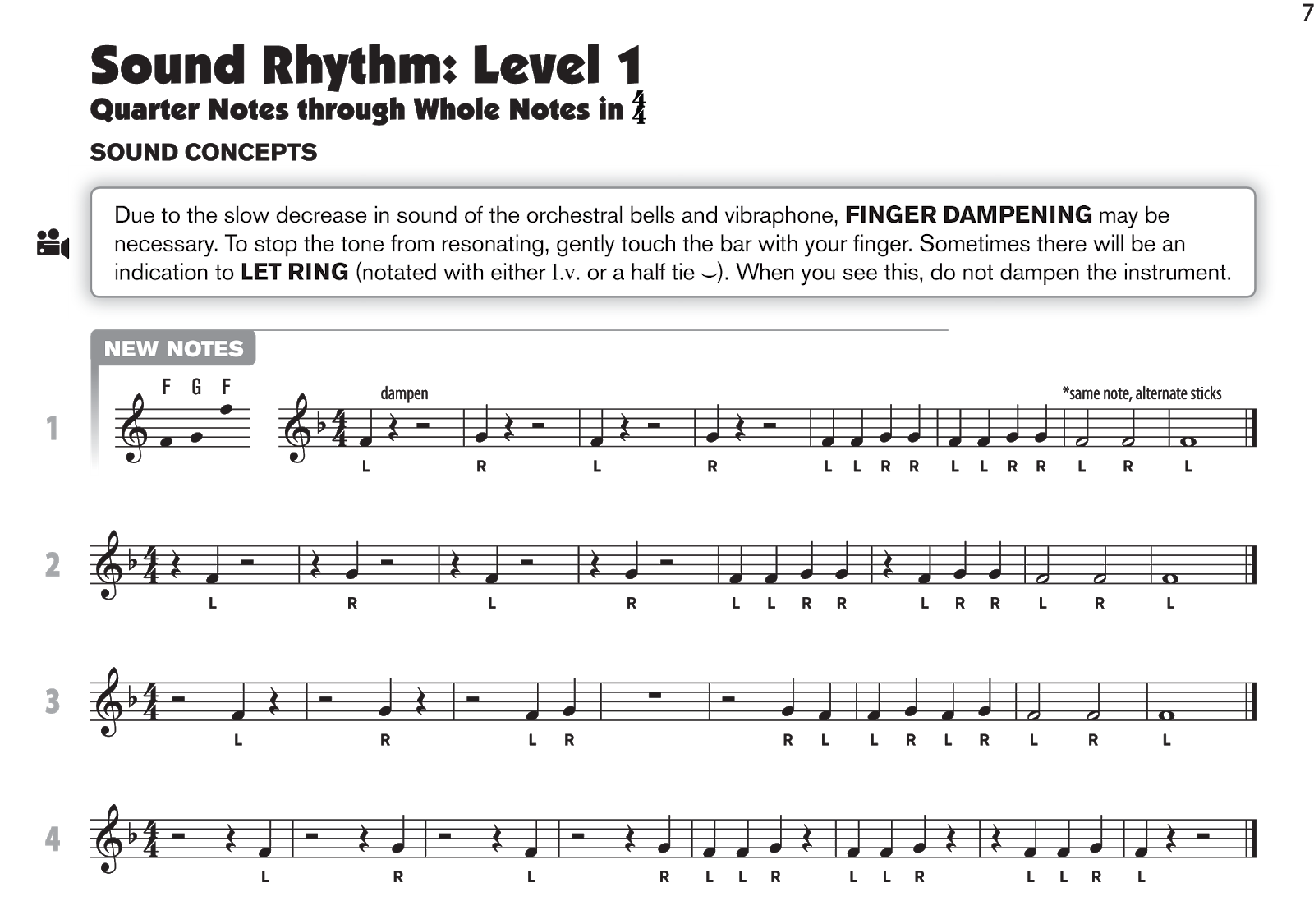 4. Work on Your Own Skills
Another step toward "making it" is for YOU to spend some time practicing percussion. I love when students can perform better than me, it is exciting and I cheer them on. With that said, over the years I have worked to develop my own skills in percussion. I always felt it was important to be able to demonstrate how to produce a good sounding roll, both open and closed. I remember being unsure of what to tell a student to do when they saw a snare drum roll at 60 beats per minute. So I asked one of my percussion guru friends (having a network of experts is incredibly important!), and learned myself what to do. If you aren't sure, check out Sound Rolls, Level 6 in Sound Percussion. If you aren't ready to debut your mad percussion skills, keep working on it and use the available videos to help. In fact, practice with your students, I bet they will cheer you on!
5. Have Respect
I like jokes. Jokes are funny. There are a couple of trumpet player jokes that are funny—you know the one about how many trumpet players does it take to change a lightbulb? With that said, I would encourage you to treat your percussion students with respect; don't make them the punchline of every joke. Also, percussion students aren't in your class to be kept busy or out of trouble. Involve your percussion students in class discussions—even when talking about tone, tuning, balance, and emotion. Percussion instruments have tone that can be influenced by the player. Percussion students need to focus attention and think about balance, blend, and tuning just like the rest of the ensemble. They need to warm up as part of the ensemble, not only get ready for the first piece. Treat them as the valuable contributing students that you know they are.
With the right resources, desire to learn, preparation, and planning, you will go from faking it to making it in no time. You will be just as excited for your percussion lessons as they are to learn from you!
---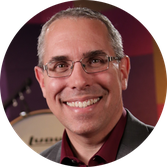 Composer, conductor, clinician, and educator Chris M. Bernotas (b.1969) earned a Bachelor of Music degree from William Paterson University and a Masters in the Art of Teaching from Marygrove College. As Director of Instrumental School Methods and Repertoire for Alfred Music, he draws upon his 28-year experience as an instrumental music teacher in New Jersey, and brings an energetic and enthusiastic approach to the world of music education.
View Author Page
Want More? Don't miss a beat!
We're passionate about providing music educators with teaching solutions. Sign up to get inspiration delivered to your inbox!
Stay Updated
Want to get the latest updates and special offers from Alfred Music?