Blog Menu
Saline Fiddlers Philharmonic Spotlight: 25 Years of Music and Community
February 13, 2019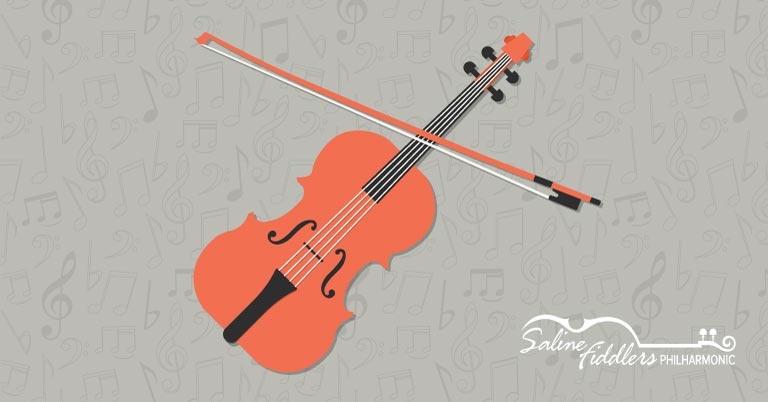 The Saline Fiddlers Philharmonic is America's premiere youth fiddling show band from in Saline, Michigan. The group was established by Bob Phillips with the goal of introducing an alterntaive style of music education to public school students in an effort to maintain and expand their interest in music performance. Twenty-five years and over 1,500 performances later, the group has grown into a model of instruction and motivation being emulated across the country. We recently spoke with the group's Artistic Director, Ashley Grebe, to learn more about their history, secrets to success, and to seek advice for other directors hoping to create or expand on extracurricular music programs.  
How did the Saline Fiddlers Philharmonic get started, and how has it grown over the years?
The Saline Fiddlers have a rich history that began in 1994 when Bob Phillips, the then orchestra director at Saline High School, formed an extracurricular group devoted to American fiddle music. The intent of such project was to introduce an alternative style of playing to his students to further enrich their musical experience and love of performing.
The initial response was so positive from both the students and the community that the Saline Fiddlers Philharmonic was born and remains a point of pride for Saline after 25 years of music. Over the years, steady growth has allowed SFP to bring its unique brand of fiddle music to audiences locally, across the country, and internationally. With this growth, the structure of the group evolved from an extracurricular activity operating out of the Saline Schools to its current status as an independent non profit organization. The reputation of SFP grew as a model for alternative musical education, inspiring the creation of other such ensembles across the US and Canada. The SFP of today draws on the rural history of Saline by performing American traditional fiddle music, but has also grown to embrace fiddle and folk music from other regions and genres to create an eclectic mix of music. Students and staff remain committed to keeping the history of the group alive, while keeping it relevant for current and future generations of Fiddlers and fiddle fans.
What has made this program so successful?
The secret to SFP's success is absolutely the Saline community. As a relative newcomer to Saline (I've been the Artistic Director since early 2016) I was astounded by the community's love and support of this program. Once I saw the force that was behind this organization, I understood just how it has flourished for so many years. I've heard from many community members in Saline who have memories of first hearing the Fiddlers and how the group inspired them to love a new kind of music, play an instrument, or simply become involved in the world of folk music in some way. This spark of passion and excitement for this music is what has kept the group going through the years.
How do you receive support to keep the program running?
The community is incredibly supportive of the program. This is the biggest driving force supporting SFP. Our Fiddler parents spend countless hours volunteering their time to keep the organization running efficiently. Parents do everything from booking gigs and feeding the group at shows to live sound engineering and equipment management. These volunteer efforts help keep our operating costs manageable. Generous support from the Saline Area Schools and Community Education programs gives us the gift of rehearsal and performance spaces for our weekly rehearsals. Student tuition and and performance fees from our shows are create the bulk of our operating budget, but fundraising is also key. Each year our parent volunteers run a fundraising campaign as well as a large-scale fundraiser event (this year, the Ricky Skaggs collaborative show at the Michigan Theater). Smaller events throughout the year such as rummage sales, can drives, and CD sales help us support the program as well.
What can audience members expect from a typical Saline Fiddlers Philharmonic performance?
A lot of energy! Our Fiddlers have fun on stage, and it's impossible not to have fun when watching them! Fiery fiddle playing, melodious vocals, and whirling step dancers make our shows energetic and entertaining. There is a lot of variety on a typical SFP set—you could hear a bluegrass tune followed by a Celtic tune, maybe a cajun song, and a klezmer dance. Come ready to dance, clap along, and have an unforgettable time!
What advice would you give to other directors who want to take their ensembles to the next level?
In many ensembles, the students are a wealth of passion, creativity, and talent to fuel the program. As a director in a group like this, it is equally as important to be a strong leader as it is to empower students to take ownership of their group. Collaborative musical ensembles should always be platform to express and cultivate ideas and opinions. To create a supportive atmosphere that benefits from student contributions, directors must promote creativity and freedom to make choices, work through ideas, and give input. Student-led activities such as sectionals, mentoring younger students, recruiting and auditioning new members, arranging tunes for a group, busking, and creating sets for shows are all ways that SFP students are hands-on behind the scenes. Of course, there's a delicate balance in all this that will be unique to each group, but striving for this balance will ultimately enrich your students' connection to the group and move the ensemble forward in a meaningful way.
What advice would you give to other directors who want to start their own community ensembles?
It's important to find a balance between what you yourself are passionate about and what your students/participants and community are passionate about. This balance is what will ultimately make your ensemble stand the test of time. What is it about the ensemble you want to create that will benefit your students and community? Is there a specific need to be filled in the community or in the musical curriculum? How can your ensemble fill these needs? These questions can help guide you to a clear mission and goal for your ensemble, giving it the value and support that it needs to flourish.
The Saline Fiddlers Philharmonic will open for Ricky Skaggs and Kentucky Thunder in a benefit concert for the Saline Fiddlers. The show will be at Michigan Theater in Ann Arbor on May 25, 2019. 
---
Want More? Don't miss a beat!
We're passionate about providing music educators with teaching solutions. Sign up to get inspiration delivered to your inbox!
Stay Updated
Want to get the latest updates and special offers from Alfred Music?