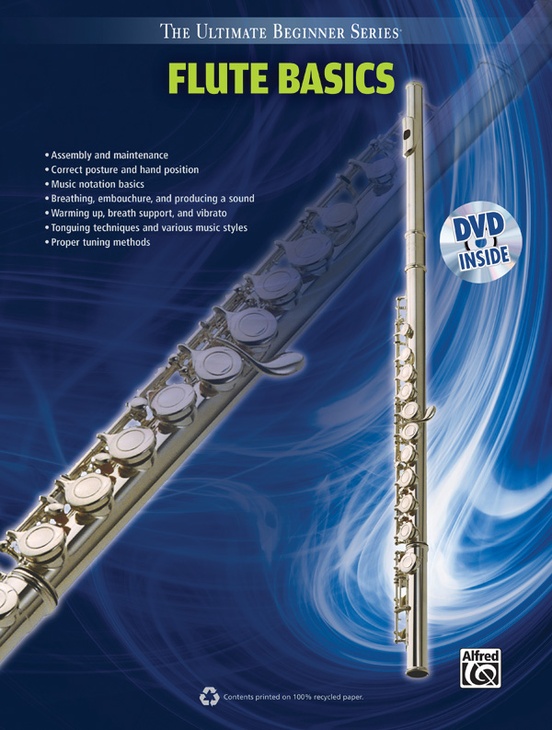 Ultimate Beginner Series: Flute Basics
By Elisabeth Rowe
Flute Book & DVD
Level: Beginner
Item: 00-39597
Add to Cart
Add to List
Share
---
Description
The Ultimate Beginner Series has helped thousands of aspiring musicians begin experiencing the fun of playing music in the simplest, most direct manner possible. This book and DVD set is perfect for beginning students, those changing from another instrument, or as a refresher course for players returning to the flute after many years. Your instructor cuts right to the simple concepts you need to begin playing. You will learn all the basics of holding the instrument, using your hands to finger notes, tuning your instrument, and reading music. The step-by-step explanations, photographs, diagrams of every concept, and the correlating DVD, make this book a must-have for anyone learning to play flute. When you are finished with this book and DVD, you will have the solid fundamentals needed to successfully play the flute.
---
Contents
Title
CONTENTS
INTRODUCTION
VOLUME 1
THE PARTS OF THE FLUTE
BREATHING
FORMING THE EMBOUCHURE
Producing a Sound
SET-UP AND ASSEMBLY
The Left Hand
HOLDING THE INSTRUMENT
The Right Hand
Important Tips for a Good Hand Position
CORRECT POSTURE
BASIC MUSIC THEORY
Music Notation
Notes
The Staff and Clef
Note Names
Measures and Bar Lines
Note Values
Rest Values
Time Signatures
Ledger Lines
Accidentals
Key Signatures
PRODUCING THE FIRST NOTES
The Note F
The Note G
Important Tip---Hyperventilation
Rhythm Review
The Note A
Three Songs with F, G, and A
CARE & MAINTENANCE
Taking the Flute Apart
Swab the Inside
The Note B-Flat
VOLUME 2
LEARNING MORE NOTES
The Note C
The Note D
The Note E
The Note High F
An Octave
F Major Scale
More About Rhythm
Ties
Dots
Multiple-Measure Rests
Articulations
Dynamics
The Road Map
Tempo Markings
WARMING UP
PLAYING WITH SUPPORT
Helpful Tip---Hiss!
TONGUING
TUNING
Important Tips
VIBRATO
Important Tips
CONCLUSION
ADDENDUM: HALF STEPS AND WHOLE STEPS
The Chromatic Scale
FLUTE FINGERING CHART
---
---
Stay Updated
Want to get the latest updates and special offers from Alfred Music?