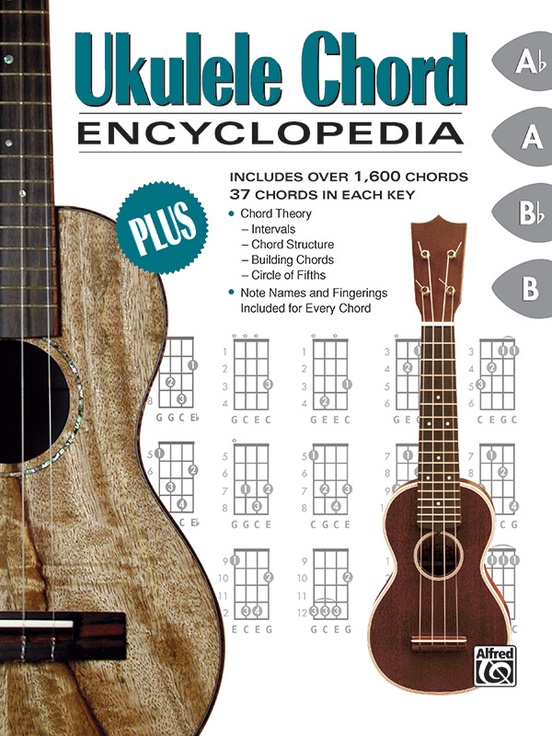 ---
Description
Ukulele Chord Encyclopedia is a practical, easy-to-use chord dictionary. Chords are listed alphabetically and chromatically for quick reference. On each page, chord variations (different fingerings and positions of each chord) are arranged in a logical order---beginning at the bottom of the ukulele neck and progressing to the top of the neck. This helps facilitate locating the chords in different positions over the entire fretboard. The Chord Theory chapter makes it easy to understand intervals and how chords are constructed. A complete fingerboard chart is included, along with a listing of major and minor scales in every key. This book gives you everything you need to expand your ever-growing chord vocabulary, and also helps you understand ukulele chord theory and construction.
---
Contents
Title
CHORD THEORY
Intervals
Basic Triads
Building Chords
Incomplete Voicings
A Note About Keys
READING CHORDS
Chord Symbol Variations
Chord Frames
CHORDS
Major
Minor
Diminished
Augmented
Fifth
Major Suspended Fourth
Major Sixth
Minor Sixth
Major Seventh
Seventh
Minor Seventh
Minor Seventh Flat Fifth
Diminished Seventh
Seventh Suspended Fourth
Major Add Ninth
Major Ninth
Ninth
Minor Ninth
Sixth Add Ninth
Minor Sixth Add Ninth
Minor Major Seventh
Minor Ninth Major Seventh
Eleventh
Minor Eleventh
Thirteenth
Flat Fifth
Seventh Flat Fifth
Seventh Augmented Fifth
Major Seventh Flat Fifth
Seventh Flat Ninth
Seventh Sharp Ninth
Seventh Flat Ninth Augmented Fifth
Ninth Augmented Fifth
Ninth Flat Fifth
Ninth Sharp Eleventh
Thirteenth Flat Ninth
Thirteenth Flat Ninth Flat Fifth
SCALES
Major
Natural Minor
Harmonic Minor
Melodic Minor
UKULELE FINGERBOARD CHART
---
Additional Information
| | |
| --- | --- |
| Instrument: | Ukulele |
| Format: | Book |
| Page Count: | 136 |
| Item Number: | 00-39321 |
| ISBN 10: | 0-7390-8925-0 |
| ISBN 13: | 978-0-7390-8925-5 |
| UPC: | 038081440286 |
---
Stay Updated
Want to get the latest updates and special offers from Alfred Music?