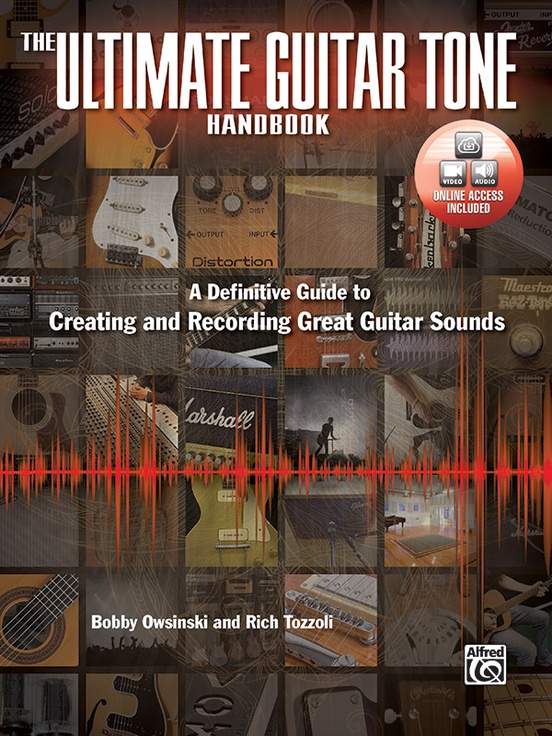 The Ultimate Guitar Tone Handbook
A Definitive Guide to Creating and Recording Great Guitar Sounds
By Bobby Owsinski and Rich Tozzoli
Guitar Book & Online Video/Audio
Item: 00-36620
Add to Cart
Add to List
Available Digitally
Share
---
Description
For all guitarists, the quest to finding the guitar tone you hear in your head and then recording it is a never-ending journey. The Ultimate Guitar Tone Handbook is your definitive guide to discovering that great, elusive guitar sound and making sure it's recorded well. This book features a series of interviews with expert players, guitar technicians, recording engineers, record producers, and gear manufacturers to give you an inside look into the business of guitar tone. The included online media provides both audio and visual reference points to help you achieve the classic sounds you hear on records.
"The Ultimate Guitar Tone Handbook offers quality information that will serve as a solid base for development of any guitar player or guitar recording artist's imagination."
- Mateus Tebaldi, MusicGearReview.com


---
Contents
Title
FOREWARD
PART ONE: ELECTRIC GUITARS AND AMPLIFIERS
CHAPTER 1: WHAT IS TONE?
Studio Ears
It's All in the Fingers
Other Factors in the Search for Tone
The Room
The Microphone
Change Your Tone
Tone Killers
Distortion
Effects Pedals
CHAPTER 2: THE EVOLUTION OF THE ELECTRIC GUITAR AND AMPLIFIER
The 1890s: Development of Steel Strings
The 1930s: Picks and Pickups
The 1930s: Birth of the Electric
The 1940s: The Instrument Evolves
The 1950s: Breakthrough Developments
The 1960s: Amps and Distortion
The 1970s: Big Amps and Boutiques
The 1980s: Mass Production, Improved Effects
The 1990s: Wireless Goes Mainstream, Amp Modelers Debut
The 2000s: Modelers, Reissues Recreate the Classics
CHAPTER 3: TONAL CHARACTERISTICS OF AN ELECTRIC GUITAR
The Guitar Body
The Wood
The Finish
The Neck
Neck Attachment
The Fretboard
Hardware
The Bridge
The Tailpiece
Pickups
Types of Pickups
Factors Affecting Pickup Sound
Intangible Factors
Other Types of Pickups
Strings
The Guitar Pick
Cables
Capacitance
Conductor Material
Strand Interaction
Conductor Size
Shielding
Cable Length
Vintage Versus Modern
Evaluating a Guitar
CHAPTER 4: TONAL CHARACTERISTICS OF GUITAR AMPLIFIERS
Tube Amplifiers
Tubes
Tube Amp Circuitry
Three Ways to Tweak your Tube Amp
Bad Signs
Why Do Vintage Amps Sound So Good?
Solid-State Amplifiers
Amplifier Modeling
Sonic Attributes
Hybrid Amps
Boutique Amplifiers
CHAPTER 5: SPEAKERS AND CABINETS
Speaker Cabinets
Types of Speaker Cabinets
Cabinet Components
Cabinet Size
Construction Materials
Construction Methods
Manufacturing Inconsistencies
Cabinet Buzzes
Speakers
Speaker Parameters
Speaker Manufacturers
CHAPTER 6: ELECTRIC GUITAR MIKING TECHNIQUES
Microphone Technique 101
Choosing the Best Place in the Room
Choosing the Right Mic
Mic Placement
Electric Guitar Miking Set-Ups
Single-Mic Techniques
Two-Mic Techniques
Three-Mic Techniques
More Complex Techniques
Recording Direct
Using a DI
Recording Through an Effects Box
Recording
The Signal Path
Recording Levels
CHAPTER 7: ELECTRIC GUITAR PRODUCTION TECHNIQUES
Production from a Player's Perspective
The Reason for Tone Controls
Using a Variety of Guitars and Amplifiers
The Importance of Well-Maintained Equipment
Laying In with the Rhythm Section
Common Guitar Production Techniques
Doubling
Layering Guitars
Battle of the Guitar Tracks
Clean Guitars
Reamping
Guitars in the Mix
Compression
Equalization
Studio Effects
---
Additional Information
| | |
| --- | --- |
| Author: | Bobby Owsinski |
| Instrument: | Guitar |
| Format: | Book & Online Video/Audio |
| Page Count: | 228 |
| Item Number: | 00-36620 |
| ISBN 10: | 0-7390-7535-7 |
| ISBN 13: | 978-0-7390-7535-7 |
| UPC: | 038081405155 |
---
Stay Updated
Want to get the latest updates and special offers from Alfred Music?