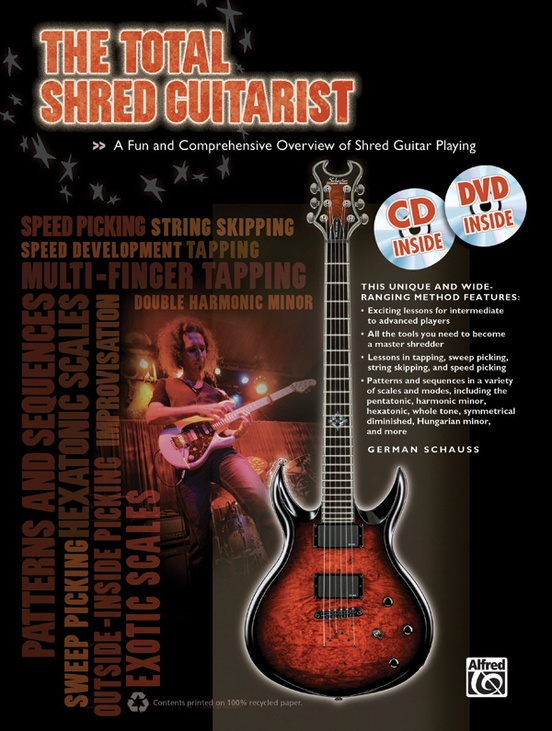 The Total Shred Guitarist
A Fun and Comprehensive Overview of Shred Guitar Playing
By German Schauss
Guitar Book, CD & DVD
Item: 00-40534
This item is no longer our publication
Share
---
Description
The Total Shred Guitarist is an exciting journey through the world of heavy metal guitar playing. Author and master shredder German Schauss provides a step-by-step approach to shred guitar that makes it easy to understand, proving that it's not rocket science. You just need some basic tools, some basic theory, and a lot of practice! Through simple chromatic patterns and warm-up exercises, you'll develop finger independence, conditioning, and speed. Learn patterns and sequences in a variety of scales, while developing technical fluency in alternate picking, tapping, multi-finger tapping, sweep picking, string skipping, and more. This book is for guitarists of all genres who are ready to break through the limitations of their technique and start shredding like they have always imagined. The included CD features backing tracks so you can hone your soloing skills and develop your own unique sound and style. The DVD brings the book alive and features German Schauss demonstrating lessons and techniques.
---
Contents
Title
About the Author
Introduction
CHAPTER 1: NOTATION AND BASIC TECHNIQUE REVIEW
Reading Tablature (TAB)
Scale Diagrams
Notation Legend
CHAPTER 2: WARMING UP AND BODY AWARENESS
Practice Routines and Habits
CHAPTER 3: BASIC WARM-UP EXERCISES
Finger Independence and Conditioning
CHAPTER 4: DIATONIC THEORY
The Major Scale
Intervals
Triads
7th Chords
Diatonic Harmony
Natural Minor Scale
More on Intervals
Interval Inversions
Extended Intervals and Chords
Circle of 5ths
CHAPTER 5: MINOR PENTATONIC SCALE
Exercising with Sequences
Up Close
Licks and Backing Tracks
CHAPTER 6: PATTERNS FOR ALTERNATE PICKING
Fretboard Efficiency and Knowledge
Etudes and Backing Tracks
CHAPTER 7: THREE-NOTE-PER-STRING SCALES
Modes of the Major Scale
Intervals
Hexatonic Scales
Music's Phone Number
Licks
---
Additional Information
| | |
| --- | --- |
| Series: | The Total Guitarist |
| Author: | German Schauss |
| Instrument: | Guitar |
| Format: | Book, CD & DVD |
| Item Number: | 00-40534 |
| ISBN 10: | 0-7390-9376-2 |
| ISBN 13: | 978-0-7390-9376-4 |
| UPC: | 038081452913 |
---
Stay Updated
Want to get the latest updates and special offers from Alfred Music?