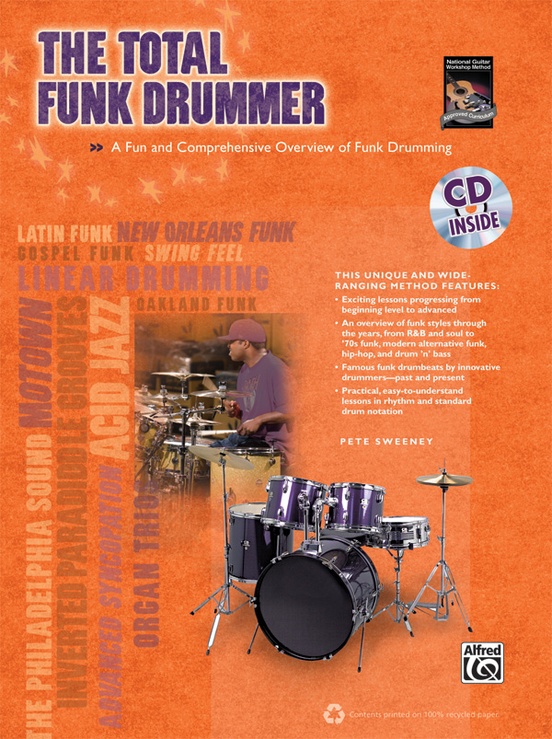 The Total Funk Drummer
A Fun and Comprehensive Overview of Funk Drumming
By Pete Sweeney
Drumset Book & CD
Item: 00-34378
Add to Cart
Add to List
Share
---
Description
The Total Funk Drummer is a unique and exciting journey through the diverse world of funk drumming. You'll start with basic lessons on keeping time, and end up playing highly syncopated beats and fills using advanced techniques like linear drumming. This book features many of the styles that make funk drumming so challenging, yet rewarding, and is meant for all players---from beginners to advanced drummers. Learn everything from New Orleans funk, R&B, and soul to '70s funk, modern alternative funk, drum 'n' bass, and hip-hop. You'll also learn drum beats in the styles of famous funk artists like The Meters, Herbie Hancock, James Brown, The Funk Brothers, Booker T. & the MG's, Tower of Power, Sly & the Family Stone, Parliament-Funkadelic, Medeski, Martin & Wood, Red Hot Chili Peppers, and more. The CD features a full band demonstrating the examples in the book. This is the only book you'll need to become a great funk drummer.
---
Contents
Title
About the Author
Acknowledgements
Introduction
PART 1: THE BEGINNING JAZZ DRUMMER
Practicing
CHAPTER 1: THE BASICS
Match Grip vs. Traditional Grip
Fulcrum and Motion
Understanding Rhythm
The 26 Standard American Drum Rudiments
CHAPTER 2: GETTING INTO THE DRUMSET
The Setup
Sitting at the Drumset
Tuning
CHAPTER 3: THE BASIC JAZZ RHYTHM
The Swing Feel
The Swing Pattern
Basic Independence
Syncopation
CHAPTER 4: THE VARIOUS STYLES OF JAZZ
Second Line or Street Beat
The Jazz Waltz
Latin Rhythms
Afro-Cuban Rhythms
Straight Eighth Cymbal Patterns
PART 2: THE INTERMEDIATE JAZZ DRUMMER
Practicing
CHAPTER 5: THE ART OF BRUSHES
Brush Strokes
Brush Patterns
CHAPTER 6: PLAYING TEMPOS
Different Tempos
CHAPTER 7: COORDINATION
Four-Way Coordination
CHAPTER 8: FILLS AND SOLOING
In the Style of Max Roach
In the Style of "Philly" Joe Jones
In the Style of Elvin Jones
In the Style of Tony Williams
PART 3: THE ADVANCED JAZZ DRUMMER
Practicing
CHAPTER 9: LINEAR PHRASING
Snare Drum Accents
Bass Drum and Cymbal Accents
Linear Phrasing with the Ride Cymbal
CHAPTER 10: ODD TIME METERS
Odd Time Exercises
5/4 Swing
5/4 Latin
7/4 Swing
7/4 Latin
CHAPTER 11: RHYTHMIC GROUPING
CHAPTER 12: POLYRHYTHMS
Polyrhythmic Ratios
The Rhythm Table
CHAPTER 13: POLYRHYTHMIC LIMBS
Appendix
Improvisation
Professional Advice
Outro
Listening Guide
Sunny Jain Discography
---
Additional Information
| | |
| --- | --- |
| Series: | The Total Drummer |
| Author: | Pete Sweeney |
| Instrument: | Drumset |
| Format: | Book & CD |
| Page Count: | 128 |
| Item Number: | 00-34378 |
| ISBN 10: | 0-7390-6646-3 |
| ISBN 13: | 978-0-7390-6646-1 |
| UPC: | 038081381183 |
---
Stay Updated
Want to get the latest updates and special offers from Alfred Music?