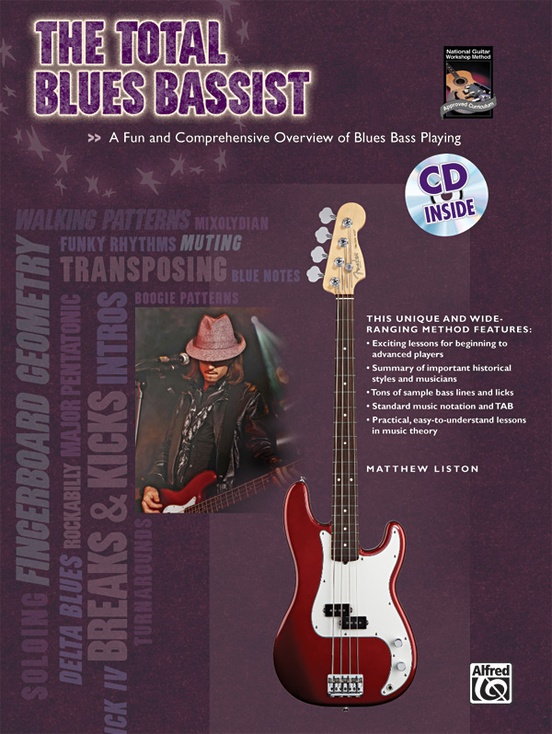 The Total Blues Bassist
A Fun and Comprehensive Overview of Blues Bass Playing
By Matthew Liston
Bass Guitar Book & CD
Item: 00-30232
Add to Cart
Add to List
Share
---
Description
The Total Blues Bassist is a unique and exciting journey through the diverse world of blues bass playing. The blues has influenced countless styles of music---including rock, jazz, pop, and country---and is loved for the depth of feeling it captures. This book will teach you all the skills you need to master the blues, such as various left- and right-hand techniques as well as advanced concepts like using silence and dynamics to help you create more interesting bass lines. Learn how to lock in with the drummer, guitarist, and singer, and even how to play without a drummer. You will also discover many styles such as delta blues, Chicago blues, Texas blues, rockabilly, funk, and jazz blues. You can build your own style on the bass as well as prepare for any blues situation you encounter. A CD demonstrating the examples in the book is included.
---
Contents
Title
About the Author
Acknowledgements
Introduction
PART 1: GETTING STARTED
CHAPTER 1: MUSIC NOTATION
Tablature (TAB)
Fretboard Diagrams
Standard Music Notation
CHAPTER 2: GETTING COMFORTABLE WITH THE BASS
A Note About Equipment
Using an Amplifier
Holding the Bass
Tuning the Bass
CHAPTER 3: BASIC TECHNIQUE
Basic Right-Hand Technique: Getting a Good Sound
Left-Hand Technique
Learning the Fretboard
CHAPTER 4: THE MAJOR SCALE
Scale Degrees
The Major Scales
CHAPTER 5: MORE MUSIC THEORY
Intervals
Key Signatures
The Circle of 5ths
Harmony
Diatonic Harmony
Modes of the Major Scale
PART 2: PLAYING THE BLUES
Becoming a Total Blues Bassist
CHAPTER 6: THE 12-BAR BLUES FORM
Four-Bar Phrases
Playing a 12-Bar Blues
Easy Does It
Be There or Be Flat
CHAPTER 7: RHYTHMIC VARIATIONS
Straight Eighths and Quick Fours
Possum Blossom
Eighth-Note Triplets
Rough Bounce
The Shuffle Feel
Too Hot to Bowl
Saturday Morning Blues
Friendship Blues
CHAPTER 8: PATTERN-BASED BASS LINES
One-Bar Patterns
Transposing Patterns
Transposing Patterns to IV and V
The Real Veal
Old Dog, New Trick
Open and Closed Fingerings
CHAPTER 9: 7TH CHORDS
Dominant 7th Chords in the Blues
CHAPTER 10: SCALES
The Major Scale
The Major Pentatonic Scale
We Fit Together Real Nice
The Mixolydian Mode Over a Dominant 7th Chord
Breezin' Blues
Mixed, Not Shakin'
The Minor Scale
The Minor Pentatonic Scale
The Blues Scale
Patterns and Licks Using the Minor Pentatonic and Blues Scales
PART 3: VARIATIONS
CHAPTER 11: MORE RHYTHMIC VARIATIONS
Cut Time
Checking If My Train's on Time
Syncopation
Billygoat Rock
The Clave Rhythm
Candy Don't Want Me No More
Anticipation
Cowbell Burnout Blues
Syncopation Exercises
Time
Oh My, A Blues!
Uptempo Shuffle
Showing Off My Lady
CHAPTER 12: TURNAROUNDS
Double-Stop Turnaround
Little Arms Blues
CHAPTER 13: CHORD SUBSTITUTIONS
Common Substitutions
Hot for Substitute
More Substitutions
Some Sunny Sunday
CHAPTER 14: NON-12-BAR FORMS
Eight-Bar Blues
Lonely Little Inn
16-Bar Blues
Leafing Through the Pages
CHAPTER 15: MINOR BLUES
Relative Minor
Parallel Minor
12-Bar Minor Blues
The Pill Is Wrong
CHAPTER 16: EXTENDED, ALTERED, AND AUGMENTED CHORDS
Extended Chords
Altered Chords
Altered Dominant Chords
Augmented Chords
CHAPTER 17: BLUES STYLES
Acoustic Blues
Vacuum Cleaner Bag
Electric Blues
Crash Blues
Funky Blues
Funky Metamorphosis
James Brown-Style Funk
I Would If I Could
Jazz Blues
Jazz Cat Blues
My Kinda Blues
This Bird Has None
Politically Correct
I's a Blue Dog
The Blues Is Everything
Structure of a Jazz Performance
PART 4: ADVANCED TECHNIQUES
CHAPTER 18: GUITARISTIC TECHNIQUES
Hammer-Ons and Pull-Offs
Bends
Soloing and Improv
Blues Bass Blues
Double Stops and Chords
Freddie's Greenery
Shuff-a-Luff-a
Tapping
Tapping the Blues
CHAPTER 19: READING GUITAR MUSIC
Treble Clef
Guitar TAB
Mapping the Guitar Fretboard onto the Bass
CHAPTER 20: FRETLESS BASS
Slides
Vibrato
Sing It Suzy!
Conclusion
---
Additional Information
| | |
| --- | --- |
| Series: | The Total Bassist |
| Author: | Matthew Liston |
| Instrument: | Bass Guitar |
| Format: | Book & CD |
| Page Count: | 128 |
| Item Number: | 00-30232 |
| ISBN 10: | 0-7390-5267-5 |
| ISBN 13: | 978-0-7390-5267-9 |
| UPC: | 038081329017 |
---
Stay Updated
Want to get the latest updates and special offers from Alfred Music?