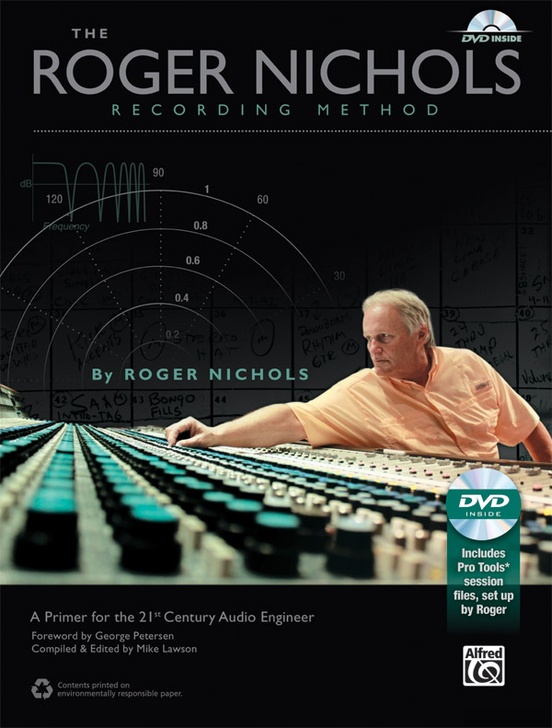 The Roger Nichols Recording Method
A Primer for the 21st Century Audio Engineer
By Roger Nichols
Pro Audio Textbook & DVD-ROM
Item: 00-40830
Add to Cart
Add to List
Available Digitally
Share
---
Description
Learn the basics of digital recording, each step of the signal path, and everything from microphone placement to mixing strategy through the eyes and ears of "The Immortal" Roger Nichols, master engineer. From scientifically analyzing the differences between condenser, ribbon, and dynamic microphones, to sharing his secrets to an amazing mix, Nichols delivers something for everyone interested in the science and art of audio engineering---no matter what your experience level. The DVD-ROM includes Pro Tools session files, personally set up by Roger, to give you hands-on training.

The Roger Nichols Recording Method gives you the unique experience of learning directly from Roger---exactly as he would have taught you at one of his famous master classes. It's the ultimate experience of having an eight-time GRAMMY®-winning engineer sit down in your studio to teach you from his personal experiences and techniques. This book is excellent for beginners but is still full of gems for seasoned pros who want to know how Roger Nichols always managed to get that sound.

Topics include:
* Plan your recording sessions like a professional engineer and producer
* Choose the right microphones and learn how Roger would place them for a session
* Test microphone patterns; learn about critical distance placement and the 3 to 1 rule
* Understand how digital audio really works to choose the right format for your sessions
* Learn about the signal path from microphone/instrument levels, channels strips, and plugins
* Record multiple takes, overdubs, punch-in techniques, and get tips on editing digital audio files
* Learn Roger's personal tips for mixing, using automation, creating your final mix, and more!
---
Contents
Title
Contents
Foreword
From Roger Nichols
Roger's Obsession with All Things Sound
Self-Instruction Guide for The Roger Nichols Recording Method
Pro Tools Session Files
System Upgrades
Microphones
Headphone Mix
Analog vs. Digital
Hard Disk Recording
Other Recording Systems
Gain Structure
Chapter One: Why Learn the Art and Science of Audio and Recording?
Chapter Two: Determine Your Recording Needs
Will I Sequence or Play Parts Live?
Will I Record Everything Directly or with Microphones?
How Many Tracks Do I Need?
How Many Simultaneous Tracks Do I Need?
What's My Budget?
Do I Prefer a PC or a Mac?
Should I Use a Laptop or Desktop?
What Computer Audio Interfaces Do I Need?
What Computer Hard Drives Do I Need?
SATA
SSD
Firewire 400/800
USB
Ethernet
Fiber Channel
Thunderbolt
What Recording Software Will I Use?
Should I Consider a Studio-in-a-Box?
Do I Need a Mixer?
Now What?
Chapter Three: Planning a Recording Session
Every Link in the Chain Is As Important As the Ones Before and After It
Recording Session Setup
Cables
Microphones
Speakers and Monitoring
Console/Recording Device
When Recording
Overdubs
Effects: EQ
Effects: Compressors and Limiters
Effects: Noise Gates
Effects: Delays and Echoes
Harmonizers: Octave Dividers, Aural Exciters
Comping Tracks
Mixing
Word Clock
Mix Processors
Mixing Back to Two Tracks of Multitrack or DAW
Premastering
Keeping Notes
Chapter Four: Noise from Your Electrical Connections
Power Quality
Receptacle Load Centers
Lighting Load Centers
AC Harmonics
Grounding and Noise
Balanced Power to the Rescue
Chapter Five: What Is Recording?
Sound Waves and Pond Ripples
Transducers
Chapter Six: My Thoughts on Recording Formats
All Recording Methods Break Down to Two Basic Categories
Analog
Digital
Snap, Crackle, and Pop Music
Divine Digital Recording
Chapter Seven: My Detailed Audio Production Definitions
Chapter Eight: Caveat Sampler, Ille Nunquam Cedunt!
Chapter Nine: Microphones
Condenser, Ribbon, and Dynamic Microphones
Microphone Patterns
Omnidirectional
Cardioid
Supercardioid
Hypercardioid
Microphone Pickup Angle
Microphone Performance in the Direct Sound Field
Microphone Performance in Reverberant Sound Field
The 3:1 Rule
Rejection Is Good
Standard Distance
Exercise 9.1: Recording a Microphone Signal
Launch Pro Tools
Chapter Ten: Connecting an Audio Source
Mbox Features and Connections
Set Start Point for Recording
Test the Pattern of the Microphone
Critical Distance
Testing Additional Microphone Types
Test the Microphones with Instruments
Recording an Acoustic Guitar
Chapter Eleven: Recording Formats--Understanding How Digital Audio Works
Digital Audio Formats
Sample Rate
Bit Depth
File Format
Chapter Twelve: Signal Chain
Microphone Level and Instrument Level
Amplifiers
Speaker
Channel Strip
Virtual Channel Strip
Plug-Ins
Chapter Thirteen: Recording Multiple Takes
Record The Instrument in Stereo
Chapter Fourteen: New Concepts
Headphone Mix
Gain Structure
Recording Alternate Takes
Chapter Fifteen: Overdubs
Overdubbing Tracks to Existing Material
Chapter Sixteen: Punch-In Techniques
Recording Modes/Recording Regions
Pre-Roll and Post-Roll
Destructive/Nondestructive Recording
Crossfades
Quick Punch
Loop Record with Overdubs
Practicing Punch-Ins
Without Pre-Roll
With Pre-Roll
With Quick Punch
Chapter Seventeen: Editing in a DAW
Creative Editing
Edits to Clean Up Audio
Chapter Eighteen: Mixing
The First Taste of Mixing
EQ Balance
Compression
On the Level
Reverb: Hello,,, Hello... Hello...
Your Work Is Never Done
Hidden Tracks
Inactive Tracks
Basic Levels for Your First Mix
Panning
Reverb Sends and Settings
Equalization
Compressors in the Mix
Spend Time Mixing
Listening to Other Mixes
Make Notes on Your Mixes
Chapter Nineteen: Beginning Automation
Recording Fader Moves
Automating Vocal Levels
Chapter Twenty: Your Final Mix
Clean Up Your Mix
Print to External Recorder
Bounce to Disk
Burn CD of Final Mix
In Conclusion
Epilogue - This Is a Service Business
About Roger Nichols
TV and Film Credits
Awards
Overview Of Accomplishments
Roger Nichols Remembered
Roger Nichols Discography
Index
---
Additional Information
| | |
| --- | --- |
| Author: | Roger Nichols |
| Format: | Book & DVD-ROM |
| Page Count: | 180 |
| Item Number: | 00-40830 |
| ISBN 10: | 0-7390-9505-6 |
| ISBN 13: | 978-0-7390-9505-8 |
| UPC: | 038081457222 |
---
Stay Updated
Want to get the latest updates and special offers from Alfred Music?