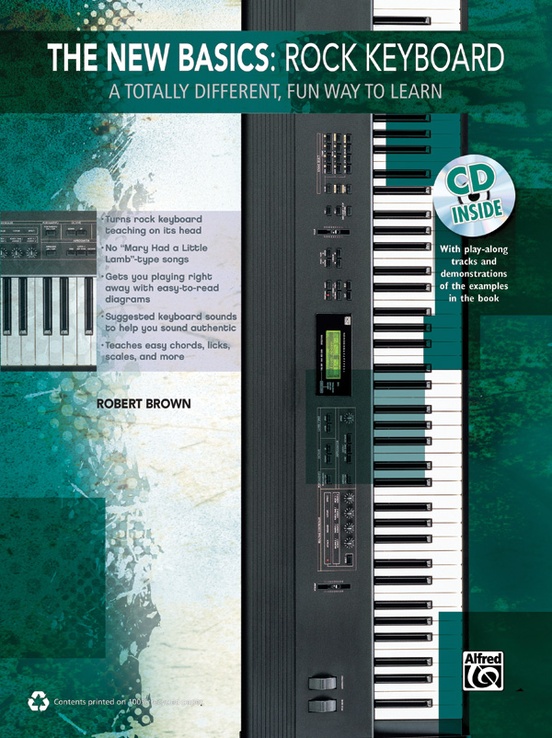 The New Basics: Rock Keyboard
A Totally Different, Fun Way to Learn
By Robert Brown
Keyboard/Piano Book & CD
Item: 00-39259
Add to Cart
Add to List
Share
---
Description
Learning to play keyboard is not about studying---it's about playing---so it should be FUN! If you're looking to rock out, do you want to spend hours trying to figure out how to read music, and then tinker away at "Go Tell Aunt Rhody?" We didn't think so. No, we think you should play right away. Start with warm-ups and cool rock patterns, then move on to playing chords and melodies. Finally, learn to read music and play scales, rock licks, and fun tunes. In short, this is not your dad's piano method. Pick up that keyboard, open this book, and PLAY!
---
Contents
Title
INTRODUCTION
About the Author
INTRODUCING THE KEYBOARD
The Piano Keyboard
Middle C
The Hands
How to Hold Your Hands
Right-Hand Notes
Cool Right-Hand Rock Patterns
Right-Hand Warm-Ups
Left-Hand Notes
Left-Hand Warm-Ups
Both Hands Together
READING STANDARD MUSIC NOTATION
The Staff and Clefs
Finding the Notes on the Staff
Rhythm
Measures and Time Signatures
The Metronome
Let's Read Some Music
PLAYING CHORDS
The C Chord
The F Chord
Rhythmic Notation and Chord Charts
Two Chord Cool
Ledger Lines
The G Chord
The 12-Bar Blues
12-Bar Blues in C
RIGHT-HAND CHORDS
Two-Finger Left-Hand Bass Pattern
Bass Pattern and Chords
Rests
Two-Finger Blues
LEFT-HAND CHORDS
Left-Hand Chords and Right-Hand Melody
Your First Accidental---The Flat
7th Chords
Accidental Blues
THE MAJOR SCALE
The Sharp
The Major Scale Formula
How to Play the C Major Scale
TRIADS
Left-Hand Bass and Right-Hand Triads
Puttin' It Together
Left-Hand Triads and Right-Hand Melody
Gettin' It Together Again
MINOR SCALES
The Natural Minor Scale
Natural Jam
The Minor Pentatonic Scale
Eighth Notes
Three Hot Minor Pentatonic Licks
Two New Chords---D7 and E7
The Classic Minor Pentatonic Chord Progression
Minor Rockslide
TRIAD INVERSIONS
Diatonic Triads in 1st and 2nd Inversion
How to Use Inversions
Ties
The Total Deal
---
Additional Information
| | |
| --- | --- |
| Series: | The New Basics |
| Author: | Robert Brown |
| Instrument: | Keyboard/Piano |
| Format: | Book & CD |
| Page Count: | 48 |
| Item Number: | 00-39259 |
| ISBN 10: | 0-7390-8886-6 |
| ISBN 13: | 978-0-7390-8886-9 |
| UPC: | 038081439167 |
---
Stay Updated
Want to get the latest updates and special offers from Alfred Music?