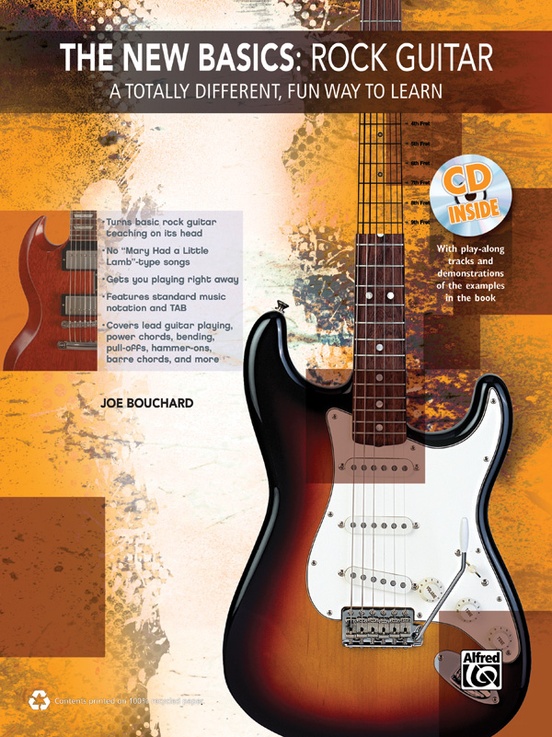 The New Basics: Rock Guitar
A Totally Different, Fun Way to Learn
By Joe Bouchard
Guitar Book & CD
Item: 00-39253
Add to Cart
Add to List
Share
---
Description
Learning to play guitar is not about studying---it's about playing---so it should be FUN! If you're looking to rock out, do you want to spend hours trying to figure out how to read music, and then plunk away at "The Old Gray Mare?" We didn't think so. No, we think you should play right away, first by learning basic chords and tunes before tackling any music reading or theory. Then, you'll learn lead guitar techniques, power chords, scales, improvisation, and other exciting rock guitar concepts. In short, this is not your dad's guitar method. Pick up that guitar, open this book, and PLAY!
---
Contents
Title
About This Book
About the Author
INTRODUCING THE GUITAR
Parts of the Guitar
Buying a Guitar
Plugging In
Holding Your Guitar
Learning the Neck
TUNING YOUR GUITAR
Using the CD to Tune
Tuning the Guitar to Itself
Electronic Tuners
THE RIGHT HAND
Using a Pick
Your First Picking Exercise
CHORDS AND RHYTHM GUITAR
Reading Chord Boxes
The Left Hand
The E Major Chord
The D Major Chord
Rhythmic Notation
Dig in the Chords
The A Major Chord
Talking 'Bout My Baby
Two-String Talking 'Bout My Baby
The C Major Chord
Four-Chord Rock
READING STANDARD MUSIC NOTATION AND TAB
To Read or Not to Read?
The Basics of Standard Music Notation
Reading Tablature (TAB)
BEGINNING LEAD GUITAR
Notes on the Low E (6th) String
Notes on the A (5th) String
Notes on the D (4th) String
Laying It Low
Notes on the G (3rd) String
Notes on the B (2nd) String
Notes on the E (1st) String
Brotherhood
Left-Hand Technique
POWER CHORDS
6th-String-Root Power Chords
Ties
5th-String-Root Power Chords
Shakin' the Rafters
Eighth Notes
Lead and Alchemy
LEFT-HAND WORKOUT
Strength and Stamina
MORE CHORDS AND RHYTHM GUITAR
Minor Chords
Blues Rhythm Guitar Pattern
Got the Blues in My Shoes
SCALES
The Major Scale
The Saints Go Rockin' In
The Natural Minor Scale
Dark Nights on the Mountain
The Minor Pentatonic Scale
Improvisation
Panic on the Blues Highway
Got the Blues in My Shoes Again
LEFT-HAND TECHNIQUES
Bent Notes
Hammer-ons
Pull-offs
A Tricky Combination
MOVABLE CHORDS
E-Major-Shape Barre Chords
A-Major-Shape Barre Chords
You Got Me Rockin'
MORE COMMONLY USED CHORDS
---
Additional Information
| | |
| --- | --- |
| Series: | The New Basics |
| Author: | Joe Bouchard |
| Instrument: | Guitar |
| Format: | Book & CD |
| Page Count: | 48 |
| Item Number: | 00-39253 |
| ISBN 10: | 0-7390-8884-X |
| ISBN 13: | 978-0-7390-8884-5 |
| UPC: | 038081439143 |
---
Stay Updated
Want to get the latest updates and special offers from Alfred Music?