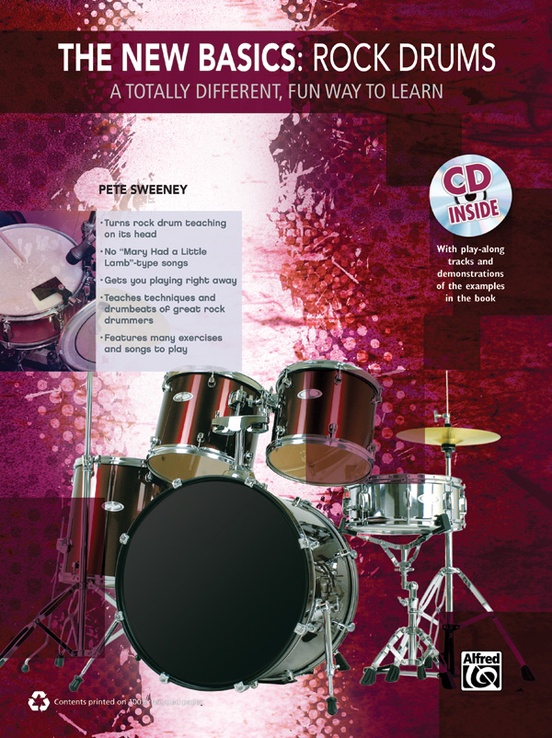 The New Basics: Rock Drums
A Totally Different, Fun Way to Learn
By Pete Sweeney
Drumset Book & CD
Item: 00-39262
Add to Cart
Add to List
Share
---
Description
Learning to play drums is not about studying---it's about playing---so it should be FUN! If you're looking to rock out, do you want to spend hours trying to figure out how to read music, and then slave away at rudiments? We didn't think so. No, we think you should rock out right away. Start with simple concepts like setting up and tuning your drums then move on to learning basic beats, fills, and even the techniques of some of the greatest drummers of all time. In short, this is not your dad's drum method. Pick up those drumsticks, open this book, and PLAY!
---
Contents
Title
About the Author
Introduction
GETTING TO KNOW YOUR DRUMSET
Setting Up Your Drumset
Tuning Your Drums: Two Methods
Cross-Tensioning
Clockwise Tensioning
HOLDING THE DRUMSTICKS
Matched Grip
Traditional Grip
Practice Tip
COUNTING & NOTE VALUES
Counting Exercises
Basic Note Values
Notes
Eighth Notes
The Staff, Measures, and Drum Notation
Using a Metronome
Metronome Exercise
Basic Drum Notation
EIGHTH-NOTE-BASED ROCK BEATS: BASIC PATTERNS
Introducing the Hi-Hat
Eighth-Note Rock Beats
The Quarter Rest
The Eighth Rest
Two-Measure Beats and Introducing the Floor Tom
The Ride Cymbal
Two Ways to Play the Ride Cymbal
The Half Rest
EIGHTH-NOTE HI-HAT BEATS
Open and Closed Hi-Hat
Half-Open Hi-Hat Beats
Stepped Hi-Hat
Hi-Hat Played with Left Foot
SIXTEENTH-NOTE ROCK
Sixteenth Notes
Note Value Comparison
Practice Suggestions
SIXTEENTH-NOTE HI-HAT & CYMBAL BEATS
ROCK DRUM FILLS, FOUR- & EIGHT-BAR FORMS
Eight-Bar Forms
Measure Repeat
Crash Cymbal
Tom-Tom
Four-Bar Forms
Fill Tips
Getting Around the Set
Practice Tip
Adding Rests to the Fill
Sixteenth-Note Fills
Hand & Foot Combinations
TRIPLET ROCK
Slow Blues
Shuffle Rock
FOUR TUNES
Eighth-Note Rock Blues
Funk Rock Tune
Heavy Rock Tune
Shuffle Blues
A Few Final Words
---
Additional Information
| | |
| --- | --- |
| Series: | The New Basics |
| Author: | Pete Sweeney |
| Instrument: | Drumset |
| Format: | Book & CD |
| Page Count: | 48 |
| Item Number: | 00-39262 |
| ISBN 10: | 0-7390-8887-4 |
| ISBN 13: | 978-0-7390-8887-6 |
| UPC: | 038081439174 |
---
Stay Updated
Want to get the latest updates and special offers from Alfred Music?