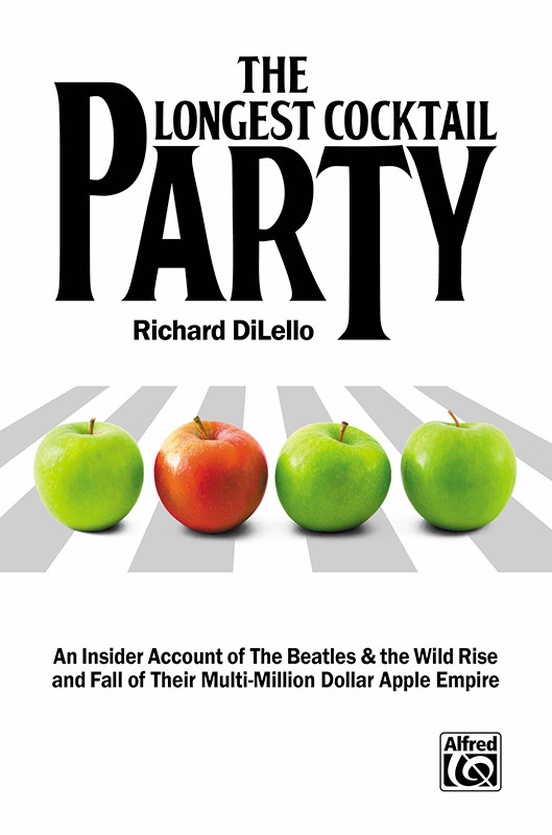 The Longest Cocktail Party
An Insider Account of The Beatles & the Wild Rise and Fall of Their Multi-Million Dollar Apple Empire
[The Beatles] By Richard DiLello
Paperback Book
Item: 00-42714
Add to Cart
Add to List
Available Digitally
Share
---
Description
Apple Records was a noble experiment created in the spirit of the 1960s by four musicians who came to represent everything that was best about those tumultuous, experimental, and liberating times. The Beatles started out with the greatest of intentions, but reality soon got in the way. Much has been written about this period in the history of The Beatles' evolution and dissolution---some of it true, some of it wildly exaggerated, but not much of it first-hand. The Longest Cocktail Party is a rare exception. Written by Richard DiLello, who served as Apple Record's "House Hippie" from 1968 to 1970, this unusual first-hand glimpse into The Beatles' empire humorously chronicles the stranger-than-life stories that were to become legendary, including visits by the Hell's Angels and endless tales of celebrity antics. Alfred Music is proud to offer this latest edition, which features a new and insightful foreword by the author. Originally published by Playboy Press in 1972, The Longest Cocktail Party has proven itself a timeless chronicle of this most colorful period in pop history.
---
Contents
Title
Part One
1968
The English at Work and Play
1 The House Hippie
2 More Money Than God
3 "Who?"
"The Man Who Designed the Apple Label."
"Who?"
"You Know, Michelangelo, the Guy Who Painted the Mona Lisa."
4 The Declaration of Innocence
5 Who's Who in the Zoo: Some of the Players
6 Pre-Apple Apple
7 The Fun Begins
8 Derek Taylor of the Hoylake and West Kirby Advertiser
9 The Early Days of a Record Company's Struggle to Reach the Top; The Acquisition of Apple Talent
10 The Fun Continues
11 You Learn Something New Every Day
12 A Hot Breeze in July
13 For a Penny You Can Buy a Book of Matches and Set Yourself on Fire
14 "Because I Don't Love the Queen But I Do Love Yoko."
15 The Lamps Go On
16 LSD Conditions and Beautifies Troubled Hair in Seconds
17 Diamonds in the Rough
18 Back at the Sandbox
19 If It Looks Good, Buy It!
20 Once Around the Piazza, Driver!
21 Dialogue / Dialogue / Dialogue
22 Progress Report
23 The Black Room 24 The Pineapple Archives
25 Art Is Long, Life Is Short, Judgment Difficult, Opportunity Fleeting
26 Fact
27 There Has Got to Be More Than Love to This
28 Dialogue / Dialogue / Dialogue
29 Repertoire Entendre
30 Intermezzo
31 Like Brinsley Schwartz over Troubled Waters
32 Dialogue / Dialogue / Dialogue
33 The Women in Black
34 Double White
35 Double White Again
36 Popular Photography for Fun and Profit
37 Dialogue / Dialogue / Dialogue
38 Play the Album Cover and Throw the Record Away; Beatle Demystification
39 The Procession of the Papparazzi
40 A Double-Decker Ace Blue Meanie
41 News Items
42 Samantha
43 A Well-Stocked Cupboard
44 And Don't Forget to Light a Candle for Me When I'm Gone
45 A Ghost from the Past
46 "When We Do Right, No One Remembers When We Do Wrong, No One Forgets"
47 Our Motto: Pleasure Before Business
48 Lost a Son But Gained a Daughter
49 100 Easy Street
50 The Battle for the Largest Turkey in Great Britain
Part Two
1969
"Hey, Man, How Do I Get in Touch with Ringo Starr?"
51 Call Me Up in Reno
52 Will You Love Me in Walla Walla Like You Did in Sing Sing?
53 Good-Bye My Fiji Island Baby
54 Dialogue / Dialogue / Dialogue
55 Chopped Liver, Wherever You're Going, I'm Going Your Way
56 Jack the Ripper-Offer Strikes Again
57 What's Shakin'?
58 Where?
59 Can You Spare a Sixpence for a Steak Dinner?
60 While You Were Out . . .
61 In the Name of the Father (John Lennon) and of the Son (John Lennon) and of the Holy Ghost (John Lennon) Amen
62 The Laughter, the Heartache, and the Pulse-Pounding Excitement of the Golden Age of Scottish Gorbals Rock-White Trout---Fresh Daily!
63 The Bright Lights of Savile Row
64 Fact
65 The Titanic Passing the Andrea Doria in the Night
66 And Now It Is Our Pleasure to Announce This Year's Winner of the Nobel Prize for Literature
67 Showdown!
68 Some People Will Believe Anything
69 Where Progress Is Never Our Most Important Product
70 Business as Usual
71 Dialogue / Dialogue / Dialogue
72 Qwert
73 In Which the Truth Is Revealed in the Hard Light of Day
74 Let It Bleep
75 Introducing
76 Mary Hopkin at the General Post Office Tower and a Barrel for Beatle John
77 In Order to Comply with Accepted Community Standards
78 Bad Timing and Who's Been Reading Oliver Twist?
79 No, No, a Thousand Times No!
80 There Is Still No Truth to the Rumor that Paul McCartney of the Beatles Will . . .
81 A Triple-Decker Ace Blue Meanie
82 Dialogue / Dialogue / Dialogue
83 The Amsterdam Bed-In
84 Dialogue / Dialogue / Dialogue
85 There's a Hot Dog Stand on the Corner of the United States of America and It's Calling Me Back Home
86 Allen Klein and the Deoppilation of Apple
87 It's a Great Place to Get Stoned But I Wouldn't Want to Work There
88 Further Details Available from Apple / Regent 8232
89 Toreador, Don't Spit on the Floor
90 John and Yoko Forever!
91 Jesse James, the Famous Train Robber, Said: "I'm Gonna Rob All Your Women and Rape All Your Men!" A Startled Victim Protested: "Jesse, Aren't You a Bit Confused? Shouldn't It Be the Other Way Around?" One of Jesse's Henchmen Lisped: "You Leave Jesse Al
92 Ten Pounds a Week and All You Can Steal
93 A Galaxy of Stars
94 A Good Spot of PR for John and Yoko
95 Rumble in the Cathedral
96 Join Apple and See the World / The Montreal-Bahamas Bed-In
97 How Green Was Our Valley
98 The House of the Open Door
99 Dialogue / Dialogue / Dialogue
100 Say Please
101 Give Peace a Chance
102 "Listen, If You Can Get the Papers Drawn up Real Quick I've Got Someone Who Is Ready to Buy the Brooklyn Bridge"
103 The Salvatore Guliano Commando Unit of the Popular Front for the Liberation of Reggio Calabria and the Sundance Kid
104 Press Office Release
105 Screwed Again
106 Dialogue / Dialogue / Dialogue
107 Play It Again
108 Conspectus
109 The Pulse-Pounding Excitement of the Golden Age of Scottish Gorbals Rock Continues
110 Wait Till You Hear This One!
111 With Love and All Good Wishes
112 Dialogue / Dialogue / Dialogue
113 Bad News and Wildcat Publicity
114 Give Us Our Daily Sponge
115 This Grisly Rumor Receives "The Press Offices of the World Award" for Being the Biggest Pain in the Ass of 1969
116 Dialogue / Dialogue / Dialogue
117 The Last of the Sundance Kid
118 Bombshell
119 Look Who's Talking Now!
120 Dialogue / Dialogue / Dialogue
121 But Who Murdered Britain?
122 Arrivederci 1969
Part Three
1970
"We Do Not Wish to Add Any More to the Dialogue Already in the Media"
123 Dialogue / Dialogue / Dialogue
124 Roller Coaster
125 The Flame Flickers
126 Sentimental Journey
127 Dialogue / Dialogue / Dialogue
128 When Sophia Loren Was Asked About the Similarity Between Her Looks and Those of Gina Lollobrigida, She Replied, "It Is Like the Difference Between a Fine Race Horse and a Donkey But I'm Not Saying Who Is What"
129 Dialogue / Dialogue / Dialogue
130 From Apple
131 John and Pablo
132 The Flame Flickers Some More
133 Let's Go to the Moving Pictures
134 Three Little Indians Sitting on a Fence
135 And Then There Were Two
136 The New Press Officer Gets It On
137 A Swan Singing a Song Flew Past the Press-Office Window and No One Even Noticed
138 Oops!
139 The End
140 News Item
Part Four
1971
Silence in the Court Till the Judge Blows His Nose
141 The Last Chapter / La Rêve N'est Pas Finie!
Appendix I
Appendix II
Appendix III
Appendix IV
About the Author
---
Additional Information
| | |
| --- | --- |
| Artist: | The Beatles |
| Author: | Richard DiLello |
| Format: | Paperback Book |
| Page Count: | 376 |
| Item Number: | 00-42714 |
| ISBN 10: | 1-4706-1517-7 |
| ISBN 13: | 978-1-4706-1517-8 |
| UPC: | 038081482910 |
---
Stay Updated
Want to get the latest updates and special offers from Alfred Music?