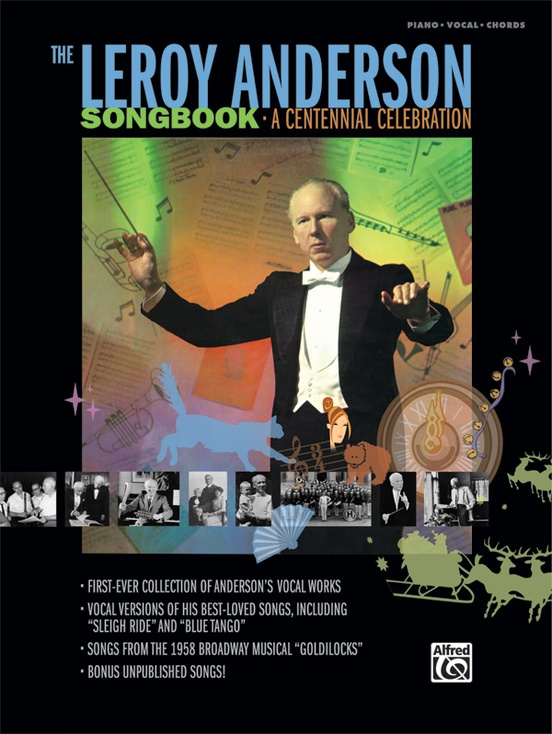 The Leroy Anderson Songbook: A Centennial Celebration
Leroy Anderson
Piano/Vocal/Chords Book
Item: 00-29154
Add to Cart
Add to List
Share
---
Description
Alfred introduces the first-ever collection of Leroy Anderson's vocal works. This centennial celebration features vocal versions of his best-loved songs including "Sleigh Ride" and "Blue Tango." Other highlights include songs from the 1958 musical "Goldilocks" plus bonus unpublished songs.

Collect Leroy Anderson classics now with The Leroy Anderson Songbook. All songs include lyrics, melody line, and chord changes with professionally arranged piano accompaniment.

Titles: Belle of the Ball * Blue Tango * Forgotten Dreams * Serenata * Sleigh Ride * The Syncopated Clock * The Waltzing Cat * Bad Companions * The Beast in You * (Give the Little Lady) A Great Big Hand * Guess Who * Heart of Stone (Pyramid Dance) * I Can't Be in Love * I Never Know When (To Say When) * Lady in Waiting * Lazy Moon * No One Will Ever Love You * The Pussy Foot * Save a Kiss * Shall I Take My Heart and Go? * There Never Was a Woman * Two Years in the Making * Who's Been Sitting in My Chair? * Come to Me * He'll Never Stray * Hello * If I Can't Take It with Me * Little Girls Should Be Seen * My Last Spring * Tagalong Kid * The Music in My Heart * What's the Use of Love? * This Lovely World.
---
Contents
| | |
| --- | --- |
| (Give the Little Lady) a Great Big Hand (from "Goldilocks") | Leroy Anderson (composer); Jean Kerr (lyricist); Walter Kerr (lyricist); Joan Ford (lyricist) |
| Bad Companions (from "Goldilocks") | Leroy Anderson (composer); Jean Kerr (lyricist); Walter Kerr (lyricist); Joan Ford (lyricist) |
| Belle of the Ball (Vocal) | Leroy Anderson (composer); Mitchell Parish (lyricist) |
| Blue Tango (Vocal) | Leroy Anderson (composer); Mitchell Parish (lyricist) |
| Come to Me (Go and Catch a Falling Star) (from "Goldilocks") | Leroy Anderson (composer); Jean Kerr (lyricist); Walter Kerr (lyricist); Joan Ford (lyricist) |
| Forgotten Dreams (Vocal) | Leroy Anderson (composer); Mitchell Parish (lyricist) |
| Guess Who (from "Goldilocks") | Leroy Anderson (composer); Jean Kerr (lyricist); Walter Kerr (lyricist); Joan Ford (lyricist) |
| He'll Never Stay (from "Goldilocks") | Leroy Anderson (composer); Jean Kerr (lyricist); Walter Kerr (lyricist); Joan Ford (lyricist) |
| Heart of Stone (Pyramid Dance) (from "Goldilocks") | Leroy Anderson (composer); Jean Kerr (lyricist); Walter Kerr (lyricist); Joan Ford (lyricist) |
| Hello (from "Goldilocks") | Leroy Anderson (composer); Jean Kerr (lyricist); Walter Kerr (lyricist); Joan Ford (lyricist) |
| I Can't Be in Love (from "Goldilocks") | Leroy Anderson (composer); Jean Kerr (lyricist); Walter Kerr (lyricist); Joan Ford (lyricist) |
| I Never Know When (To Say When) (from "Goldilocks") | Leroy Anderson (composer); Jean Kerr (lyricist); Walter Kerr (lyricist); Joan Ford (lyricist) |
| If I Can't Take It with Me (from "Goldilocks") | Leroy Anderson (composer); Jean Kerr (lyricist); Walter Kerr (lyricist); Joan Ford (lyricist) |
| Lady in Waiting (from "Goldilocks") | Leroy Anderson (composer) |
| Lazy Moon (from "Goldilocks") | Leroy Anderson (composer); Jean Kerr (lyricist); Walter Kerr (lyricist); Joan Ford (lyricist) |
| Little Girls Should Be Seen (from "Goldilocks") | Leroy Anderson (composer); Jean Kerr (lyricist); Walter Kerr (lyricist); Joan Ford (lyricist) |
| My Last Spring (from "Goldilocks") | Leroy Anderson (composer); Jean Kerr (lyricist); Walter Kerr (lyricist); Joan Ford (lyricist) |
| No One Will Ever Love You (from "Goldilocks") | Leroy Anderson (composer); Jean Kerr (lyricist); Walter Kerr (lyricist); Joan Ford (lyricist) |
| Pussy Foot (from "Goldilocks") | Leroy Anderson (composer); Jean Kerr (lyricist); Walter Kerr (lyricist); Joan Ford (lyricist) |
| Save a Kiss (from "Goldilocks") | Leroy Anderson (composer); Jean Kerr (lyricist); Walter Kerr (lyricist); Joan Ford (lyricist) |
| Serenata (Vocal) | Leroy Anderson (composer); Mitchell Parish (lyricist) |
| Shall I Take My Heart and Go? (from "Goldilocks") | Leroy Anderson (composer); Jean Kerr (lyricist); Walter Kerr (lyricist); Joan Ford (lyricist) |
| Sleigh Ride (Vocal) | Leroy Anderson (composer); Mitchell Parish (lyricist) |
| Tagalong Kid (from "Goldilocks") | Leroy Anderson (composer); Jean Kerr (lyricist); Walter Kerr (lyricist); Joan Ford (lyricist) |
| The Beast in You (from "Goldilocks") | Leroy Anderson (composer); Jean Kerr (lyricist); Walter Kerr (lyricist); Joan Ford (lyricist) |
| The Music in My Heart | Leroy Anderson (composer) |
| The Syncopated Clock (Vocal Version) | Leroy Anderson (composer); Mitchell Parish (lyricist) |
| The Waltzing Cat (Vocal) | Leroy Anderson (composer); Mitchell Parish (lyricist) |
| There Never Was a Woman (from "Goldilocks") | Leroy Anderson (composer); Jean Kerr (lyricist); Walter Kerr (lyricist); Joan Ford (lyricist) |
| This Lovely World (from "Scarlett O'Hara") | Leroy Anderson (composer); Ogden Nash (lyricist) |
| Two Years in the Making (from "Goldilocks") | Leroy Anderson (composer); Jean Kerr (lyricist); Walter Kerr (lyricist); Joan Ford (lyricist) |
| What's the Use of Love | Leroy Anderson (composer) |
| Who's Been Sitting in My Chair? (from "Goldilocks") | Leroy Anderson (composer); Jean Kerr (lyricist); Walter Kerr (lyricist); Joan Ford (lyricist) |
---
Additional Information
| | |
| --- | --- |
| Artist: | Leroy Anderson |
| Instrument: | Piano/Vocal/Chords |
| Version: | Piano/Vocal/Chords |
| Format: | Book |
| Page Count: | 176 |
| Item Number: | 00-29154 |
| ISBN 10: | 0-7390-5046-X |
| ISBN 13: | 978-0-7390-5046-0 |
| UPC: | 038081321004 |
---