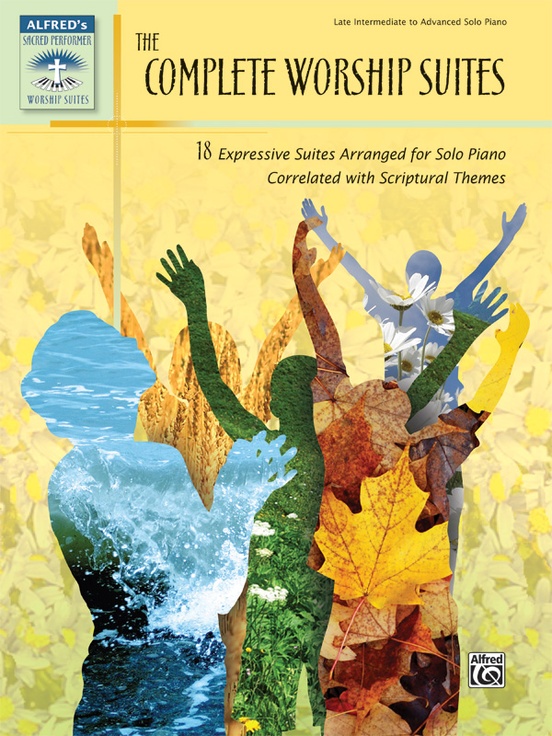 The Complete Worship Suites
18 Expressive Suites Arranged for Solo Piano Correlated with Scriptural Themes
Piano Book
Level: Late Intermediate / Advanced
Item: 00-34036
Add to Cart
Add to List
Share
---
Description
This collection contains 18 worship suites arranged by 17 of today's top Christian music arrangers. Within the suites are attractive arrangements of more than 50 of the best-loved hymns including "Blessed Assurance," "In the Garden," "When Morning Gilds the Skies," and more. Each suite is united by a central spiritual theme with correlating Scripture verses. Additionally, approximate performance times are included for service planning. Suite titles: Comfort in the Time of Need (Mary K. Sallee) * Consecration (Larry Dalton) * Fellowship with God (Martha Mier) * God, Our Creator (Anna Laura Page) * God's Love (Shirley Brendlinger) * Heaven, Our Home (Robert D. Vandall) * Heavenly Blessings (Cindy Berry) * Holiness (Victor Labenske) * Holy Communion---A View of the Cross (Marilynn Ham) * Jesus Christ, Friend and Savior (Kim Williams) * Joy and Assurance (Jan Sanborn) * Praise Him! (Mike Springer) * The Cross, Christ's Passion (Mark Hayes) * Sharing the Good News (Matt Hyzer) * The Trinity (Myra Schubert) * The Word of God (Bernadine Johnson) * Trust in Him (Larry Dalton) * Worship Christ the King (Kenon D. Renfrow).
---
Contents
Title
HOLINESS
I. Love Divine, All Loves Excelling
II. O to Be Like Thee
III. Spirit of God, Descend upon My Heart
FELLOWSHIP WITH GOD
I. Nearer, My God, to Thee
II. Be Thou My Vision
III. I Want Jesus to Walk with Me
HEAVENLY BLESSINGS
I. Come Thou Fount of Every Blessing
II. Amazing Grace
III. On Jordan's Stormy Banks I Stand
JOY AND ASSURANCE
I. Blessed Assurance
II. I Will Sing the Wondrous Story
III. My Redeemer
HOLY COMMUNION --- A VIEW OF THE CROSS
I. At the Cross
II. Beneath the Cross of Jesus
III. In the Cross of Jesus I Glory
HEAVEN, OUR HOME
I. Softly and Tenderly Jesus Is Calling
II. Swing Low, Sweet Chariot
III. In the Sweet Bye and Bye
JESUS CHRIST, FRIEND AND SAVIOR
I. Jesus Loves Me
II. What a Friend We Have in Jesus
III. Jesus Is All the World to Me
IV. Stand Up, Stand Up for Jesus
PRAISE HIM!
I. Praise the Lord! Ye Heavens, Adore Him
II. Praise to the Lord, the Almighty
III. Praise Him! Praise Him!
COMFORT IN THE TIME OF NEED
I. It Is Well with My Soul
II. There Is a Balm in Gilead
III. In the Garden
THE CROSS, CHRIST'S PASSION
I. When I Survey the Wondrous Cross
II. O Sacred Head, Now Wounded
III. What Wondrous Love Is This?
WORSHIP CHRIST THE KING
I. Holy, Holy, Holy
II. O Worship the King
III. When Morning Gilds the Skies
TRUST IN HIM
I. Trust and Obey
II. Only Trust Him
III. My Hope Is Built
SHARING THE GOOD NEWS
I. Jesus Shall Reign
II. Rescue the Perishing
III. O Zion, Haste
GOD, OUR CREATOR
I. I Sing the Mighty Power of God
II. This Is My Father's World
III. All Things Bright and Beautiful
CONSECRATION
I. Take My Life and Let It Be
II. I Am Thine, O Lord
III. I'll Go Where You Want Me to Go
THE TRINITY
I. Eternal Father, Strong to Save
II. Jesus, the Very Thought of Thee
III. O Spirit of the Living God
THE WORD OF GOD
I. Break Thou the Bread of Life
II. Holy Bible, Book Divine
III. Standing on the Promises
GOD'S LOVE
I. Jesus Loves Me
II. What Wondrous Love Is This?
III. Of the Father's Love Begotten
---
Additional Information
| | |
| --- | --- |
| Series: | Sacred Performer Worship Suites |
| Instrument: | Piano |
| Format: | Book |
| Page Count: | 196 |
| Item Number: | 00-34036 |
| ISBN 10: | 0-7390-6509-2 |
| ISBN 13: | 978-0-7390-6509-9 |
| UPC: | 038081377629 |
---
Stay Updated
Want to get the latest updates and special offers from Alfred Music?