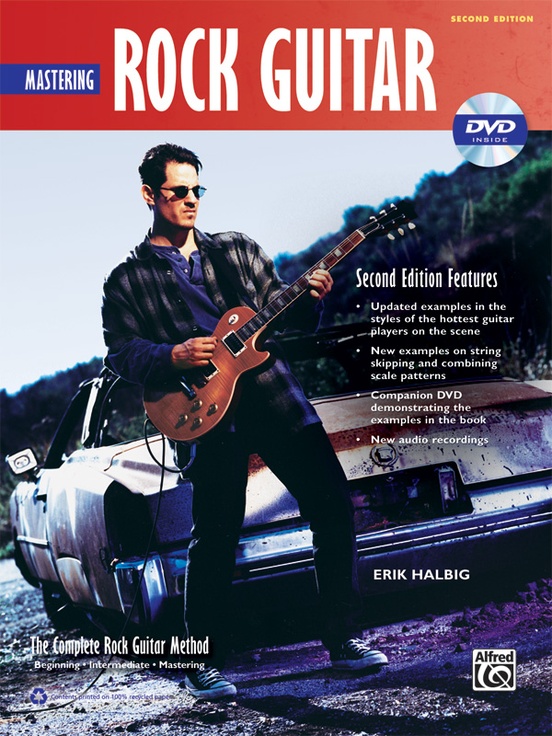 The Complete Rock Guitar Method: Mastering Rock Guitar (2nd Edition)
By Erik Halbig
Guitar Book & DVD-ROM
Level: Advanced
Item: 00-39333
Add to Cart
Add to List
Share
---
Description
This book and DVD-ROM is perfect for guitarists who have been playing for a while and are ready to expand their skills and technique. It includes in-depth lessons on pentatonic extensions, the major and harmonic minor scales, arpeggios, triads, chords derived from scales, and modes. Also included are technique-expanding exercises for legato playing, speed picking, intervallic playing, tapping, sweep picking, and bending. For those who truly want to stand out and become exceptional rock guitar players. This revised edition features new examples on string skipping and combining scale patterns, new examples in the styles of the hottest guitar players on the scene, new audio recordings, and a brand new video demonstrating the examples in the book. The video teacher, Jared Meeker, is a rock guitar master with an entertaining and relaxed approach that makes learning fun and easy. If you have completed Beginning Rock Guitar and Intermediate Rock Guitar, this is your best next step.
---
Contents
Title
ABOUT THE AUTHOR
INTRODUCTION
CHAPTER 1 -- GETTING STARTED
The Guitar Fingerboard
Tuning
Music Notation
Reading Tab, Scale, and Chord Diagrams
Roman Numerals
CHAPTER 2 -- TECHNIQUES
Slides
Hammer-Ons and Pull-Offs
Legato Playing
Bending
Speed Picking
Tapping
Roll Over Johann
Skip It
Sweep Picking
Harmonics
The Whammy Bar
CHAPTER 3 -- PENTATONIC CREATIVITY
The Minor Pentatonic Patterns
The Major Pentatonic Patterns
Combining Patterns
String-Skipping Patterns
Weaving Pentatonic Patterns
One-Note-Per-String Pentatonics
Sliding One-Note-Per-String Licks
CHAPTER 4 -- MAJOR SCALE CREATIVITY
Three-Note-Per-String Patterns
The Major Scale System
Major Scale Extensions
Spicing Things Up
Two-Note-Per-String Patterns: A New Approach
The Two-Note/One-Note-Per-String Pattern
Get Up, Get Down
CHAPTER 5 -- HARMONIC MINOR SCALE IMPROVISATION
Harmonic Minor Three-Note-Per-String Patterns
Harmonic Minor Two-/One-Note-Per-Strings
Combining Harmonic Minor Patterns
CHAPTER 6 -- ARPEGGIOS
Major
Minor
Octave Displacements
Dominant 7th
Diminished 7th
CHAPTER 7 -- TRIADS
Review
String Sets
2-for-1 Altered Triads
Minor
2-for-3 Altered Triads
CHAPTER 8 -- CHORD CREATIVITY
Stacked 5ths and the Pentatonic Scale
2nd/6th Chords from the Major Scale
2nd/5th/2nd Four-Note Chords
3rd/2nd/6th Four-Note Chords
2nd/5th/5th Four-Note Chords
CHAPTER 9 -- MODE APPLICATIONS
Review
Ionian
Lydian
Dorian
Aeolian
Mixolydian
---
Additional Information
| | |
| --- | --- |
| Series: | Complete Method |
| Author: | Erik Halbig |
| Instrument: | Guitar |
| Format: | Book & DVD-ROM |
| Page Count: | 96 |
| Item Number: | 00-39333 |
| ISBN 10: | 0-7390-8929-3 |
| ISBN 13: | 978-0-7390-8929-3 |
| UPC: | 038081440408 |
---
Stay Updated
Want to get the latest updates and special offers from Alfred Music?