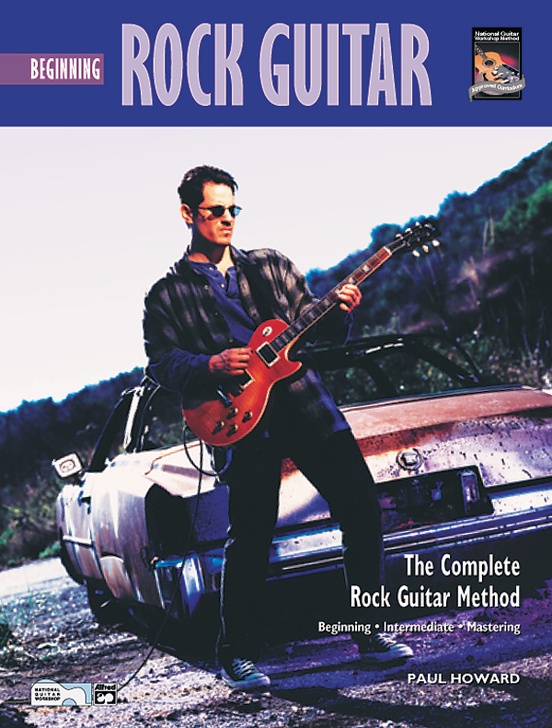 The Complete Rock Guitar Method: Beginning Rock Guitar
By Paul Howard
Item: 00-14199
This item is permanently out of print
Share
---
Description
Perfect for beginning guitarists as well as players who want to enhance their knowledge, this volume covers basic rock theory, essential left-hand techniques, power chords, rhythm guitar, and how to improvise with the pentatonic scale. Includes licks in the styles of rock greats like Chuck Berry, Van Halen, Led Zeppelin and others. The most thorough book for beginning rock students! All music is shown in standard notation and TAB, and the CD demonstrates each example in the book. 96 pages.
---
Contents
Title
ABOUT THE AUTHOR
INRTRODUCTION
CHAPTER 1 -- GETTING STARTED
The Guitar Fingerboard
Tuning
Music Notation
Reading TAB, Scale, and Chord Diagrams
Roman Numerals
Some Terms and Signs
Basic Technique
CHAPTER 2 -- ROCK THEORY
The Major Scale
Key Signatures
Cycle of 5ths
Numbering (Spelling)
CHAPTER 3 -- POWER CHORDS
Power Chord Examples
Pedal Tones and Palm Muting
Power Chord Riffs
CHAPTER 4 -- THE MINOR PENTATONIC SCALE
Improvisation
The Minor Pentatonic Formula
Using the Minor Pentatonic Scale
Minor Pentatonic Scale Fingering #1
Practicing the Minor Pentatonic Scale
CHAPTER 5 -- LEFT HAND TECHNIQUES
Hammer-Ons and Pull-Offs
Slides
Vibrato
Bending
CHAPTER 6 -- CHORDS AND RHYTHM GUITAR
Triads
Basic Diatonic Harmony
Other Commonly Used Chords
Summary of the Basic Chord Group
Basic Chord Forms
Rhythm Guitar
Left-Hand Damping
Slash Chords
Movable Chords
Principal Chords (I, IV, and V) on the Fingerboard
Rhythm & Blues Patterns
Triads
CHAPTER 7 -- MORE MINOR PENTATONICS
Minor Pentatonic Scale Fingering #2
Minor Pentatonic Scale Fingering #3
Minor Pentatonic Scale Fingering #4
Minor Pentatonic Scale Fingering #5
Minor Pentatonic Connections
The Entire Minor Pentatonic System
CHAPTER 8 -- THE BLUES
The 12-Bar Blues
Open String Shuffle and Rhythm Riffs
Blues Scales
The Entire Blues Scale System
CHAPTER 9 -- THE MAJOR PENTATONIC SCALE
Relative Pentatonic Scales
The Five Major Pentatonic Fingerings
Sliding E Major Pentatonic
Major Pentatonic Connections
Major Pentatonic Licks
The Entire Major Pentatonic System
CHAPTER 10 -- DROP D TUNING
APPENDIX A---Suggested Songs for Practice
APPENDIX B---Guitarists to Hear
---
Additional Information
| | |
| --- | --- |
| Series: | Complete Method |
| Author: | Paul Howard |
| Instrument: | Guitar |
| Format: | Book & CD |
| Page Count: | 96 |
| Item Number: | 00-14199 |
| ISBN 10: | 0-88284-856-9 |
| ISBN 13: | 978-0-88284-856-3 |
| UPC: | 038081134390 |
---
Stay Updated
Want to get the latest updates and special offers from Alfred Music?