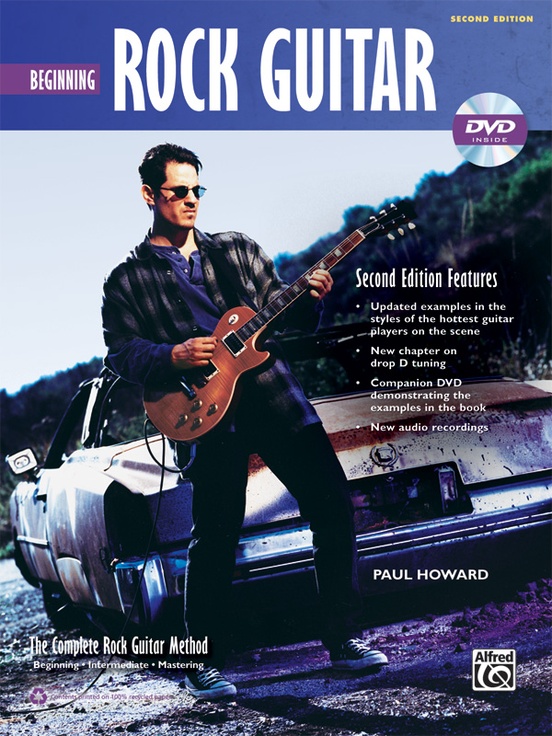 The Complete Rock Guitar Method: Beginning Rock Guitar (2nd Edition)
By Paul Howard
Guitar Book & DVD-ROM
Level: Beginner
Item: 00-39325
Add to Cart
Add to List
Share
---
Description
Beginning Rock Guitar is perfect for beginning guitarists as well as players who want to enhance their knowledge. Topics in this book and DVD-ROM include rock theory, left-hand techniques, power chords, rhythm guitar, and improvising with pentatonic scales. Also included are licks in the styles of such greats as Chuck Berry, Van Halen, AC/DC, Led Zeppelin, and more. This revised edition features a new chapter on drop D tuning, new examples in the styles of the hottest guitar players on the scene, new audio recordings, and a brand new video demonstrating the examples in the book. The video teacher, Jared Meeker, is a rock guitar virtuoso with a relaxed and unique style that makes learning fun. Beginning Rock Guitar is the most thorough method available for beginning rock students.
---
Contents
Title
ABOUT THE AUTHOR
INRTRODUCTION
CHAPTER 1 -- GETTING STARTED
The Guitar Fingerboard
Tuning
Music Notation
Reading TAB, Scale, and Chord Diagrams
Roman Numerals
Some Terms and Signs
Basic Technique
CHAPTER 2 -- ROCK THEORY
The Major Scale
Key Signatures
Cycle of 5ths
Numbering (Spelling)
CHAPTER 3 -- POWER CHORDS
Power Chord Examples
Pedal Tones and Palm Muting
Power Chord Riffs
CHAPTER 4 -- THE MINOR PENTATONIC SCALE
Improvisation
The Minor Pentatonic Formula
Using the Minor Pentatonic Scale
Minor Pentatonic Scale Fingering #1
Practicing the Minor Pentatonic Scale
CHAPTER 5 -- LEFT HAND TECHNIQUES
Hammer-Ons and Pull-Offs
Slides
Vibrato
Bending
CHAPTER 6 -- CHORDS AND RHYTHM GUITAR
Triads
Basic Diatonic Harmony
Other Commonly Used Chords
Summary of the Basic Chord Group
Basic Chord Forms
Rhythm Guitar
Left-Hand Damping
Slash Chords
Movable Chords
Principal Chords (I, IV, and V) on the Fingerboard
Rhythm & Blues Patterns
Triads
CHAPTER 7 -- MORE MINOR PENTATONICS
Minor Pentatonic Scale Fingering #2
Minor Pentatonic Scale Fingering #3
Minor Pentatonic Scale Fingering #4
Minor Pentatonic Scale Fingering #5
Minor Pentatonic Connections
The Entire Minor Pentatonic System
CHAPTER 8 -- THE BLUES
The 12-Bar Blues
Open String Shuffle and Rhythm Riffs
Blues Scales
The Entire Blues Scale System
CHAPTER 9 -- THE MAJOR PENTATONIC SCALE
Relative Pentatonic Scales
The Five Major Pentatonic Fingerings
Sliding E Major Pentatonic
Major Pentatonic Connections
Major Pentatonic Licks
The Entire Major Pentatonic System
CHAPTER 10 -- DROP D TUNING
APPENDIX A---Suggested Songs for Practice
APPENDIX B---Guitarists to Hear
---
Additional Information
| | |
| --- | --- |
| Series: | Complete Method |
| Author: | Paul Howard |
| Instrument: | Guitar |
| Format: | Book & DVD-ROM |
| Page Count: | 96 |
| Item Number: | 00-39325 |
| ISBN 10: | 1-73908-927-8 |
| ISBN 13: | 978-1-73908-927-6 |
| UPC: | 038081440385 |
---
Stay Updated
Want to get the latest updates and special offers from Alfred Music?