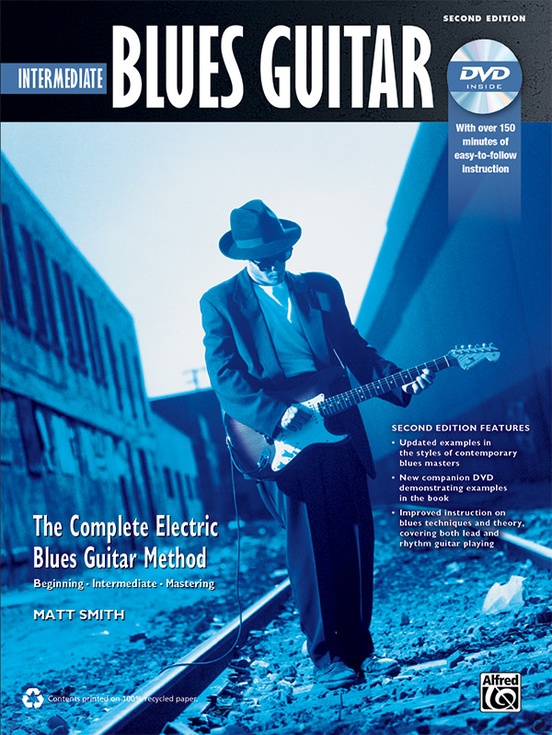 The Complete Blues Guitar Method: Intermediate Blues Guitar (Second Edition)
By Matt Smith
Guitar Book & DVD
Item: 00-40883
Add to Cart
Add to List
Share
---
Description
The second book and DVD in The Complete Blues Guitar Method, this package is great for guitarists who know the basics of the blues and are ready to take the next step. Topics include blues techniques, phrasing, R&B and blues-funk fills, non-scale tones, chord extensions and substitutions, and more. Start with a quick review of basic materials and finish by learning the "licks of the masters." Included are examples in the styles of legendary players like B. B. King, Albert King, Eric Clapton, and Stevie Ray Vaughan. This edition also features new licks in the styles of contemporary blues guitarists like John Mayer, Joe Bonamassa, and Keb' Mo', and includes brand-new video hosted by expert educator and guitar virtuoso Jared Meeker with exciting demonstrations of examples and techniques. If you have completed Beginning Blues Guitar, or you are an advanced beginner, Intermediate Blues Guitar takes you to the next level.
---
Contents
Title
About the Author
Introduction
Chapter 1-Getting Started
The Music Alphabet
The Guitar Fretboard
Tuning
How to Read Music
Rhythmic Notation
A Guide to Tablature (TAB)
Roman Numerals
Reading Scale and Chord Diagrams
Chapter 2-Theory
The Major Scale
Major Scale and Key
Key Signatures
Natural Minor Scale
Relative Minor
Intervals
Interval Inversion
Chords
Chord Extensions
Dominant Chords
Chord Quiz
Chord Scales-Diatonic Harmony
Chord Scale Quiz
The 12-Bar Blues
Chapter 3-Blues Rhythm Guitar
Swing Eighths
Boogie!
Chord Extensions and Substitutions
Dominant Blues Substitutions
Minor Blues Substitutions
Right-Hand Development
Shuffle Comping
Sliding Chord Forms
Funky Blues Rhythm Fills
Rhythm & Blues Fills
Secrets of the Blues!-Blues Philosophy
Chapter 4-A Quick Technique Review
Bending
Vibrato
Bent-Note Vibrato
Chapter 5-Soloing
The Minor Pentatonic Scale
Phrasing
Non-Scale Tones
Breaking Out of Pentatonic Patterns
The Major Pentatonic Scale
Mixing Major and Minor Pentatonics
Chapter 6-More About Soloing
Resolving to 3 and Flat 7
Double-Stop 3rds
Dominant Double-Stops
Double-Stop 6ths
Double-Stop 4ths
Minor Blues Double-Stops
Chapter 7-Licks of the Masters
B. B. King
Albert King
Freddie King
Jimi Hendrix
Eric Clapton
Stevie Ray Vaughan
Gary Clark, Jr
Joe Bonamassa
---
Additional Information
| | |
| --- | --- |
| Series: | Complete Method |
| Author: | Matt Smith |
| Instrument: | Guitar |
| Format: | Book & DVD |
| Page Count: | 96 |
| Item Number: | 00-40883 |
| ISBN 10: | 0-7390-9537-4 |
| ISBN 13: | 978-0-7390-9537-9 |
| UPC: | 038081458984 |
---