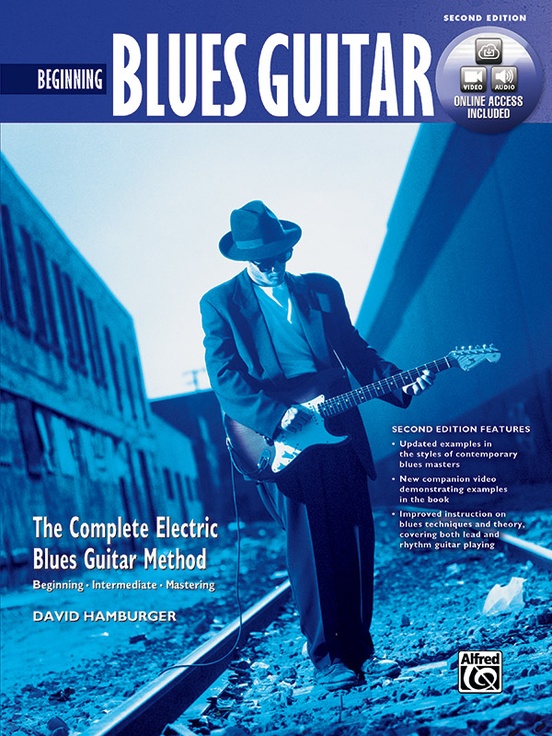 The Complete Blues Guitar Method: Beginning Blues Guitar (Second Edition)
By David Hamburger
Guitar Book & Online Video/Audio
Item: 00-40880
Add to Cart
Add to List
Share
---
Description
Perfect for beginning blues and blues-rock guitarists, Beginning Blues Guitar is an introduction to basic blues theory, left-hand techniques, rhythm styles of Texas swing, slow blues, and minor blues---plus the styles of blues greats like Muddy Waters and Buddy Guy. Learn about call-and-response phrasing, intros, turnarounds, endings, and even improvisation. The second edition features new licks in the styles of some of the hottest contemporary blues artists, like Joe Bonamassa and Gary Clark, Jr., and includes brand-new video---hosted by expert educator and guitar virtuoso Jared Meeker---with exciting demonstrations of examples and techniques. Beginning Blues Guitar is the best step-by-step method for learning the substance and style of the blues.
---
Contents
Title
About the Author
Introduction
Chapter 1-Getting Started Half Steps, Whole Steps, and the Importance of Gravity
The Fretboard
Tuning Up
Music Notation
Reading Tablature (TAB)
Reading Chord Diagrams
Reading a Chord Chart-Rhythmic Notation
Reading Scale Diagrams
Reading Roman Numerals
Chapter 2-Blues Theory
The Major Scale
Key Signatures
Minor Scales
Relative Minor
Intervals
Chords
Diatonic Harmony
Blues Harmony
Chapter 3-Basic Rhythm Guitar
Basic Rhythm Vocabulary
Basic 12-Bar Blues
Palm Muting
The Shuffle Pattern
Moveable Shuffle Patterns
Left-Hand Muting
Variations on the Shuffle Pattern
Stop Time
Boogie-Woogie in Open E
Chapter 4-Blues Scales
Major Pentatonic
Phrasing
Call-and-Response Phrasing
Riff-Style Soloing
Minor Pentatonic
Targeting Root Notes
Combining Call-and-Response with Root Targeting
Transposing
Chapter 5-Left-hand Techniques
Hammer-Ons
Pull-Offs
Hammer-Ons and Pull-Offs Together
Slides
Bending
Reverse Bends
Signature Licks
Vibrato
Chapter 6-Rhythm Guitar Styles
Muddy Waters-Vamps
Buddy Guy-Rhythm Riffs
Texas Swing
Slow Blues
Minor Blues
Chapter 7-Intros, Turnarounds, and Endings
Turnarounds
Intros
Endings
Chapter 8-Improvising
Alternating Major and Minor Pentatonic
Adding Major Pentatonic Notes to the Minor Pentatonic
Adding Minor Pentatonic Notes to the Major Pentatonic
Chord Hits
Expanding the Basic Scale Patterns
More Licks!
Chapter 9-Practicing
Set Goals
Organize Your Time
Metronomes, Drum Machines, and Practice Recordings
Vary Your Sources
Outside the Practice Room
Individuality
---
Additional Information
| | |
| --- | --- |
| Series: | Complete Method |
| Author: | David Hamburger |
| Instrument: | Guitar |
| Format: | Book & Online Video/Audio |
| Page Count: | 96 |
| Item Number: | 00-40880 |
| ISBN 10: | 0-7390-9536-6 |
| ISBN 13: | 978-0-7390-9536-2 |
| UPC: | 038081458977 |
---