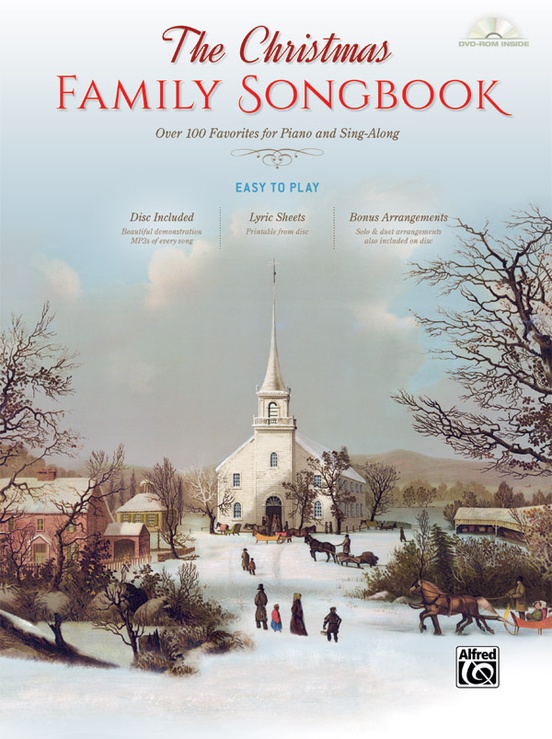 The Christmas Family Songbook
Over 100 Favorites for Piano and Sing-Along
By various composers and arrangers
Piano/Vocal/Guitar Book & DVD-ROM
Item: 00-44362
Add to Cart
Add to List
Share
---
Description
The holidays are a time of simple togetherness with family and friends, and nothing brings people closer than singing songs with loved ones. To help elevate your celebrations, The Christmas Family Songbook is a beautiful hardcover keepsake edition that features over 100 of the most popular Christmas songs, all arranged to be easily playable at the family piano. Also included is a genre index that organizes songs into sections. A multimedia disc within (in DVD-ROM format) has MP3s demonstrating the piano parts, and to further inspire your own sing-alongs, easy-to-print lyric sheets to all the tunes are provided. For the musician seeking a challenge, the disc also features six intermediate to advanced solo and duet piano pieces in PDF format. Lastly, Alfred Music's exclusive TNT 2 software is also provided, allowing you to slow down the demonstration audio, loop sections, and change keys for practice. This Christmas season, give the best gift of all---the gift of music!

Titles: Angels from the Realms of Glory * Angels We Have Heard on High * As Lately We Watched * As with Gladness Men of Old * Auld Lang Syne * Away in a Manger * Believe (from The Polar Express) * Blue Christmas * Break Forth, O Beauteous Heavenly Light * Breath of Heaven (Mary's Song) * Bring a Torch, Jeannette, Isabella * Buon Natale (Means Merry Christmas to You) * Carol of the Bells (Ukrainian Bell Carol) * Carol of the Birds * Celebrate Me Home * A Child This Day Is Born * Children, Go Where I Send Thee * Christ Was Born on Christmas Day * Christmas Offering * Come, Thou Long-Expected Jesus * The Coventry Carol * December * Deck the Halls * Don't Save It All for Christmas Day * Echo Carol * Emmanuel * Emmanuel (Hallowed Manger Ground) * Feliz Navidad * The First Noel * The Friendly Beasts * Gesu Bambino (The Infant Jesus) * The Gift * Go Tell It on the Mountain * God Rest Ye Merry, Gentlemen * Good Christian Men, Rejoice * Good King Wenceslas * Hark! The Herald Angels Sing * Have Yourself a Merry Little Christmas * He Has Come for Us (God Rest Ye Merry, Gentlemen) * He Is Born, the Holy Child * Here We Come A-Wassailing * The Holiday Season * The Holly and the Ivy * A Holly Jolly Christmas * (There's No Place Like) Home for the Holidays * I Heard the Bells on Christmas Day * I Saw Three Ships (Come Sailing In) * I Wonder As I Wander * I'll Be Home for Christmas * In the Bleak Midwinter * Infant Holy, Infant Lowly * It Came Upon the Midnight Clear * It Must Have Been the Mistletoe * It's the Most Wonderful Time of the Year * Jingle Bells * Jolly Old Saint Nicholas * Joseph's Lullaby * Joy to the World * Joyful, Joyful, We Adore Thee * Let There Be Peace on Earth * The Little Drummer Boy * Lo, How a Rose E'er Blooming * Mary, Did You Know? * Mary Had a Baby * Masters in This Hall * Mele Kalikimaka (The Hawaiian Christmas Song) * My Soul Magnifies the Lord * The Nutcracker Themes * O Christmas Tree (O Tannenbaum) * O Come, All Ye Faithful (Adeste Fideles) * O Come, Little Children * O Come, O Come, Emmanuel * O Holy Night * O Little Town of Bethlehem * O Ye Joyful People (O Du Frohliche) * On Christmas Night All Christians Sing (Sussex Carol) * Once in Royal David's City * One Small Child * Parade of the Wooden Soldiers * Pat-a-pan * The Prayer * Put a Little Love in Your Heart * River * Rockin' Around the Christmas Tree * Rudolph, the Red-Nosed Reindeer * Santa Baby * Santa Claus Is Comin' to Town * Silent Night * Silver and Gold * Simple Gifts * Sing We Now of Christmas (Noel Nouvelet) * Sleigh Ride * Some Children See Him * Stand Beneath the Mistletoe * Star of the East * Sweet Little Jesus Boy * The Twelve Days of Christmas * Up on the Housetop * We Three Kings of Orient Are * We Wish You a Merry Christmas * Welcome Christmas (from How the Grinch Stole Christmas!) * Welcome to Our World * What Child Is This? (Greensleeves) * When Christmas Comes to Town (from The Polar Express) * While Shepherds Watched Their Flocks by Ni
---
Contents
Title
Angels from the Realms of Glory
Angels We Have Heard on High
As Lately We Watched
As with Gladness Men of Old
Auld Lang Syne
Away in a Manger
Believe (from The Polar Express)
Blue Christmas
Break Forth, O Beauteous Heavenly Light
Breath of Heaven (Mary's Song)
Bring a Torch, Jeannette, Isabella
Buon Natale (Means Merry Christmas to You)
Carol of the Bells (Ukrainian Bell Carol)
Carol of the Birds
Celebrate Me Home
A Child This Day Is Born
Children, Go Where I Send Thee
Christ Was Born on Christmas Day
Christmas Offering
Come, Thou Long-Expected Jesus
The Coventry Carol
December
Deck the Hall
Don't Save It All for Christmas Day
Echo Carol
Emmanuel
Emmanuel (Hallowed Manger Ground)
Feliz Navidad
The First Noel
The Friendly Beasts
Gesu Bambino (The Infant Jesus)
The Gift
Go Tell It on the Mountain
God Rest Ye Merry, Gentlemen
Good Christian Men, Rejoice
Good King Wenceslas
Hark! The Herald Angels Sing
Have Yourself a Merry Little Christmas
He Has Come for Us (God Rest Ye Merry, Gentlemen)
He Is Born, the Holy Child
Here We Come A-Wassailing
The Holiday Season
The Holly and the Ivy
A Holly Jolly Christmas
(There's No Place Like) Home for the Holidays
I Heard the Bells on Christmas Day
I Saw Three Ships (Come Sailing In)
I Wonder As I Wander
I'll Be Home for Christmas
In the Bleak Midwinter
Infant Holy, Infant Lowly
It Came Upon the Midnight Clear
It Must Have Been the Mistletoe
It's the Most Wonderful Time of the Year
Jingle Bells
Jolly Old Saint Nicholas
Joseph's Lullaby
Joy to the World
Joyful, Joyful, We Adore Thee
Let There Be Peace on Earth
The Little Drummer Boy
Lo, How a Rose E'er Blooming
Mary, Did You Know?
Mary Had a Baby
Masters in This Hall
Mele Kalikimaka (The Hawaiian Christmas Song)
My Soul Magnifies the Lord
The Nutcracker Themes
O Christmas Tree (O Tannenbaum)
O Come, All Ye Faithful (Adeste Fideles)
O Come, Little Children
O Come, O Come, Emmanuel
O Holy Night
O Little Town of Bethlehem
O Ye Joyful People (O Du Frohliche)
On Christmas Night All Christians Sing (Sussex Carol)
Once in Royal David's City
One Small Child
Parade of the Wooden Soldiers
Pat-a-pan
The Prayer
Put a Little Love in Your Heart
River
Rockin' Around the Christmas Tree
Rudolph, the Red-Nosed Reindeer
Santa Baby
Santa Claus Is Comin' to Town
Silent Night
Silver and Gold
Simple Gifts
Sing We Now of Christmas (Noel Nouvelet)
Sleigh Ride
Some Children See Him
Stand Beneath the Mistletoe
Star of the East
Sweet Little Jesus Boy
The Twelve Days of Christmas
Up on the Housetop
We Three Kings of Orient Are
We Wish You a Merry Christmas
Welcome Christmas (from How the Grinch Stole Christmas!)
Welcome to Our World
What Child Is This? (Greensleeves)
When Christmas Comes to Town (from The Polar Express)
While Shepherds Watched Their Flocks by Night
You're a Mean One, Mr. Grinch (from How the Grinch Stole Christmas!)
Intermediate/Advanced Arrangements
Bring a Torch, Jeannette, Isabella
Hark! The Herald Angels Sing
Jesu, Joy of Man's Desiring
Jingle Bells [duet]
Silent Night [duet]
What Child Is This? (Greensleeves)
---
Additional Information
| | |
| --- | --- |
| Instrument: | Piano/Vocal/Guitar |
| Version: | Hardcover Piano/Vocal/Guitar Book & DVD-ROM |
| Format: | Hardcover Book & DVD-ROM |
| Page Count: | 264 |
| Item Number: | 00-44362 |
| ISBN 10: | 1-4706-2314-5 |
| ISBN 13: | 978-1-4706-2314-2 |
| UPC: | 038081499772 |
---
Stay Updated
Want to get the latest updates and special offers from Alfred Music?