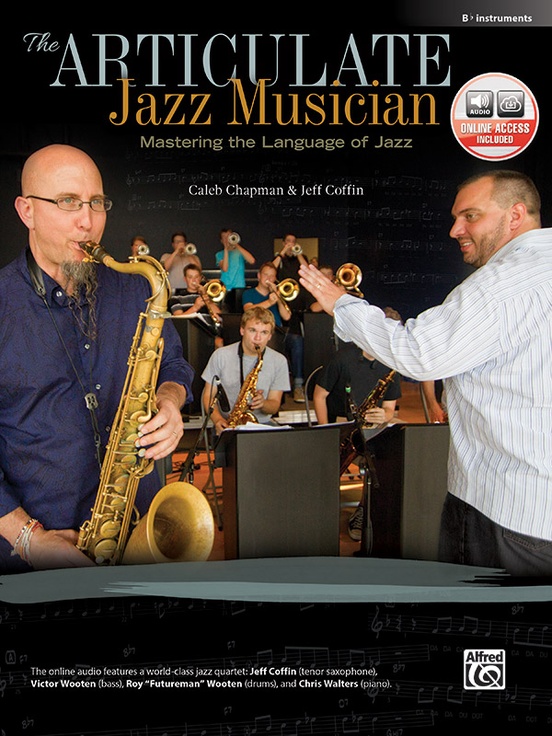 The Articulate Jazz Musician
Mastering the Language of Jazz
By Caleb Chapman and Jeff Coffin
B-flat Instruments Book & Online Audio
Level: 2-3
Item: 00-40591
Add to Cart
Add to List
Related Items
| | | |
| --- | --- | --- |
| The Articulate Jazz Musician: C Instruments Book & Online Audio | $14.99 | View |
| The Articulate Jazz Musician: E-flat Instruments Book & Online Audio | $14.99 | View |
| The Articulate Jazz Musician: Bass Clef Instruments Book & Online Audio | $14.99 | View |
| The Articulate Jazz Musician: Piano Acc. (Instrumental) Book & Online Audio | $16.99 | View |
| The Articulate Jazz Musician: Guitar Book & Online Audio | $16.99 | View |
| The Articulate Jazz Musician: Bass Book & Online Audio | $16.99 | View |
| The Articulate Jazz Musician: Drum Book & Online Audio | $16.99 | View |
| The Articulate Jazz Musician: Teacher Edition & Online Audio | $16.99 | View |
Share
---
Description
Award-winning jazz educator Caleb Chapman and multiple GRAMMY® Award-winning saxophonist Jeff Coffin have created a highly effective approach to jazz articulation. Step by step, The Articulate Jazz Musician details Caleb's proven approach for mastering the fundamentals of jazz articulation, phrasing, and interpretation. The play-along tracks are designed for C, B-flat, E-flat, and bass clef instruments. Rhythm section instruments can use the play-along tracks as a "how to play it" reference. The tracks feature a world-class quartet of Jeff Coffin (tenor saxophone), Victor Wooten (bass), Roy "Futureman" Wooten (drums), and Chris Walters (piano). This method makes approaching jazz articulation easy and fun. Follow the explanations, do lots of listening, play along, practice what you have heard, and before long, you too will be an articulate jazz musician! This title is available in MakeMusic Cloud.
---
Contents
Title
About the Authors
Preface
Introduction
Articulating the Jazz Language
Say What? The Art of Active Listening
It Don't Mean a Thing---Basic Swing Conception
The Jazz Articulation Rule---DA and AH syllables ("Strollin'")
Jazz Articulation Rule Exception #1---DU and DOT syllables ("One More Once")
Articulating the Release ("The Big Giant")
Review DA, AH, DU, and DOT syllables ("Just Say NOLA")
Jazz Articulation Rule Exception #2---Accenting Tops of Contour ("Dexter's Hat")
Jazz Articulation Rule Exception #3---DU-WAH syllables ("Jump on the Bus")
Review DA, AH, DU, DOT, and WAH syllables ("Coco's Blues")
3 Is a Magic Number---Articulating Triplets ("Triple Agents")
Double Your Pleasure---Articulating in a Double-Time Feel ("Twice as Nice")
Jazz Articulation Rule Exception #4---Ghosted Notes, the NN syllable ("Fats Wailer")
Review Triplets, Double-Time Feel, and Ghosted Notes ("Slinky Sideways")
Funk and Rock ("A Little Something")
Other Articulation Effects and Embellishments ("What's Up, What's Down?")
Overall Review ("Wrappin' Up")
Appendix A: Glossary
Appendix B: Basic Jazz Articulation Syllable Quick Guide
---
Additional Information
| | |
| --- | --- |
| Series: | The Articulate Jazz Musician |
| Composed by: | Jeff Coffin |
| Author: | Caleb Chapman |
| Instrument: | B-flat Instruments |
| Format: | Book & Online Audio |
| Instrumentation: | B-flat |
| Page Count: | 44 |
| Item Number: | 00-40591 |
| ISBN 10: | 0-7390-9447-5 |
| ISBN 13: | 978-0-7390-9447-1 |
| UPC: | 038081455501 |
Stay Updated
Want to get the latest updates and special offers from Alfred Music?