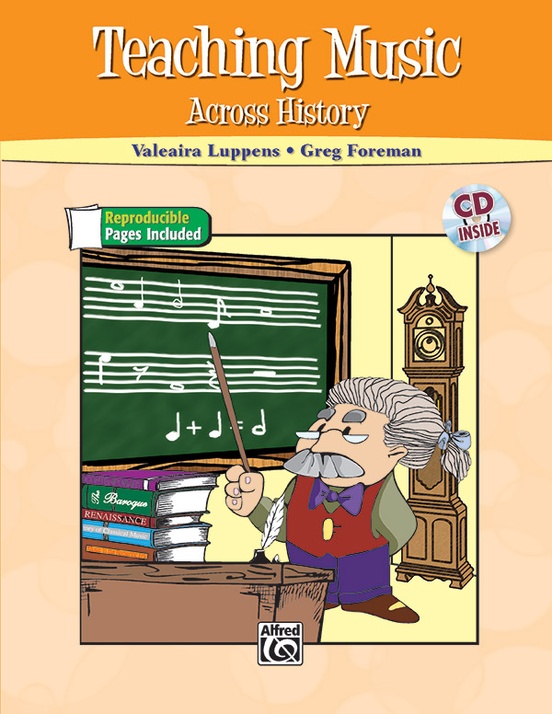 Teaching Music Across History
By Valeaira Luppens and Greg Foreman
Book & CD
Grade: 2--6
Item: 00-40099
Add to Cart
Add to List
Related Items
| | | |
| --- | --- | --- |
| Teaching Music Across the Curriculum: Book | $26.99 | View |
| Teaching Music Through Art: Book & CD | $34.99 | View |
Share
---
Description
An outstanding resource for educators, Teaching Music Across History will help your students understand the ways that music and the arts reflect our culture and how historical events have shaped our civilization and customs. Reproducible student pages are included, making lessons a snap to prepare, keeping students actively engaged, and allowing for easy assessment. The accompanying CD contains listening examples of works by great Classical composers to support and reinforce the lessons. By increasing critical and higher level thinking skills with winning, creative, ready-to-teach methods, Teaching Music Across History will help your students meet item 9 of the National Standards for Music Education* ("Understanding music in relation to history and culture"). This excellent curriculum will encourage your students to incorporate a deeper understanding of history and heritage, and allow you to effortlessly integrate historical information within music instruction. Teaching Music Across History is not only necessary, but fun! Grades 2--6.
---
Contents
Title
PREFACE
GREAT-GREAT-GREAT INVENTIONS!
Baroque Period Inventions
Classical Period Inventions
Romantic Period Inventions
Modern Period Inventions
HOLIDAY FUN
Holidays---Fun! Fun! Fun!
THE PLEDGE OF ALLEGIANCE
STRING STORY
FORWARD MARCH
COMPACTING COMPOSERS
CRACK THE CODE
SAIL! SAIL! SAIL YOUR BOAT!
PEER GYNT ISN'T VERY SWEET!
THANKSGIVING TRIVIA
"Over the River and Through the Woods"
HANSEL AND GRETEL
OPERA HISTORY
THE NUTCRACKER
Piotr Ilyich Tchaikovsky
MARTIN LUTHER KING, JR.
Who Am I?
Martin Luther King Jr.
CHIT CHAT
FAVORITE SONGS
What Makes a Song Great?
GEORGE WASHINGTON
George Washington's Biography
Georgie's Rap
A LINCOLN PORTRAIT
A Lincoln Portrait, (excerpt) by Aaron Copland
ELECTION DAY
LETMY PEOPLE GO!
BACH'S COURT TRIAL
Background Notes for Court Case
Courtroom Procedure
BUMBLEBEE BLAST!
NURSERY RHYMES
Old MacDonald Had a Farm
Lucy Locket
Mary Had a Little Lamb
Twinkle, Twinkle, Little Star
Nursery Rhyme Medley
THE VOICE OF THE PIONEERS
The Voice of the Pioneers Clues
ALL THAT JAZZ!
HIS TRUTH IS MARCHING ON
Julia Ward Howe
Clara Schumann
Women's Rights
THE TREBLE TALK SHOW!
GIVE MY REGARDS TO BROADWAY!
TIME MACHINE
The International Society of Time Travelers
CD CONTENTS (SUGGESTED USES)
MUSIC HISTORY INTERNET RESOURCES
ABOUT THE AUTHORS
---
Additional Information
| | |
| --- | --- |
| Author: | Valeaira Luppens, Greg Foreman |
| Format: | Book & CD |
| Page Count: | 140 |
| Item Number: | 00-40099 |
| ISBN 10: | 0-7390-9261-8 |
| ISBN 13: | 978-0-7390-9261-3 |
| UPC: | 038081448312 |
---
Stay Updated
Want to get the latest updates and special offers from Alfred Music?