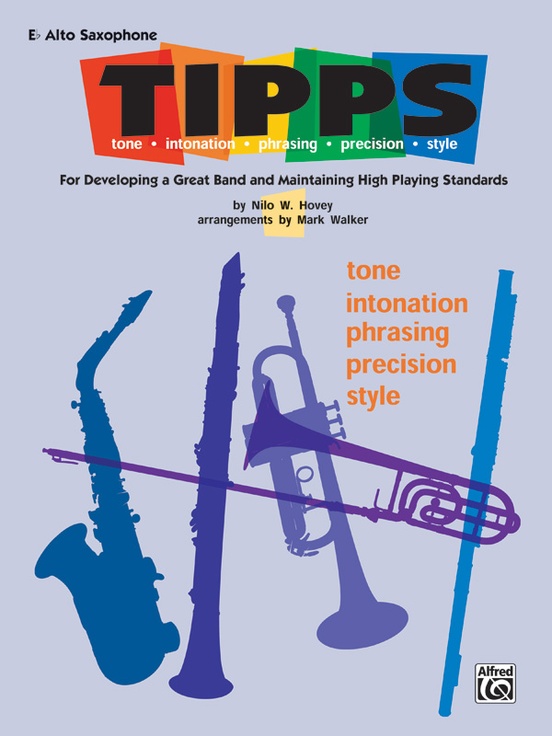 T-I-P-P-S for Bands: Tone * Intonation * Phrasing * Precision * Style
For Developing a Great Band and Maintaining High Playing Standards
By Nilo W. Hovey
E-flat Alto Saxophone Book
Item: 00-EL01464
Add to Cart
Add to List
Related Items
| | | |
| --- | --- | --- |
| T-I-P-P-S for Bands: Tone * Intonation * Phrasing * Precision * Style: Conductor (Piano) Book | $16.95 | View |
| T-I-P-P-S for Bands: Tone * Intonation * Phrasing * Precision * Style: C Flute (Piccolo) Book | $6.95 | View |
| T-I-P-P-S for Bands: Tone * Intonation * Phrasing * Precision * Style: B-flat Clarinet Book | $6.95 | View |
| T-I-P-P-S for Bands: Tone * Intonation * Phrasing * Precision * Style: E-flat Alto Clarinet Book | $6.95 | View |
| T-I-P-P-S for Bands: Tone * Intonation * Phrasing * Precision * Style: B-flat Bass Clarinet Book | $6.95 | View |
| T-I-P-P-S for Bands: Tone * Intonation * Phrasing * Precision * Style: Oboe Book | $6.95 | View |
| T-I-P-P-S for Bands: Tone * Intonation * Phrasing * Precision * Style: Bassoon Book | $6.95 | View |
| T-I-P-P-S for Bands: Tone * Intonation * Phrasing * Precision * Style: B-flat Tenor Saxophone Book | $6.95 | View |
| T-I-P-P-S for Bands: Tone * Intonation * Phrasing * Precision * Style: E-flat Baritone Saxophone Book | $6.95 | View |
| T-I-P-P-S for Bands: Tone * Intonation * Phrasing * Precision * Style: B-flat Cornet (Trumpet) Book | $6.95 | View |
| T-I-P-P-S for Bands: Tone * Intonation * Phrasing * Precision * Style: Horn in F Book | $6.95 | View |
| T-I-P-P-S for Bands: Tone * Intonation * Phrasing * Precision * Style: Trombone Book | $6.95 | View |
| T-I-P-P-S for Bands: Tone * Intonation * Phrasing * Precision * Style: Baritone (T.C.) Book | $6.95 | View |
| T-I-P-P-S for Bands: Tone * Intonation * Phrasing * Precision * Style: Baritone (B.C.) Book | $6.99 | View |
| T-I-P-P-S for Bands: Tone * Intonation * Phrasing * Precision * Style: Bass (Tuba) Book | $6.95 | View |
| T-I-P-P-S for Bands: Tone * Intonation * Phrasing * Precision * Style: Percussion Book | $6.95 | View |
Share
---
Description
The title of the book, T-I-P-P-S is formed by the initial letters of the words tone, intonation, phrasing, precision, and style. It is usable with individuals, class lessons, or a full band. Players can concentrate on improving performance with little or no playing problems involved. It is usable as a warm-up book and a technic book.
---
Contents
Title
Scale Patterns
Preliminary Tuning
Key of Concert E-flat
Now Thank We All Our God
O Sacred Head, Now Wounded
Key of Concert B-flat
Chorale
All Mankind Must Perish
Key of Concert A-flat
Adeste Fideles
Thou Prince of Peace
Key of Concert F
America
Chorale Melody
Vere Languores Nostre
Key of Concert D-flat
Hymn from "Der Freischutz"
O Lord, Thou Beneficent God
Key of Concert C
A Mighty Fortress Is Our God
Now the Day Is Over
Key of Concert G
Italian Hymn
Rejoice, O My Soul
Chromatic Studies
Extended Scales
Rhythm Patterns
---
Additional Information
| | |
| --- | --- |
| Author: | Nilo W. Hovey |
| Instrument: | Saxophone |
| Format: | Book |
| Instrumentation: | E-flat Alto Saxophone |
| Page Count: | 28 |
| Item Number: | 00-EL01464 |
| ISBN 10: | 0-7692-2170-X |
| ISBN 13: | 978-0-7692-2170-0 |
| UPC: | 029156058482 |
---
Stay Updated
Want to get the latest updates and special offers from Alfred Music?