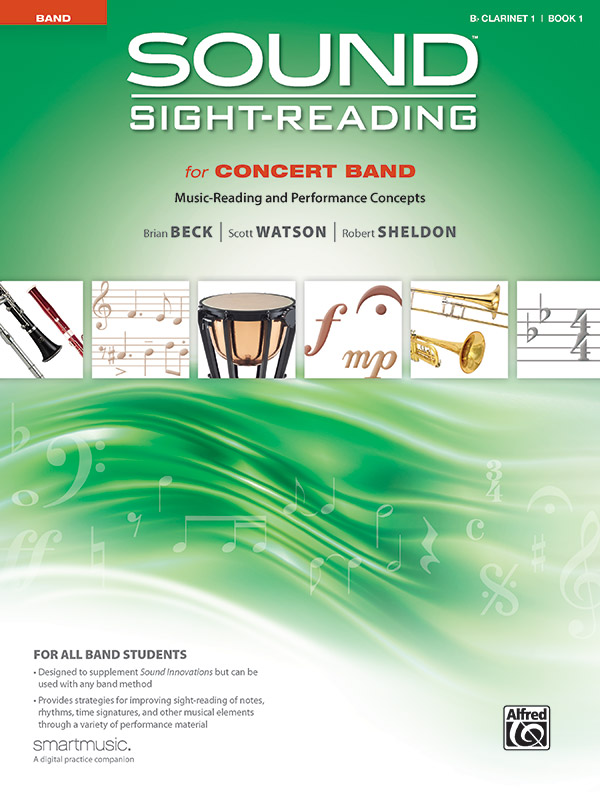 Sound Sight-Reading for Concert Band
Music-Reading and Performance Concepts
Written by Brian Beck, Scott Watson, and Robert Sheldon, Sound Sight-Reading is a sight-reading method comprised of effective and efficient music reading strategies and fun sight-reading games and challenges to build player and ensemble skill decoding and executing music at sight.
View Author Bios
Shop Now
Here's what makes Sound Sight-Reading more than just a collection of music to read through:
Each progressively more difficult level includes a Scale & Scale Patterns page, a multitude of musical examples, and Rhythm Grids.
A & B parts on most pieces allow the teacher to use the exercises in multiple ways.
Activities, games, and challenges offered throughout the book motivate and educate students.
The Teacher Edition presents notes and performance suggestions for every line in the book.
Music decoding strategies that are analogous to those used by reading specialists/language arts teachers add accuracy and efficiency to learning to read and interpret music.
SmartMusic's specialized sight-reading tools give your students immediate feedback and allow you to track their progress.
Special attention is given to improving rhythm reading, both through the Rhythm Grids at the end of each level and in rhythmic challenges in the A/B exercises.
Browse the Brochure
Each level begins with a Scale & Scale Patterns page to establish the major and minor keys used in that level. Notes of the scales are numbered so they can be used like flash cards, with students rapidly naming, singing, or playing the numbers called out.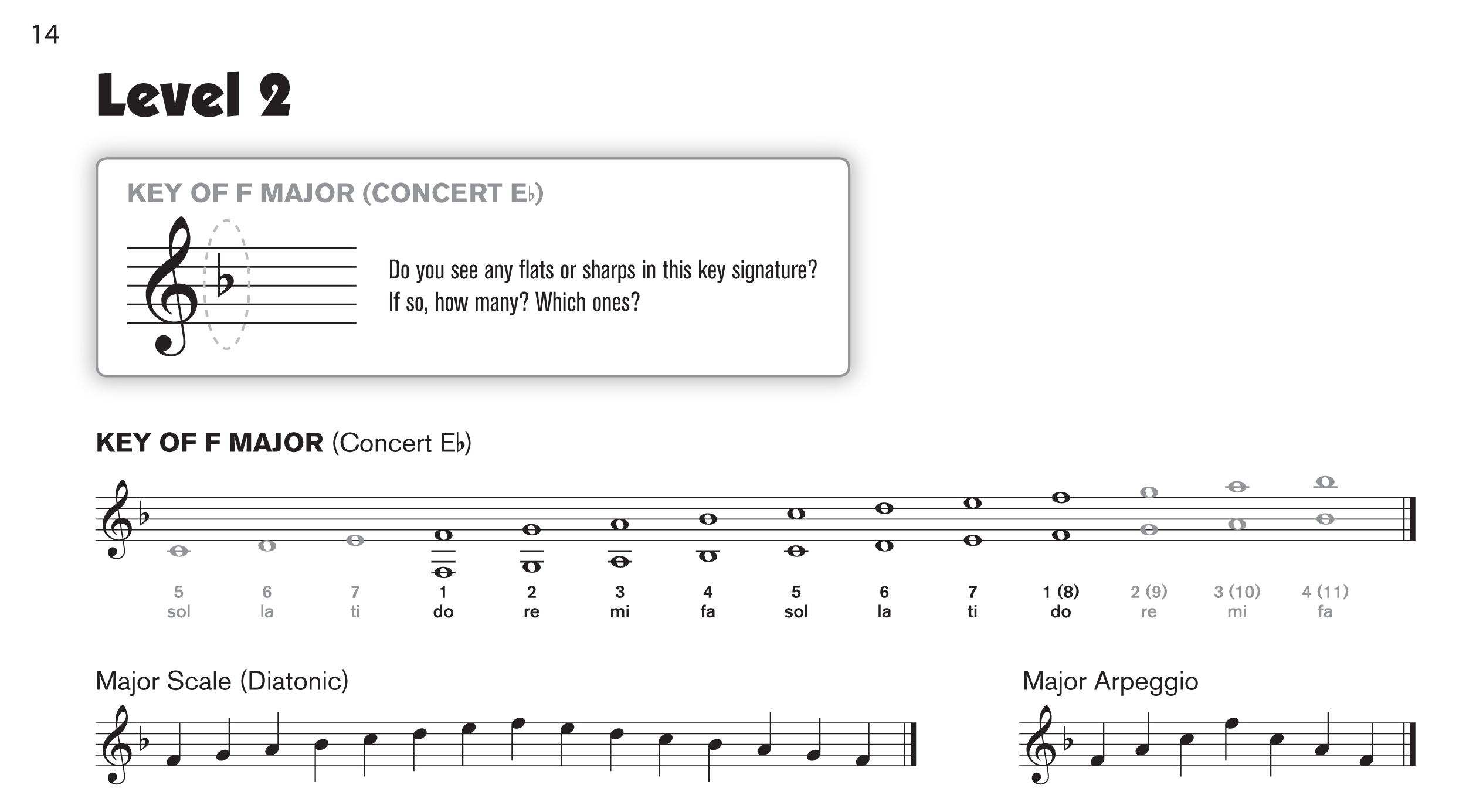 After the Scales and Scale Patterns page, each level contains lines of music presented throughout with specific music-decoding goals. Comprising the majority of the book, most of these lines are two-part duets, allowing each group, individual, or section the chance to perform the melody while others accompany.
Part A: New level-appropriate melodic material.
Part B: Presents various polyphonic settings, for instance a duet part, one of the three remaining parts of an SATB chorale, or an instrument-specific part to a full band arrangement.

Included at the end of each level is a Rhythm Grid (or several grids) of all the rhythms covered, as well as similar, common rhythms that students will encounter in repertoire. This "rhythmic glossary" can serve as a benchmark or assessment point in determining if students are ready to progress. In addition, the rhythms in the grid can be read in a variety of sequential ordering: across, down, diagonally, odd/even, zig-zag... you get the idea! There are almost unending possibilities!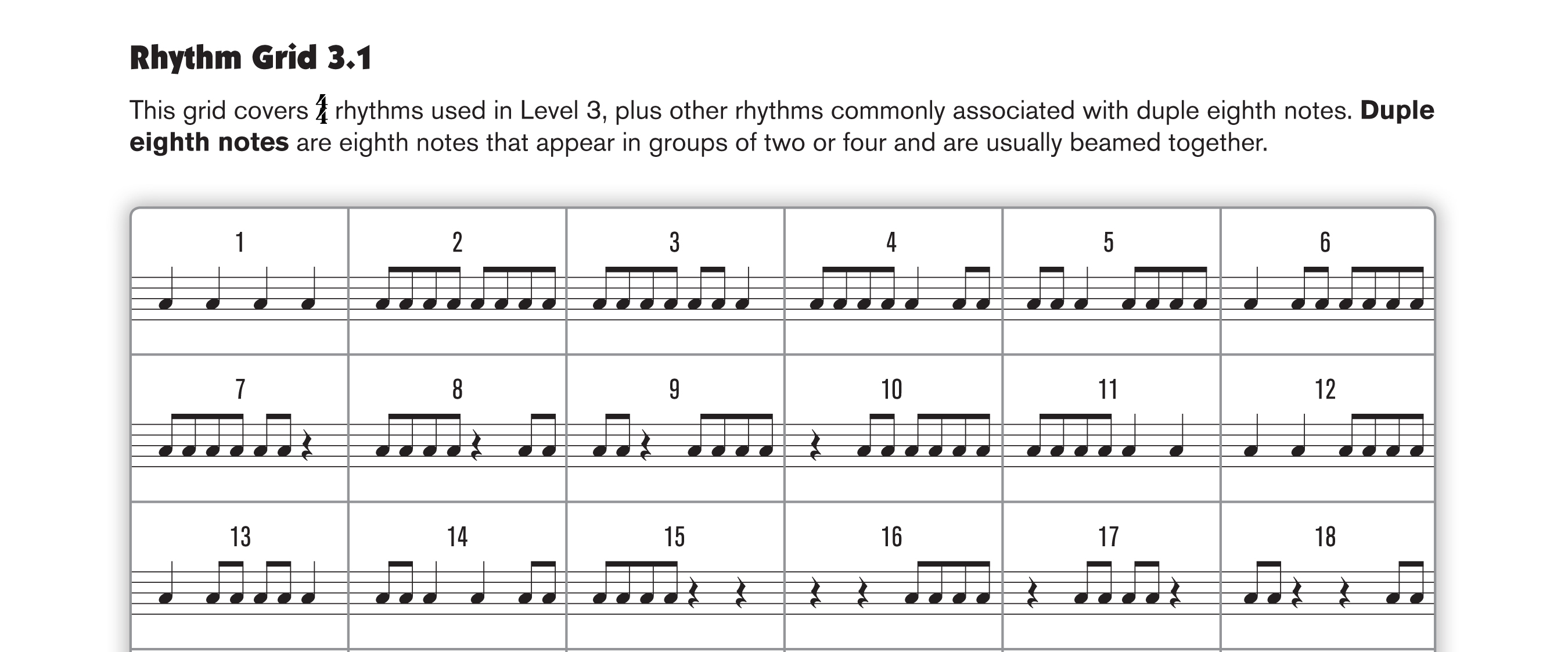 The numerous music decoding strategies introduced and frequently used throughout the book are often analogous to those used by reading specialists/language arts teachers working with young readers such as vocabulary (identifying scales and rhythms), comparing known words to new words (learning to spot patterns), phonics (breaking tough passages down into components such as notes, counts, fingerings, etc.), and chunking (learning to group notes into phrases). These helpful and creative techniques provide a wealth of choices, allowing teachers to differentiate their teaching in order to meet the needs of their ensemble.


The Teacher's Edition takes what is a great method musically and adds lesson plans (the Teacher Notes and Performance Suggestions) for each line. These include the pedagogy of how to deliver the lines in rehearsals and sectionals so students learn and retain what they are supposed to from each line in terms of decoding music.

The Teacher's Edition also includes music reading games and challenges to use in rehearsal to increase student motivation and engagement. At the end of each level, certain music reading games and challenges are suggested, though the teacher may use any that best suit their ensemble's needs.

A teacher subscription to SmartMusic includes Sight Reading Builder. With it you can translate Sound Sight-Reading's strategies and pedagogy to an infinite number of sight-reading exercises, customized for your students' needs. You can track student progress with assignments sent from Sight Reading Builder or from Sound Sight-Reading.
Learn More about Sight Reading Builder