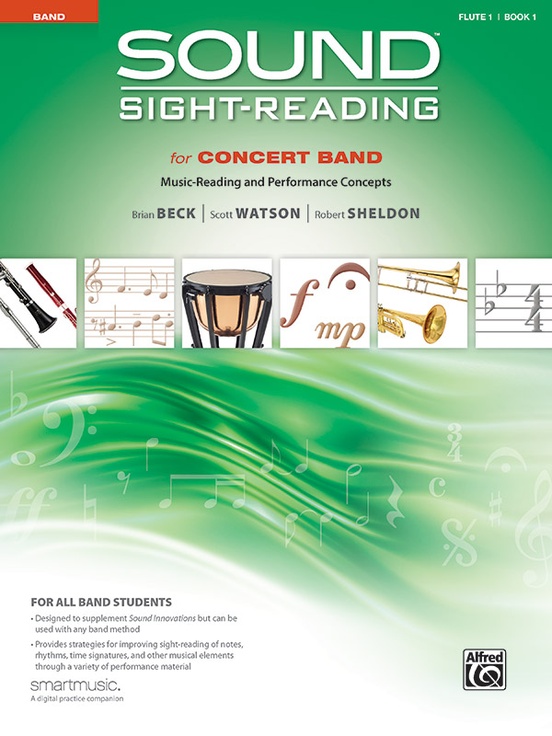 Sound Sight-Reading for Concert Band, Book 1
Music-Reading and Performance Concepts
By Brian Beck, Scott Watson, and Robert Sheldon
Flute 1 Book
Item: 00-48555
Add to Cart
Add to List
Related Items
| | | |
| --- | --- | --- |
| Sound Sight-Reading for Concert Band, Book 1: Teacher's Score | $49.99 | View |
| Sound Sight-Reading for Concert Band, Book 1: Flute 2 Book | $12.99 | View |
| Sound Sight-Reading for Concert Band, Book 1: Oboe Book | $12.99 | View |
| Sound Sight-Reading for Concert Band, Book 1: Bassoon | $12.99 | View |
| Sound Sight-Reading for Concert Band, Book 1: B-flat Clarinet 1 Book | $12.99 | View |
| Sound Sight-Reading for Concert Band, Book 1: B-flat Clarinet 2 Book | $12.99 | View |
| Sound Sight-Reading for Concert Band, Book 1: B-flat Bass Clarinet Book | $12.99 | View |
| Sound Sight-Reading for Concert Band, Book 1: E-flat Alto Sax 1 Book | $12.99 | View |
| Sound Sight-Reading for Concert Band, Book 1: E-flat Alto Sax 2 Book | $12.99 | View |
| Sound Sight-Reading for Concert Band, Book 1: B-flat Tenor Saxophone Book | $12.99 | View |
| Sound Sight-Reading for Concert Band, Book 1: E-flat Baritone Sax Book | $12.99 | View |
| Sound Sight-Reading for Concert Band, Book 1: B-flat Trumpet 1 Book | $12.99 | View |
| Sound Sight-Reading for Concert Band, Book 1: B-flat Trumpet 2 Book | $12.99 | View |
| Sound Sight-Reading for Concert Band, Book 1: Horn in F 1 Book | $12.99 | View |
| Sound Sight-Reading for Concert Band, Book 1: Horn in F 2 Book | $12.99 | View |
| Sound Sight-Reading for Concert Band, Book 1: Trombone 1 Book | $12.99 | View |
| Sound Sight-Reading for Concert Band, Book 1: Trombone 2 Book | $12.99 | View |
| Sound Sight-Reading for Concert Band, Book 1: Baritone B.C. Book | $12.99 | View |
| Sound Sight-Reading for Concert Band, Book 1: Baritone T.C. Book | $12.99 | View |
| Sound Sight-Reading for Concert Band, Book 1: Tuba Book | $12.99 | View |
| Sound Sight-Reading for Concert Band, Book 1: Mallet Percussion Book | $12.99 | View |
| Sound Sight-Reading for Concert Band, Book 1: Battery Percussion Book | $12.99 | View |
| Sound Sight-Reading for Concert Band, Book 1: Timpani/Melody Book | $12.99 | View |
Share
---
Description
Sound Sight-Reading by Brian Beck, Scott Watson, and Robert Sheldon is part of the revolutionary Sound Innovations for Concert Band series. Sound Sight-Reading provides students with decoding strategies to help with reading music more quickly and accurately. Organized in six progressively detailed and expressive levels, each section introduces and reviews new notes, rhythms, time signatures, and other musical elements through a variety of performance material. The teacher's score is packed with insights and ideas for musical games to help keep things fun and challenging.

Experience the many benefits of improved sight-reading:
* Maximize the contact time you have with students.
* Spend less time learning notes and more time learning expression, phrasing, balance, etc.
* Achieve better scores at festivals and other assessments. This title is available in MakeMusic Cloud.
---
---
Stay Updated
Want to get the latest updates and special offers from Alfred Music?