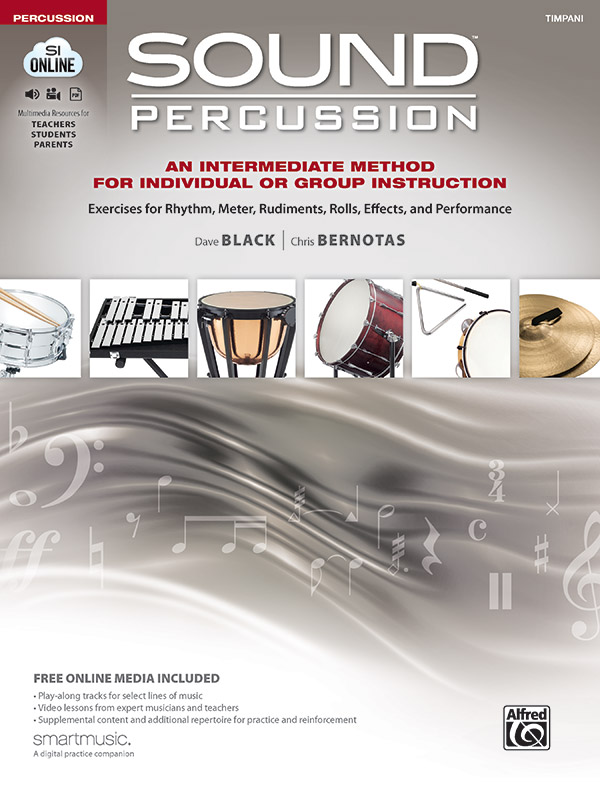 Sound Percussion: Timpani Book
Written by Dave Black and Chris Bernotas, the authors' passion for education and a deep belief in the importance of music for students of all ages is at the heart of Sound Percussion.
View Author Bios
Sound Percussion focuses on preparing students for all of the challenges they will face when performing on the timpani, including tuning the drums, fine-tuning the pitches, sticking and alternate sticking, and many more specialized skills. Throughout the book, timpani are treated not only as a supportive accompaniment but also as a melodic voice in the percussion ensemble.
Timpani parts usually support the tonic, subdominant, and dominant harmonies in music. While many of the exercises and examples follow suit, some of the exercises use other diatonic notes to allow students to gain experience tuning notes outside of the standard treatment. The timpani parts include one, two, and three notes per exercise allowing for great musical variety.
Shop Now
Create better understanding with solid pedagogy, and a clean and uncluttered page layout.
View Sample Pages
The Your Instrument section explains instrument parts, setup, stick selection, mallet grip, playing position, and more. Students and directors will find the range chart particularly helpful to ensure the proper tuning of the drums.

SmartMusic connects you and your students through the web. Send assignments to your students using the material in Sound Percussion. Students receive immediate feedback as they practice each assignment, and the best performances are sent back to you to provide assessment.

As with all new skills in Sound Percussion, new rhythms are introduced in the Sound Rhythms section in unison (when appropriate) and in 4/4 to provide clarity before introducing more complicated time signatures and syncopation. Some rhythms have been simplified for timpani to maintain rhythmic clarity.

While those playing snare drum focus on the more advanced rudiments, timpanists will learn how to apply and experiment with sticking patterns. Their focus is to find patterns that allow for the most musical and comfortable performance of their parts while supporting the rudimental study.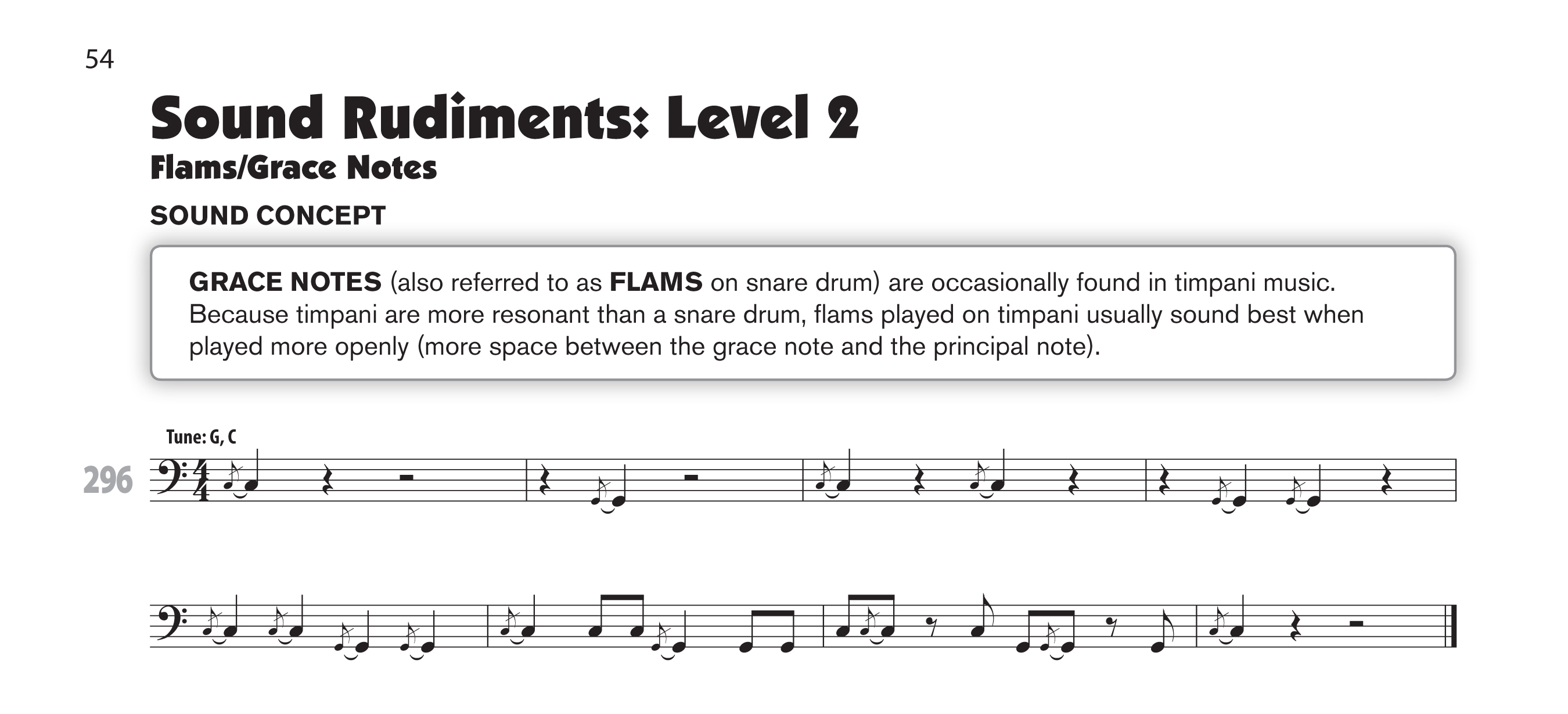 The Sound Meter section introduces meters first starting with simple meters, followed by compound meter, then asymmetrical meter, making students prepared and confident for the last level that features changing meter.
Sound Percussion comes with free access to streaming MasterClass videos, audio and video play-along tracks, and supplemental worksheets on SI Online. No CDs or DVDs to lose! Your students can practice anywhere with internet access, a practice pad, and sticks!. Full performance videos include a quad screen of all five instruments with both wide-screen and close-up shots for detailed examination of performance techniques. Many of the Sound Combination exercises feature videos that include only timpani and mallets so your students can become part of the percussion ensemble and learn part independence.
The Sound Rolls section introduces both single and double drum rolls. Rolls are approached with exercises that help students understand and apply the subdivision underneath each roll. Necessary skills are isolated and experimentation is encouraged to help students learn to develop a clean, clear sound.

Sound effects such as gong and cymbal glissandos, harmonics, and more are included at the end of the book.
The Sound Performance section provides an introduction to full-length percussion ensemble music. An arrangement of "The Stars and Stripes Forever" and an original piece, "Engage," are included for students to apply all they have learned in a fun and exciting way.