Sound Innovations Menu
Sound Innovations Teacher Success Stories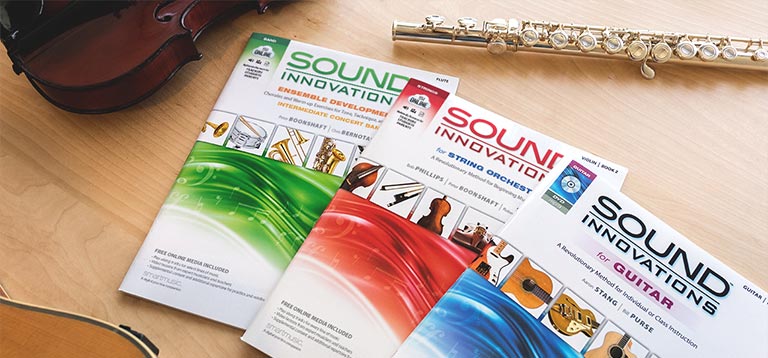 Teachers all over the world are having great results using Sound Innovations with their students! Check out these success stories from teachers like you.
"The Sound Tone and Sound Bowings sections give me a focused way to review and develop the use of the bow with language that makes sense to the kids. I love the way the scale section is set up—it gives me a way to individualize scales (either one or two octaves, depending on skill level) in mixed-instrument and mixed-ability classes."
—Dawn Gaylord, Middle School Strings Teacher, Beaver Dam, Wisconsin
"[The Sound Leadership] workbook helped me to push [the students] in ways that I had never been able to in the past. Week after week we would have deep discussions about each topic, and the students would grow to understand and appreciate how their current and previous leaders either struggled or were successful. . . Recently, we wrapped up our last day of leadership camp and began the audition process of section leaders and drum majors for next school year. The interviews with each prospective student gave me so much hope and excitement for the future and the growth of this music program, and it is all thanks to the gift of this new text book."
—Mr. Loren Gamarra, Director of Instrumental Music
Valley View High School, Moreno Valley, CA
"Sound Innovations Ensemble Development is the most diverse, practical, and comprehensive collection of the best band techniques used around the world. Nothing, absolutely nothing was left out of this book when it comes to developing an ensemble. Try to find a concept that is missing. Well, you can't—they are all there! For me, Sound Innovations is the Swiss army knife of ensemble development. I love it!"
—Brian Peter, Westlake High School, Westlake Village, CA
"The book really seems to motivate kids to practice. I appreciate all of the work your team did to create a practical and creative approach to getting students excited about learning to play an instrument. Thanks for a great effective method book!"
—Joseph W. Nebistinsky, Fine and Performing Arts Chair
Northern York County School District, Dillsburg, PA
"The biggest help [for learning how to hold the cello bow] was actually the Sound Innovations MasterClass videos. After watching Section 1, something just magically clicked where I realized that my whole hand needed to be draped deeper onto the bow… The visual of the cellist's fingers touching the bottom of the frog did wonders for my mental conception of how my right hand should be shaped."
—Mya Hunt, Music Education Major, Lawrence University, Appleton, WI
"Sound Innovations: Ensemble Development is the book I've always wanted! With an astounding variety of exercises, and countless chorales by today's top composers, my students are sight reading every single day while working on the fundamentals of ensemble playing. Ensemble Development is an invaluable resource that allows band directors to teach virtually every facet of ensemble playing from most basic to truly refined. This book escapes the monotony of daily warm-ups with fresh sounding exercises that my students thoroughly enjoy and look forward to playing."
—Mandy DeShrage, South Woods Middle School, Syosset, NY
The amount of pedigogical detail that authors Dave Black and Chris Bernotas have put into this method is truly remarkable and is unparalleled anywhere! Finally, with Sound Percussion, we have a truly sequential and well-rounded method for teaching the "whole percussionist" as an individual as well as an ensemble musician, stressing the importance of not only outstanding technique and reading, but also quality musicianship and engaged listening skills.
—Keith W. Hodgson, Educator, Conductor, and Clinician
The University of the Arts, Philadelphia, PA
"Sound Development Advanced fills a HUGE gap in pedagogy—what to do with those kids in a regular or above-regular H.S. orchestra. The answer has always been just try to fill the gap with literature but now we have a resource."
—Mark Sholl, Director of Orchestras, Music Coordinator, Hilliard, Ohio
"I just transitioned to Sound Innovations this year. The difference between my new 4th grade students and the learning that last year's new students did is night and day. The year's kids are advancing so much more quickly. I highly recommend SI for strings."
—Amy Best, Southeastern School District, Fawn Grove, Pennsylvania
"I really like how customizable the Ensemble Development book is and how easy it is to mix and match different exercises to cover various topics. It also makes it really each to keep rehearsals fresh and interesting. I love the way it's set up. It covers a bunch of different keys, but is consistent in the exercises in each key. The variety is something that I love. It has some traditional chorales by Bach, but also new ones by modern composers. I also love that it includes different time signature like 7/8 and 5/8. It was a great way to introduce those time signatures to my band in clear and concise way."
—James Aslanian, Director of Bands
High Point Regional High School, Sussex, NJ
"Sound Innovations combines technical development and musical growth for ALL sections; I love that my brass, woodwind, and percussion sections can develop appropriate skills for their respective discipline, while also addressing ensemble development. It is expertly laid out and constructed to address essential skills for developing through advanced players and ensembles. I highly recommend its use for bands of all ability levels!"
—Richard Hartsuiker, Morris Hills High School, Rockaway, NJ
Stay Updated
Want to get the latest updates and special offers from Alfred Music?