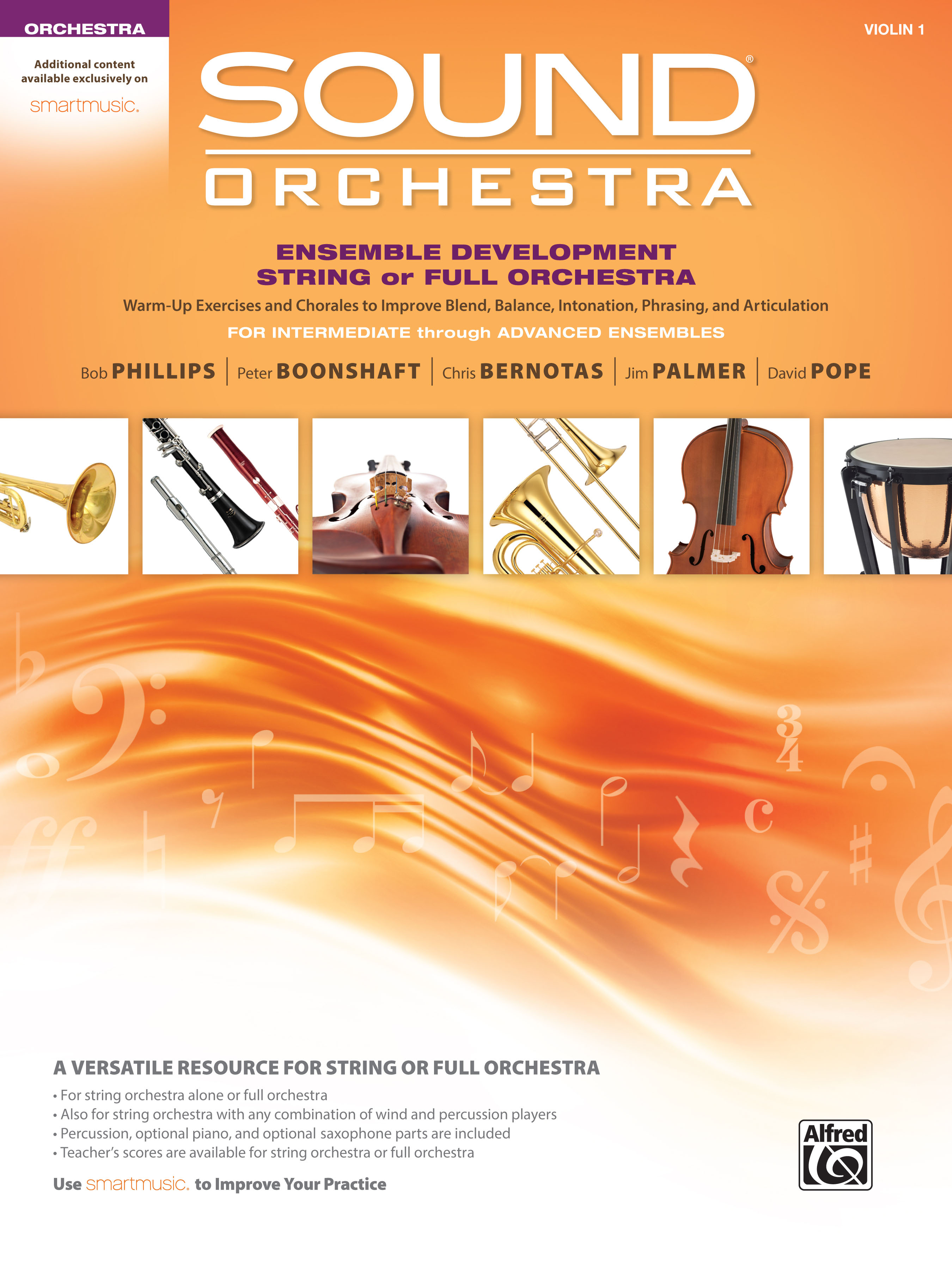 NEW! Sound Orchestra: Ensemble Development for String or Full Orchestra
Warm-Up Exercises and Chorales to Improve Blend, Balance, Intonation, Phrasing, and Articulation
The Sound Innovations authors bring years of extensive teaching, conducting, and composing experience. They include Bob Phillips, Peter Boonshaft, Chris Bernotas, Jim Palmer, and David Pope.
View Author Bios
Sound Orchestra is a resource for developing ensemble performance skills for string or full orchestra. This method focuses on improving an ensemble's tone quality, intonation, and technique with 270 exercises grouped by key signature, including chorales and orchestral themes that students will find both a joy and challenge to work through.
Browse the Brochure
Features
Thoroughly complements performance music for string or full orchestra by isolating and reinforcing each ensemble concept, focusing on improving blend, balance, intonation, phrasing, and articulation
For intermediate through advanced string orchestra alone, full orchestra, or string orchestra with any combination of wind and percussion players
Optional percussion parts are included
Violin 3 book that replicates the viola book is available
Optional piano and saxophone parts are included
Teacher's scores are available for string orchestra or full orchestra
Exclusive Content in MakeMusic Cloud (SmartMusic)!
Further enhance your ensemble's growth through these supplemental exercises:
Additional exercises to support concepts that are in the book
Bach and original chorales in new keys (if sharp keys appear in the book, flat keys appear in MakeMusic Cloud, and the reverse)
Orchestral repertoire themes written in unison for all instruments
Exercise Types
Tuning
Passing the Tonic
Scale and Arpeggio
Chromatic Scales
Scale Patterns
Phrasing
Articulations
Rhythmic Subdivision
Perfect Intervals
Diatonic Harmony
Family Balance
Layered Tuning
Shifting Chord Qualities
Scale Chorales
Bach Chorales
Chorales
Orchestral Repertoire
Modulation
Dynamics
Tuning
This technique is often used for tuning strings en masse and includes parts for full orchestra. Your ensemble can play it three times: the first time for strings alone, the second time for winds and percussion alone, and the third time tutti.
Click on the score excerpts to see the entire page.


Passing the Tonic
These exercises help students concentrate on improving their individual characteristic tone and tuning skills as they work to achieve ensemble balance, blend, and intonation.

Scales, Arpeggios, and Scale Patterns
Students can work toward mastering a specific major or minor scale, as well as an arpeggio in that key (whether a familiar one or not), while developing a cohesive ensemble sound—especially when the strings are playing in a comfortable key and the winds are not, or vice versa. Scale pattern exercises are designed to develop dexterity, facility, confidence, and familiarity with the scale of each key by using a variety of different patterns.


Balance and Intonation
This variety of exercises helps develop skills such as balance, blend, and pitch internalization as well as vertical and horizontal tuning. Exercises types include:
Perfect Intervals: moving between unison and various perfect intervals
Diatonic Harmony: moving between unison and diatonic triads
Layered Tuning: building and unbuilding triads and intervals
Family Balance: focuses on various aspects of ensemble, family, and section balance
Shifting Chord Qualities: cycling through major, minor, and diminished triads
Dynamics
Students will have the opportunity to further develop their abilities to perform and control dynamic levels, preserving beautiful characteristic tone while practicing sudden changes, gradual changes, extremes, and nuances of volume—as well as reinforcing the concept of foreground and background in musical textures.
Articulations
These exercises allow students to practice performing, controlling, and changing a variety of articulations in many contexts. This is especially useful for full orchestra where a cohesive sound is needed while combining the techniques of bowing for strings and tonguing for winds.
Rhythmic Subdivision
Designed to help students understand and internalize rhythmic subdivision. While one part of the ensemble performs music containing common rhythmic patterns, the other part performs the supporting subdivision.

Phrasing
These exercises provide an opportunity to develop your students' sense of individual, section, and ensemble phrasing, with an emphasis on unifying the various families of instruments. Each exercise can be used to focus on the subtleties of musical releases, phrase lengths, contour of line, and shaping of phrases in various contexts.
Scale Chorales
These harmonized scale chorales feature two lines for every student part: the scale, and their part in the chorale. Directors can choose a single student, a section, a family, or any other combination of instrumentalists to play the scale while the rest of the ensemble performs the chorale.

Chorales
These chorales provide opportunities for students to develop the essential skills of tone production, blend, balance, intonation, phrasing, dynamics, articulation, style, and musical expression.

Bach Chorales
These stunning chorales allow students to practice each of the concepts addressed in the book as they work to refine and unify every aspect of ensemble performance.

Orchestral Repertoire
These excerpts are included in this book to allow students to combine all aspects of ensemble playing, as well as become familiar with these renowned works.

Modulation
These exercises will help students practice common forms of modulations. Most of these exercises appear twice with the first example in a common string key and the second in a common wind key.