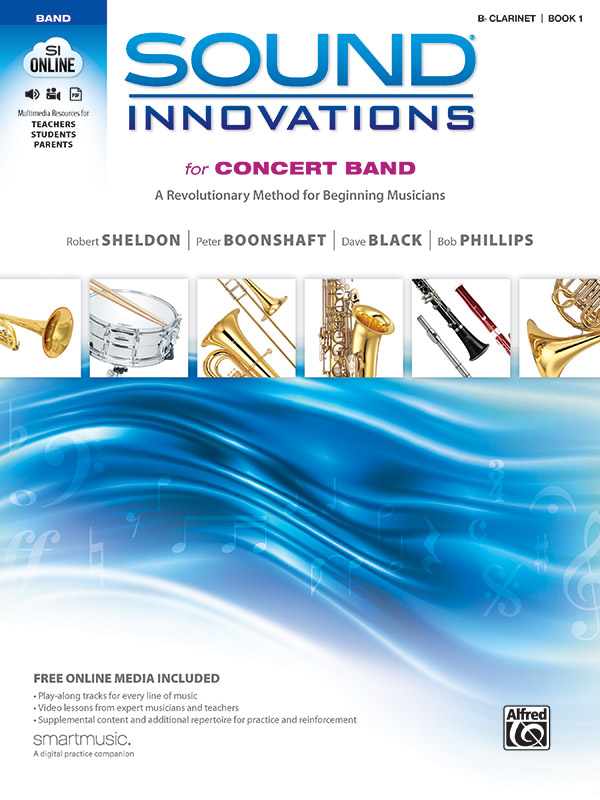 Sound Innovations for Concert Band, Book 1 Overview
The Sound Innovations authors bring years of extensive teaching, conducting, and composing experience. They include Robert Sheldon, Peter Boonshaft, Bob Phillips, Dave Black, and Chris Bernotas.
View Author Bios
The content within Book 1 is organized in levels, providing benchmarks, assessment indicators, and intermediate goals:
Sound Beginnings
Sound Fundamentals
Sound Musicianship
Sound Development
Sound Techniques
Sound Performance.
Shop Now
NEW! Introducing SI Online: Access streaming video MasterClasses and audio accompaniments for Books 1 & 2. Adjust the pacing any time during the semester to address the unique needs within your classroom utilizing the free additional materials online. Adjust the focus of your teaching and address the differentiation of abilities in your classroom with adding more music history, theory, technique, rhythm, scales, composition, improvisation, assessment pages, and more. Explore the wealth of additional repertoire available online, including duets and small ensembles.
Create better understanding with solid pedagogy, and a clean and uncluttered page layout.
View Sample Pages
Provide opportunities for deliberate practice—Book 1 is completely free in MakeMusic Cloud (SmartMusic)! In addition to the original accompaniments provided with the book, MakeMusic Cloud features Sound Innovations Book 1 Extras where students can play their exercises while accompanied by exciting orchestral music from their favorite DC superhero movies including Superman, Wonder Woman, Batman, and more!

Many performance opportunities are provided, including solos, duets, trios, and full-ensemble arrangements. Students can play along with a friend or the professional musician on the included accompaniment tracks. This serves as an outstanding introduction to ensemble playing.

Foster more effective practice with MasterClass videos that are integrated throughout the entire the method, not retrofitted to it. MasterClasses allow the student can learn to emulate the teacher's tone, technique, and musicianship. MasterClass videos and audio tracks for Book 1 are now available as streaming content on SI Online.
MasterClass Teachers:
Simon Hutchings, Clarinet
Tereasa Payne, Flute
Simon Hutchings, Alto Sax
Tim Farrell, Trumpet
Adam Frey, Euphonium/Baritone
Doug Owens, Bassoon & Oboe
Alcides Rodriguez, Alto & Bass Clarinet


Joseph Rodriguez, Trombone
Deanna Swoboda, Tuba
Margaret Tung, Horn
Shannon Wood, Percussion
Robert Young, Tenor & Baritone Sax
Jason Shea, Electric Bass
Learn more about SI Online
Encourage at-home practice with recorded accompaniments that are provided for every line of music in the book. Each exercise contains an example and play-along accompaniment track in a variety of musical styles.
Each new note is introduced with a diagram of the fingering, eliminating the need to reference a separate page. New notes include an introductory exercise followed by plenty of reinforcement exercises. Skills are broken down into manageable steps in order to build success.

SI for Band offers one of the most comprehensive and musically interesting books available for beginning percussionists in your band. Keep your percussion students interested by introducing them to detailed techniques include sticking, dampening, muffling, and rolls. No other method teaches finger dampening for mallets!