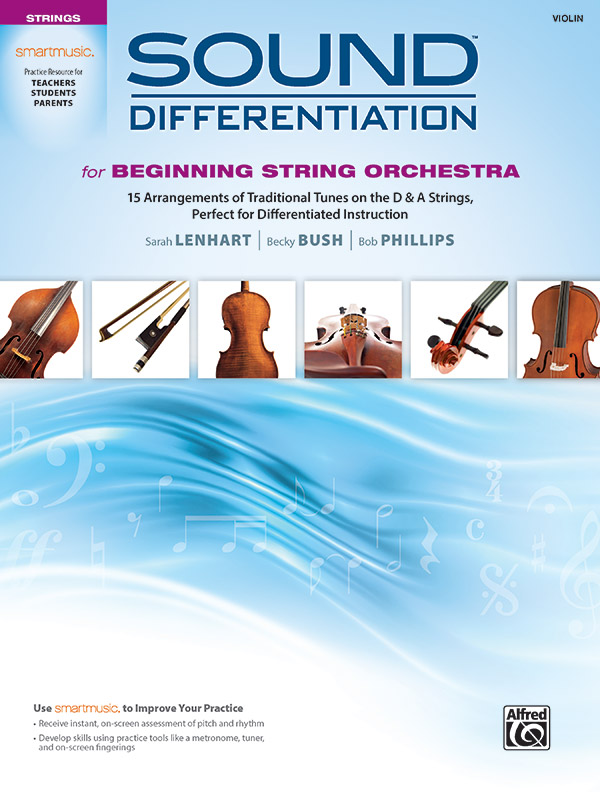 Sound Differentiation for Beginning String Orchestra
15 Arrangements of Traditional Tunes on the D & A Strings, Perfect for Differentiated Instruction
By Sarah Lenhart, Becky Bush, and Bob Phillips
Finally, here is a way to help you meet the needs of all the learners in your beginning string class! This motivational, time-saving supplemental resource provides differentiated parts for 15 well-known pieces and it is perfect for a variety of teaching situations, including like- or mixed-instrument classes, as well as in private study! These arrangements are ready for use in an adaptable format with identical parts for all instruments. The difficulty of each piece progresses throughout the book.
View Author Bios
Shop Now
Here's what makes Sound Differentiation unique:
Can be used for in-class or remote teaching.
All tunes are on the D and A string only (D and G for basses).
Bass lines for all instruments use only open strings.
Can be played arco or pizzicato.
Use for unison playing, or with like- or mixed instruments in any combination.
Note name reminders are provided in the first pieces.
Chord symbols are included for any accompaniment instrument.

Differentiated Parts
There are various ways to differentiate using the material depending on the specific needs of your ensemble. In order of difficulty, the parts are bass line, tune, harmony, variation 1, variation 2, allowing you to assign the parts that are the most appropriate for each student or section. You may use any or all of the parts to create an arrangement. The ensemble can play in unison, separate into two groups, or more. The parts are identical for each instrument.
Click on the excerpt to see the entire page. Please note that only the first few songs have note names.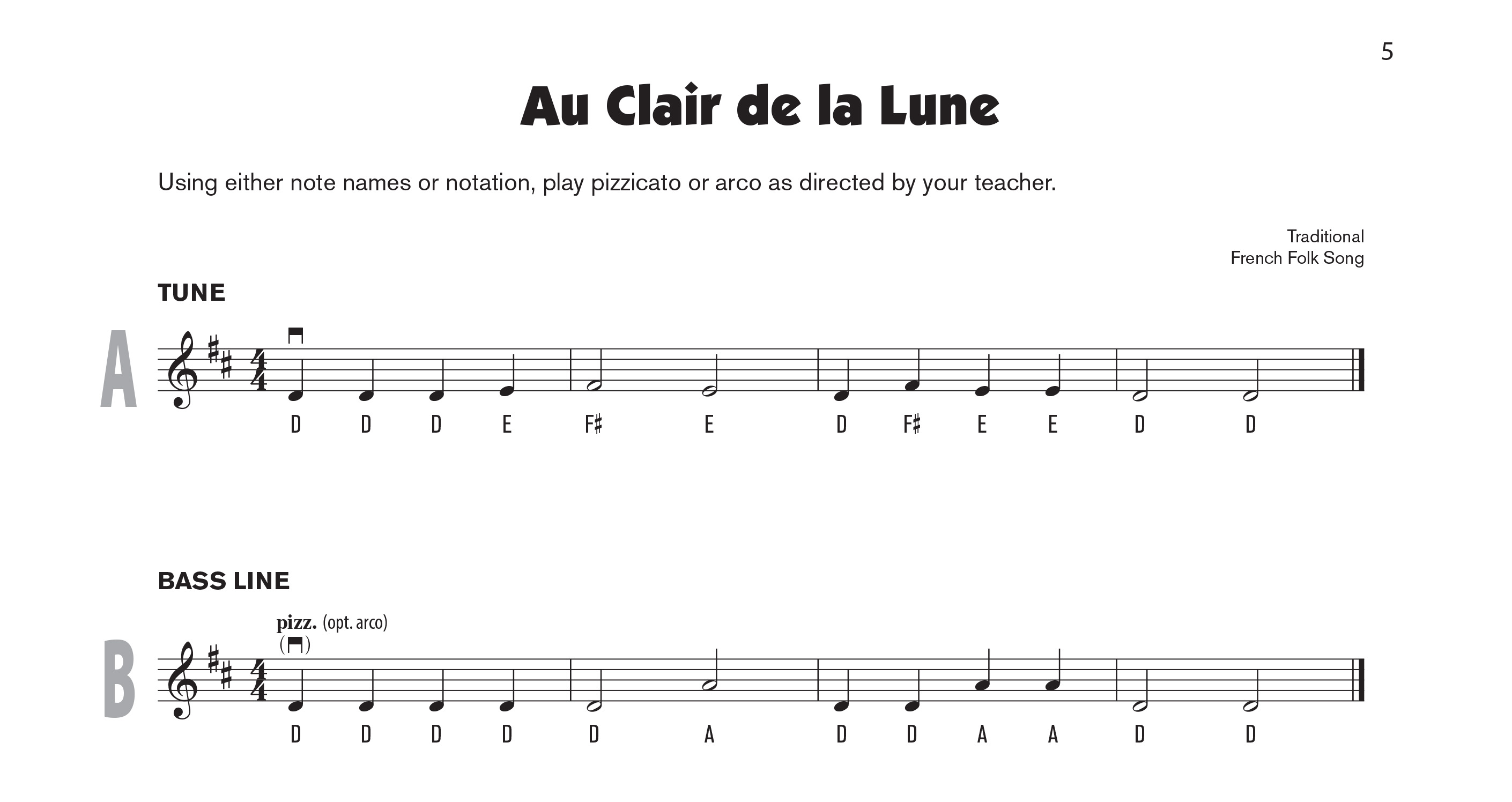 MakeMusic Cloud (formerly SmartMusic)
Transform your students' practice from passive repetition to active learning. Students will be immediately shown what pitches and rhythms they hit or miss so they know what to work on, and they don't learn their music incorrectly. They can play along to the accompaniment, encouraging at-home practice, while helping you track their progress while teaching remotely. Sound Differentiation is now available in MakeMusic Cloud!

Make Your Own Arrangements
Each tune can be played in multiple ways. Not only can you change the instrumentation for each line of music (tune, harmony, variation, bass line), you can also decide what order to play each part. The entire ensemble could play the tune, variation, and end with the tune! Or your ensemble could divide and play just the tune and bass line at the same time. Each tune can be as simple or involved as you would like.
You may assign individual students their own order in the Teacher Order section to provide the best differentiation for your students and/or class.

Note Names
Note names are included for every note in the first two pieces. The next two pieces have note names on the first appearance of new pitches. The rest of the pieces, except for the bass lines, do not include note names so that students become independent readers.
Just Some of the Ways to Differentiate with Sound Differentiation:
Group students into 3 categories based on skill level and assign level-appropriate parts.
Customize each arrangement by choosing the order in which students play each line of the song.
Teachers may assign a new line order using the blank Teacher Order column.