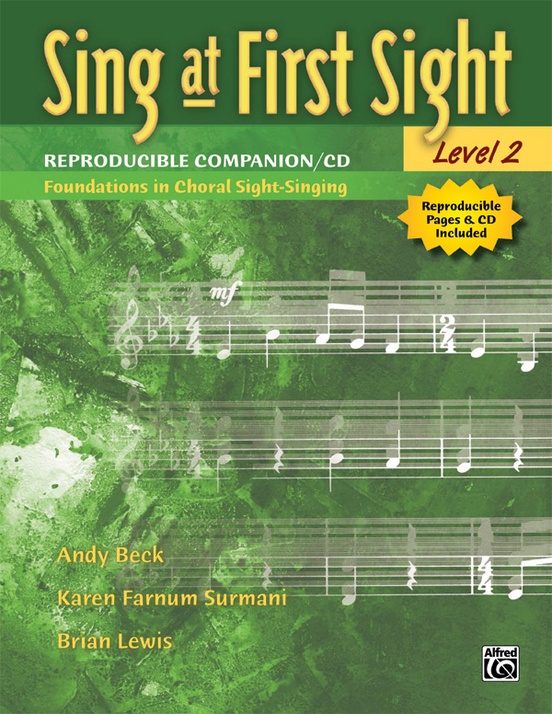 Sing at First Sight, Level 2
Foundations in Choral Sight-Singing
By Andy Beck, Karen Farnum Surmani, and Brian Lewis
Choral Reproducible Companion CD Kit
Item: 00-31264
This item is temporarily out of stock
Notify Me When Available Add to List
Available Digitally
Related Items
| | | |
| --- | --- | --- |
| Sing at First Sight . . . More Melodies!: Choral Reproducible Book & Data CD | $39.99 | View |
| Sing at First Sight Accessory Pack: Choral Poster Set | $29.99 | View |
| Sing at First Sight, Level 1: Choral Textbook | $8.99 | View |
| Sing at First Sight, Level 1: Choral Reproducible Companion CD Kit | $39.95 | View |
| Sing at First Sight, Level 2: Choral Textbook | $8.99 | View |
Share
---
Description
The Reproducible Companion/CD kit for the second level of Alfred's popular sight-singing curriculum is now available! This sequential sight-singing text introduces new music reading concepts using both rhythmic and pitch exercises, plus actual excerpts from real choral music. The new Reproducible Companion/CD offers additional exercises, activities, and assessments, plus a CD with accompaniments and ear-training lessons. The comb binding creates a lay-flat book that is perfect for study and performance. This title is available in MakeMusic Cloud.
---
Contents
Title
UNIT 1
A Minor
D Minor
E Minor
Half and Whole Steps
Accidentals
Natural Minor Scale
Singing in Minor: La, Ti, Do, Re, Mi, Fa, Sol, High La, Fi, Si
UNIT 2
G Minor
B Minor
C Minor
Four-Part Harmony
Harmonic Minor Scale
Di, Ri, Li, Te
UNIT 3
F Minor
F Minor
C Minor
5/4 Time
Quarter Note Triplet
Melodic Minor Scale
Le, Se, Me, Ra
UNIT 4
B Minor
G Minor
E-flat Minor
12/8 Time
Sixteenth/Eighth Note Patterns
Chromatic Scale
Major and Minor 2nds
Major and Minor 3rds
4ths and 5ths (Perfect, Augmented, and Diminished)
Major and Minor 6ths and 7ths
Curwen Hand Signs
Minor Key Signatures
Major, Minor, and Chromatic Scales
Sixteenth/Eighth Note Patterns
---
---
Stay Updated
Want to get the latest updates and special offers from Alfred Music?