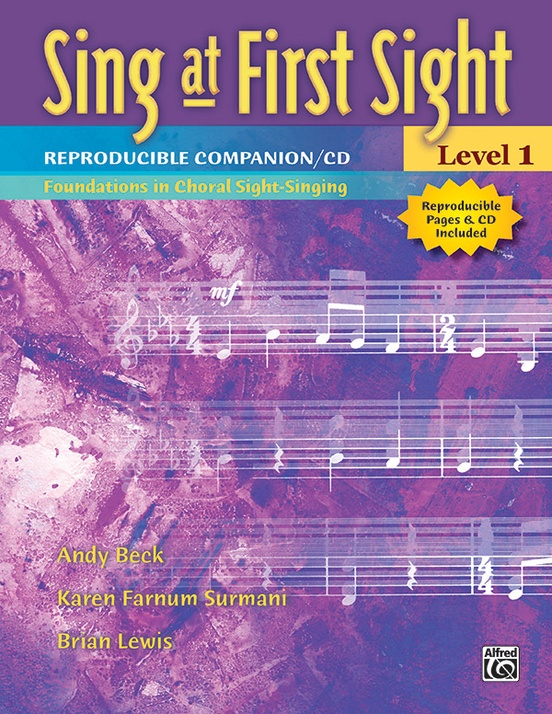 Sing at First Sight, Level 1
Foundations in Choral Sight-Singing
By Andy Beck, Karen Farnum Surmani, and Brian Lewis
Choral Reproducible Companion CD Kit
Item: 00-23833
Add to Cart
Add to List
Available Digitally
Related Items
| | | |
| --- | --- | --- |
| Sing at First Sight, Level 1: Choral Textbook | $8.99 | View |
| Sing at First Sight . . . More Melodies!: Choral Reproducible Book & Data CD | $39.99 | View |
| Sing at First Sight Accessory Pack: Choral Poster Set | $29.99 | View |
| Sing at First Sight, Level 1: Choral Textbook | $8.99 | View |
| Sing at First Sight, Level 2: Choral Textbook | $8.99 | View |
| Sing at First Sight, Level 2: Choral Reproducible Companion CD Kit | $39.95 | View |
Share
---
Description
Augment your sight-singing curriculum with this well-written supplemental textbook which directly correlates to the lessons taught in level one of Alfred's popular Sing at First Sight method. Includes over 80 reproducible pages of additional exercises, activities, and assessments designed to strengthen the music reading skills of developing musicians. A listening CD provides ear-training activities and recorded accompaniments for the six end-of-unit songs. Plus, a handy appendix with easy-to-follow charts and diagrams of music fundamentals. The Reproducible Companion is highly effective when used with Sing at First Sight; on a routine basis after each of the 24 sequential lessons; as needed to master challenging musical concepts; or as a general review following the completion of the original textbook. Logically laid out in a 96-page spiral-bound book, ready for the photocopier! This title is available in MakeMusic Cloud.
---
Contents
Title
UNIT 1
4/4 Time
C Major
F Major
Quarter Note
Quarter Rest
Do, Re
Half Note
Half Rest
Mi, Fa
Whole Note
Whole Rest
Sol, La
Eighth Note
Eighth Rest
Ti, High Do
UNIT 2
Repeat Sign
1st and 2nd Endings
G Major
D Major
Tie
Dotted Half Note
Low Ti, High Re
Dotted Quarter Note
Low La, Low Sol
Intervals
2nds
3rds
UNIT 3
Dynamic Signs
Crescendo
Decrescendo
Bb Major
Eb Major
3/4 Time
2/4 Time
8ths/Octaves
Eighth-Quarter-Eighth Note Pattern
4ths
5ths
UNIT 4
Bass Clef
Da Capo
Dal Segno
Fine
Coda
A Major
E Major
6ths
7ths
Changing Meter
Pick-up Notes
Sixteenth Notes
Sixteenth-Eighth Note Patterns
UNIT 5
Articulation Marks (Slur/Legato, Staccato, Accent, Tenuto)
Ab Major
Db Major
Rounds/Canons
Two-Part Harmony
Dotted Eighth Note
Dotted Eighth-Sixteenth Note Patterns
Triplet
UNIT 6
Tempo Markings (Largo, Adagio, Andante, Moderato, Allegro, Presto, Ritardando/Rallentando, Accelerando, Molto, Poco a Poco)
B Major
Gb Major
2/2 Time/CutTime
6/8 Time
9/8 Time
Three-Part Harmony (Treble)
Three-Part Harmony (Mixed)
Curwen Hand Signs
Treble and Bass Clef Note Names
Rhythmic Notes and Rests
Major Key Signatures
Dynamics
Articulations
Tempo Marks
---
---
Stay Updated
Want to get the latest updates and special offers from Alfred Music?