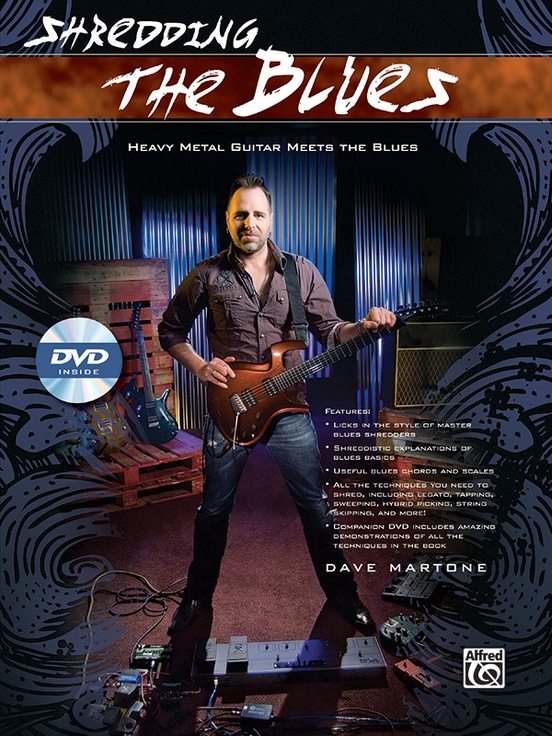 Shredding the Blues
Heavy Metal Guitar Meets the Blues
By Dave Martone
Guitar Book & DVD
Level: Intermediate
Item: 00-40331
Add to Cart
Add to List
Share
---
Description
Master shredder Dave Martone brings exciting heavy metal shred guitar techniques to the blues in this book and DVD. Tap into the soulful, emotion-filled heart of the blues while you put the pedal to the metal and SHRED!
Dave covers all of the most important techniques, including sweep picking, tapping, hybrid picking, and string skipping, and provides lots of fun licks to play in standard music notation and TAB. Easy-to-read neck diagrams make learning chords, scales, and arpeggios effortless.
The included DVD is hosted by Dave and features his unique, entertaining, and clear approach to expressing technical and musical ideas. Shredding the Blues is a must have for any serious shredder and will lead you to shredding the blues in a way that will impress musicians and audiences alike.
---
Contents
Title
Dave Martone
Introduction
Advanced
The 12-Bar Blues Progression and Beyond
More or Less than 12
Licks in the Style of…
Running on One String with a 5th Ending
Life Before the Box Shapes
Legato
The Five Shapes of Awesomeness
The Five Shapes of Awesomeness in E Minor/G Major
The Five Blues Shapes of Awesomeness
String Skipping Through the Boxes
Baby Arpeggios at Grow Up to Be Monsters
Monsters
Super Magical Shapes
Tapping Pentatonic Madness
Introducing Tapping Technique
Combining Parallel Harmony with Pentatonic Shapes
Diatonic Harmonization of the Pentatonic Scales
Combining a Left-Hand Box with a Tapped Box
Hybrid Picking What?
Pattern-Based Licks
Combined with String Skipping
Pentatonic Patterns
It All Starts with Three Little Shapes
String-Skipping Pentatonics That Can Cripple!
Strings 5--3--1
String-Skipping Box Shapes
Strings 6--4--2
Time to Combine String Sets!
The World of Dominant Pentatonics and Diminished Arpeggios
Over a Dominant Chord
Dominant Pentatonics Over a Minor Chord
Diminished Over Dominant Chords: The Spider Scale
Meet the Hexatonic Scale
Meet the Blues Modes
All the Blues Modes
Five More Dominant Pentatonics: It's Not Over Yet!
Eric Johnson--Inspired Arpeggios
Combining em All
Conclusion
---
Additional Information
| | |
| --- | --- |
| Series: | Shredding Styles |
| Author: | Dave Martone |
| Instrument: | Guitar |
| Format: | Book & DVD |
| Page Count: | 96 |
| Item Number: | 00-40331 |
| ISBN 10: | 0-7390-9330-4 |
| ISBN 13: | 978-0-7390-9330-6 |
| UPC: | 038081452067 |
---
Stay Updated
Want to get the latest updates and special offers from Alfred Music?