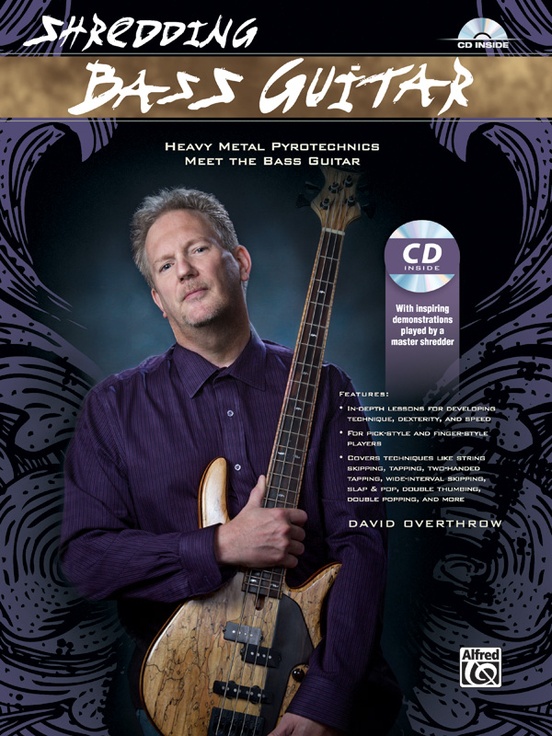 Shredding Bass Guitar
Heavy Metal Pyrotechnics Meet the Bass Guitar
By David Overthrow
Bass Guitar Book & CD
Item: 00-43649
Add to Cart
Add to List
Share
---
Description
It's time to take center stage to deliver all the pyrotechnics usually associated with six-string guitar shredders! Shredding Bass Guitar takes you there through in-depth lessons on building technique, dexterity, and speed. It shows you how to shred using chords, arpeggios, and scales, and covers heavy metal and funk techniques like tapping, string skipping, and slap & pop. Lessons and examples are in the styles of bass masters Billy Sheehan, Les Claypool, Steve Harris, Victor Wooten, Stanley Clarke, and others. Shredding Bass Guitar provides a fresh perspective on the four-string electric bass and is a must-have for any bassist looking to take their playing to a new level. The accompanying CD features all the examples from the book.

Features
* In-depth lessons for developing technique, dexterity, and speed
* For pick-style and fingerstyle players
* Covers techniques like string skipping, tapping, two-handed tapping, wide-interval skipping, slap & pop, double thumbing, double popping, and more

About the Author
David Overthrow is an author, educator, and virtuoso bassist. After attending Berklee College of Music, he began performing with a wide variety of artists throughout the U.S. and Europe, playing rock, funk, jazz, and R&B. David is Director of Music at the Canterbury School in New Milford, Connecticut. He has written for Bass Guitar magazine, authored numerous electric bass methods, and taught three instructional videos for Alfred Music. David has performed with such luminaries as Pat Metheny, Stanley Clarke, Mike Stern, Trey Anastasio, Paul Gilbert, Zakk Wylde, and Sonny Landreth.
---
Contents
Title
About the Author
Acknowledgments
Introduction
How to Use This Book
Warm-Ups
Walk Before You Run: Part 1
Using Both Fingers
Relaxation
Wasted Right-Hand Motion
Wasted Left-Hand Motion
Use Your Fingertips
Stay Focused and Be Positive
Walk Before You Run: Part 2
Right-Hand Warm-Ups Using Eighth Notes
Right-Hand Warm-Ups Using Sixteenth Notes
Left-Hand Warm-Ups
Technique, Dexterity, and Speed
The Spider Exercise
The Billy Sheehan Style
String-Skipping
String-Skipping Using Octaves and Other Large Intervals
String Skipping with 10ths
The Gallop
Playing the Gallop with Three Fingers
Accents
Gallop Technique on One String
Gallop Technique Using Multiple Strings
Gallop Technique with String Skipping
In the Style of Steve Harris
Shredding with a Pick
Playing with a Pick
Alternate Picking on One String
Alternate Picking in Triplets
Alternate Picking in Spider Motion
Scale-Based Alternate Picking
String Skipping with Alternate Picking
Extended Fingering
Extended Fingering with Chromatic Notes
Flight of the Bumblebee
Shredding with Slap & Pop
The Slap
The Pop
Slap & Pop Workouts
Hammer-Ons and Pull-Offs
Hammer-On and Pull-Off Workouts
In the Style of Les Claypool
Sextuplets
Double Thumbing
Double Thumbing the Minor Pentatonic Scale
Double Thumbing Using Muted Notes
Double Thumbing Fretted Triplets
Double Thumbing in the Style of Victor Wooten
Double Popping
In the Style of "Sinister Minister"
Shredding with Chords
Power Chord and 3rds
In the Style of Stanley Clarke
School Bass
Tapping
Classical Tapping Etude
Two-Handed Tapping
Two-Handed Blues Shredding
Conclusion
---
Additional Information
| | |
| --- | --- |
| Series: | Shredding Series |
| Author: | David Overthrow |
| Instrument: | Bass Guitar |
| Format: | Book & CD |
| Page Count: | 64 |
| Item Number: | 00-43649 |
| ISBN 10: | 1-4706-1785-4 |
| ISBN 13: | 978-1-4706-1785-1 |
| UPC: | 038081492384 |
---
Stay Updated
Want to get the latest updates and special offers from Alfred Music?