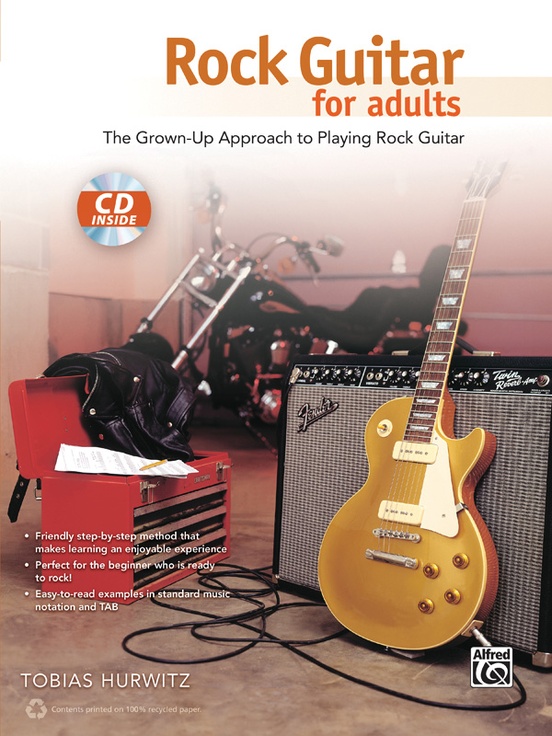 Rock Guitar for Adults
The Grown-Up Approach to Playing Rock Guitar
By Tobias Hurwitz
Guitar Book & CD
Item: 00-40175
Add to Cart
Add to List
Share
---
Description
This fun and friendly step-by-step introduction to rock guitar is written with the adult learner in mind. It is both a great self-teaching book and a great method for use with an instructor. Rock Guitar for Adults covers rock chords, jamming, fingerpicking, scales and techniques for lead guitar, and more. Easy-to-read examples are written in standard music notation and TAB, and there's even a section on music theory geared toward rock musicians. Large diagrams and detailed photographs help simplify the learning process. A CD demonstrating all the examples in the book is included, making learning easier and more fun. This is the perfect "how to" book for the grown-up who wants to rock!
---
Contents
Title
About the Author
Introduction
CHAPTER ONE: ROCK CHORDS
The First Wave of Rock Chords
The Second Wave of Rock Chords
Power Chords
Barre Chords
CHAPTER TWO: GETTING BLUESY
The 12-Bar Blues
Rockin' Up the Blues
Varying the Shuffle
Shuffle Blues
Cool Chords & the Blues
Cool Chord Blues
Blues in E with Mixed Techniques
Turn Me Around
Late-Night Wanderer
Playing the Blues in Any Key
CHAPTER THREE: FUN WITH CHORD PROGRESSIONS
Common Progressions
Transposing
CHAPTER FOUR: SPICE UP THE STRUMMING
Musical Strumming
Strumming Patterns
Play That Funky Music
Other Techniques
CHAPTER FIVE: THE FIRST WAVE OF ROCK SCALES
The Major Scale
Five Major Scale Forms
Tune in G Major
The Minor Pentatonic Scale
Five Minor Pentatonic Scale Forms
Beneath My Digital Extremity
Power Pentatonic
CHAPTER SIX: THE SECOND WAVE OF ROCK SCALES
The Blues Scale
Five Blues Scale Forms
Improvisation Concepts & Strategies
A Blues Groove
The Major Pentatonic Scale
Five Major Pentatonic Scale Forms
Melinda
CHAPTER SEVEN: THE MODES OF THE MAJOR SCALE
Where Modes Come From
Aeolian Mode (Natural Minor)
Five Aeolian Mode (Natural Minor) Forms
Aeolian Metal
Dorian Mode
Five Dorian Mode Forms
Mixolydian Mode
Five Mixolydian Mode Forms
CHAPTER EIGHT: HARMONIC MINOR SCALE
Five Harmonic Minor Scale Forms
Gypsy Rock
CHAPTER NINE: USING THE SCALES
Soloing on the Blues
Matching Scales to Chords
Understanding Diatonic Chord Progressions
Recognizing Modal Progressions
Using the Harmonic Minor Scale
CHAPTER TEN: LEAD GUITAR EXAMPLES
Bending
Sliding
Hammer-Ons and Pull-Offs
Finger Tapping
Eddie's Tune
Harmonics
Harmonics Etude
CHAPTER ELEVEN: JAMMING
Leading
Following
Common Musical Forms
Jamming Exercises
Try This with Your Band
Going "Out"
Song for Jamming
Jam Tune
CHAPTER TWELVE: PICKIN' AND GRINNIN'
Arpeggios
For Kathy
CHAPTER THIRTEEN: "THE WORLD'S GREATEST ROCK 'N' ROLL BAND"
Honky-Tonk Groove
CHAPTER FOURTEEN: SLOWHAND
Melodic Embellishment
Melodic Lead Style of Eric Clapton
Eric's Blues
CHAPTER FIFTEEN: A NEW ROCK EXPERIENCE
Chord Embellishment
Licks
CHAPTER SIXTEEN: ANOTHER PAGE OF ROCK HISTORY
Pentatonic Madness: "Box Licks"
Appendix A: The Basics
Reading Music
Scale Diagrams
Reading Tablature
Special Notation
Appendix B: An Introduction to Music Theory
The Major Scale and Key
Key
Minor Key
Key Signatures
How Chords Are Derived from the Major Scale
Diatonic Triads
Diatonic 7th Chords
---
Additional Information
| | |
| --- | --- |
| Author: | Tobias Hurwitz |
| Instrument: | Guitar |
| Format: | Book & CD |
| Page Count: | 96 |
| Item Number: | 00-40175 |
| ISBN 10: | 0-7390-9286-3 |
| ISBN 13: | 978-0-7390-9286-6 |
| UPC: | 038081448770 |
---
Stay Updated
Want to get the latest updates and special offers from Alfred Music?