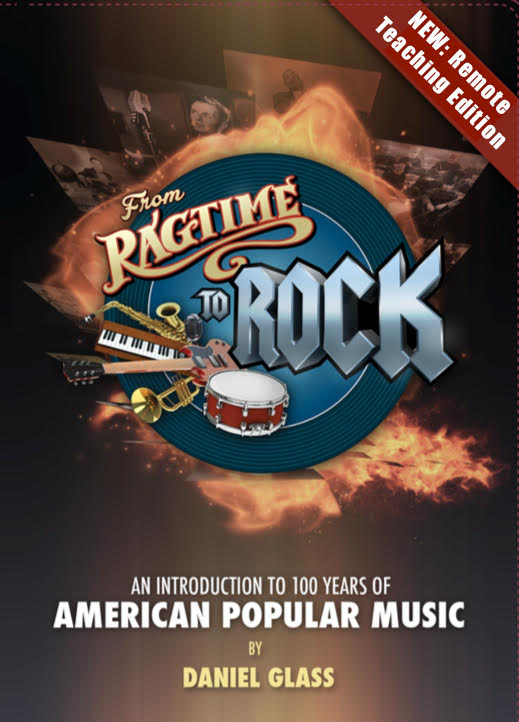 From Ragtime to Rock - Now Formatted for Remote Teaching!
An Introduction to 100 Years of American Popular Music
By Daniel Glass
From Ragtime To Rock offers a sweeping look at 100 years of music evolution, covering the end of the Civil War (1865) to the dawn of the British Invasion (1965). It details how American Popular Music evolved alongside important historical, economic and sociological events such as Slavery, Segregation, Prohibition, Immigration, the Great Depression, World War II, the rise of the Teenager, and many more.
Now Optimized for Remote Teaching
This acclaimed educational DVD with accompanying teacher guide and student assignments is now designed for use with online platforms like Google Classroom. It's the perfect solution for band and choir directors, general music teachers, and instrumental music instructors who want to fully engage their students in a remote learning environment.
Contents
From Ragtime to Rock is an all-in-one package that includes 15 individual videos (4–10 min in length), plus a 72-page Educator Guide. Each unit includes a Teacher Guide, Student Assignment, and Student Activity Sheet, as well as Key Terms and Important Artists sections. Upon purchase, you'll receive a PDF of the Educator Guide that includes links to the lesson videos and Student Assignments on Google Forms.
Videos
The high-energy, info-packed videos offer music students a view into the past with engaging material, helping them connect the music they love today with the music from our past. Click here to view the trailer, or check out the video samples below:
Core Standards
Each unit incorporates clearly defined learning goals, discussion topics, and fulfills a variety of core standards as outlined by NCAS, NAfME, and CCSS. Click here to view the entire list.
Flexible Lessons
The 90-minute "Ragtime to Rock" film can be shown in a single setting, or divided into 15 stand-alone units each of which focuses on a particular musical era, offering educators a flexible way to customize and strengthen any existing curriculum. Click below to download a sample of the Teacher Guide for Unit 10 (The Swing Era).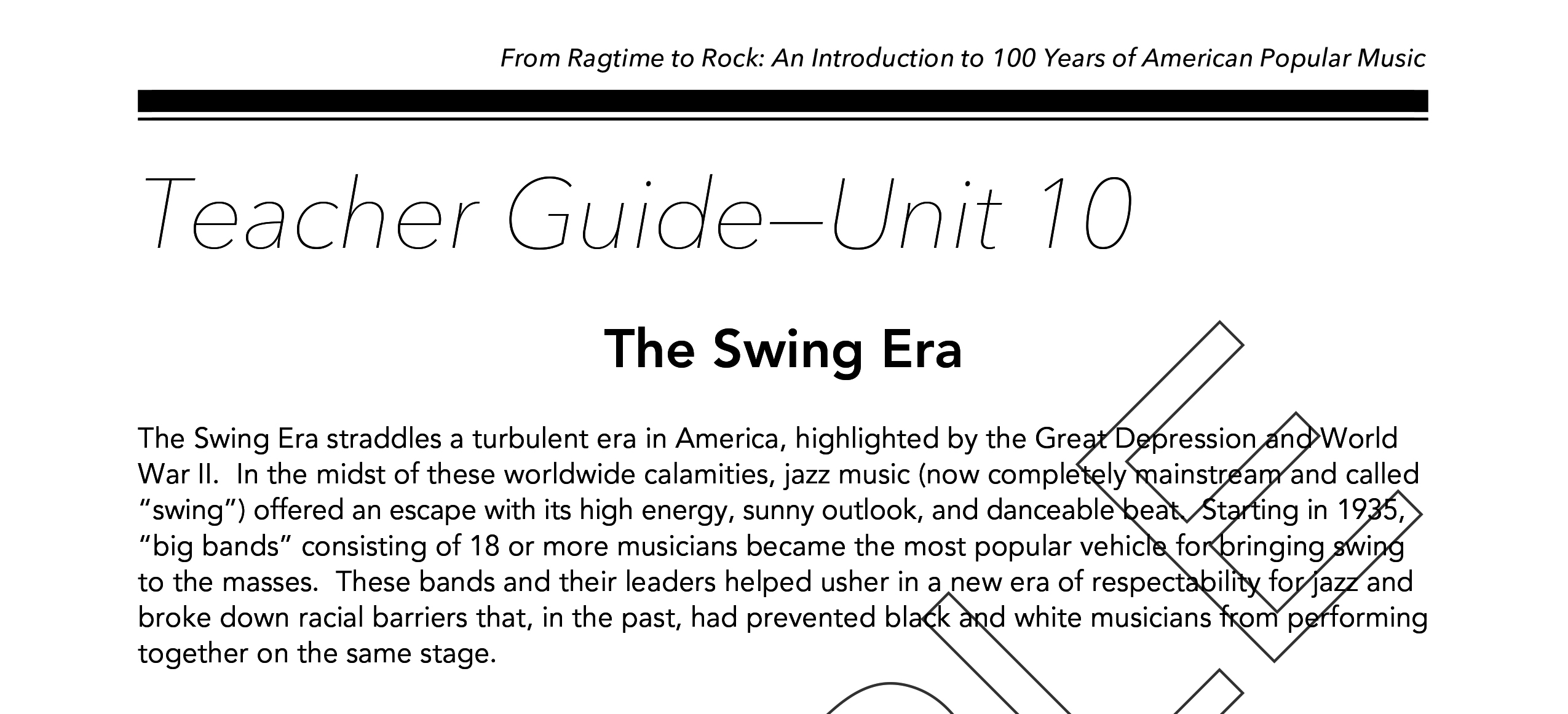 Key Musical Eras Covered:
Folk music
Brass bands / march music
Ragtime
Early jazz (New Orleans)
Blues and blues singers
Chicago jazz (aka Dixieland)
Great American Songbook
Big band swing
Bebop jazz
Rhythm and blues
Country music
Early rock'n'roll
The British Invasion