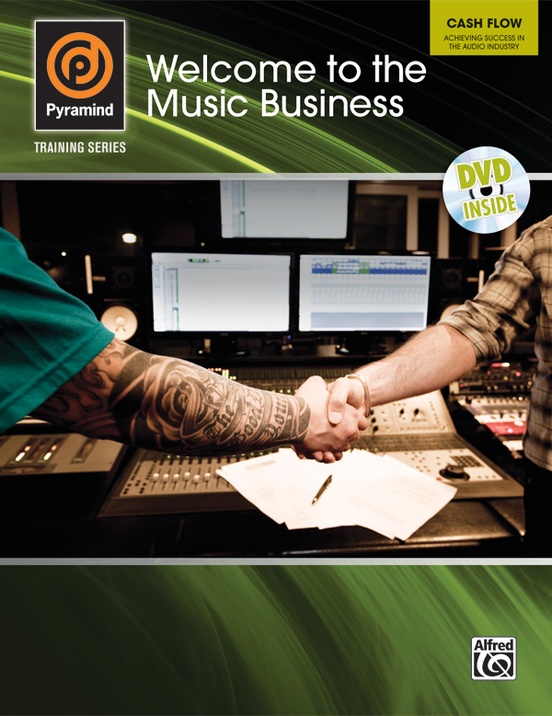 Pyramind Training Series: Welcome to the Music Business
Cash Flow---Achieving Success in the Audio Industry
By Paul Terry, Tess Taylor, Steffen Franz, Gregory J. Gordon, and Steve Heithecker
Pro Audio Textbook & DVD
Item: 00-34404
Add to Cart
Add to List
Share
---
Description
Today's music business is clearly not like it was in its peak years of the 1980s. The never-ending flow of new digital technology combined with internet-based marketing and distribution have forever altered the playing field. These changes have created a new wave of independence that has led to opportunities for artists to have much more control over their careers. Gregory J. Gordon (CEO & Founder of Pyramind), along with Tess Taylor (President & Founder of The National Association of Recording Industry Professionals), Steffen Franz (President & Founder of The Independent Distribution Collective), and Paul Terry (President of Paul Terry And Associates, Management & Entrepreneurial Training for Social Enterprise) join forces to present a compelling and thought-provoking guide to the entrepreneurial nature of the music business. This is the third book in the Pyramind Training series, and it's accompanied by a DVD that contains a discussion with Steffen Franz and Gregory J. Gordon and supporting documentation for independent artists seeking to build their plan for success.
---
Contents
Title
Acknowledgements
Preface
Section 1: The Entrepreneurial Nature of the Music Business by Gregory J. Gordon
Introduction: Some Insights into Gregory J. Gordon
Chapter 1: Time to Go to Work
Jobs in the Music Business
Personal Vision Statements
Chapter 2: Useful Resources for Achieving Success
Professional Organizations to Support Your Career
Schmooze or Lose: Networking Tips
Chapter 3: Change Is the Constant
"Forward, Never Straight"
Navigating the Waters of Independence: Facts and Figures in the Music Business
New Media
Come and Get It!
Oh, No You Don't! (DRM)
Video Games--The New Frontier
Chapter 4: The Future's Up to You
Section 2: Success Strategies by Tess Taylor
Introduction: Meet Tess Taylor
Chapter 5: Got Hustle?
The Bad News
The Good News
Before You Create Your Résumé (or "How to Market Your Most Important Product--You!")
Chapter 6: Your Marketing Tools--The Résumé
Creating Your Résumé Checklist
Chapter 7: Sample Résumés and Cover Letters
Getting Started
A Sample Cover Letter
Chapter 8: You, the Complete Package
The Elevator Pitch
References, Referrals, Testimonials, Letters of Recommendation
Business Cards & Database
Your Network
Attributes of Winners & Losers
Getting In: Give to Get
Chapter 9: Setting the Stage for Opportunity
Etiquette, Professional Protocol & How to Work the Telephone
Step Out of Your Comfort Zone--Take Risks!
From School to the Real World
Chapter 10: When You Get the Gig--Producer Fee Ranges and Considerations
Producer's Duties
Producer Advance (Old School)
"All-in" Producer Fund (Most Cases)
Producer Advance Versus Recording Costs
The Producer Royalty
Chapter 11: Success Strategies--Some Parting Advice
The Nine Things Employers Wish You Knew
Ten Things You Can Do Today
Tess Taylor's Recommended Reading List: Books
Your Favorites?
Tess Taylor's Recommended Reading List: Blogs & News
Your Favorites?
The Rest Is Up to You
Section 3: Welcome to the Music Business by Steffen Franz
Introduction: Adapting to a Changing World
Chapter 12: How Am I Really Going to Make Money in This Business?
Employee Versus Entrepreneur: Which Is Right for You?
Risk/Reward Ratios and Determining a Pathway for Your Career
Can't Beat 'Em?
Chapter 13: How the Music Business Works
Roles in the Music Business
Other Possible "Team" Members
Chapter 14: An Overview of the Traditional "Record" and the Wider Known "Music" Industry
The History
Terrestrial Broadcasting
Chapter 15: The Business Plan Primer
Building Your Blueprint for Success
How Long Will Writing the Business Plan Take?
Who Is the Target of This Document?
How to Begin
Executive Summary
The Business Overview
Market Analysis
Chapter 16: Finding Opportunities in Tough Times
Section 4: Creating the Business Plan by Paul Terry
Introduction
Chapter 17: The Business Plan--A Roadmap to Success
What Is a Business Plan?
Am I an Entrepreneur? Key Questions & Personal Assessments
The Basic Skills for Long-Term Success (aka Twenty Considerations for Long-Term Success)
The Six Basic Elements of a Business Plan
Chapter 18: The Business Plan, Detailed
The Basic One-Page Outline
The Introduction
The Business
The Marketing Plan
The Management Plan
The Financial Plan
Analysis & Business Development
Growth/Expansion
Chapter 19: The Business Plan FAQ
Ten Essential Questions
Chapter 20: An Essential Plan for Success
Index
---
---
Stay Updated
Want to get the latest updates and special offers from Alfred Music?