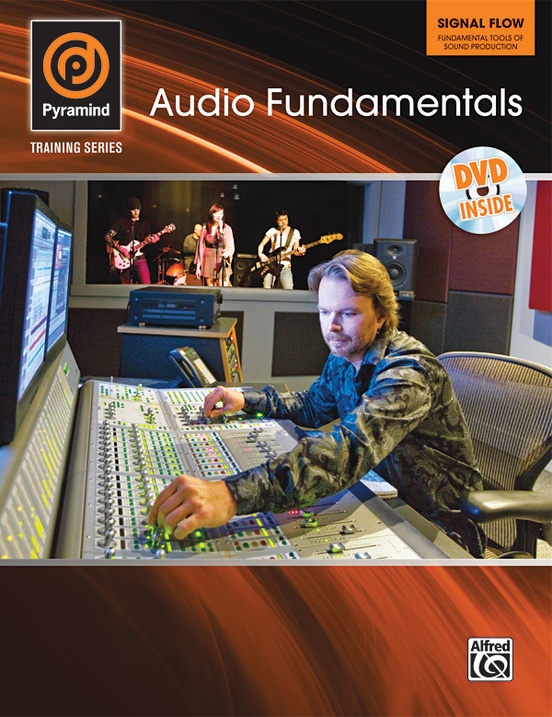 Pyramind Training Series: Audio Fundamentals
Signal Flow---Fundamental Tools of Sound Production
By Matt Donner, Steve Heithecker, and George Peterson
Pro Audio Textbook & DVD
Item: 00-34386
Add to Cart
Add to List
Share
---
Description
The first volume in the Signal Flow group of books from the Pyramind Training series covers the life cycle of sound in today's production studios; choosing the right computer, DAW, and microphones for your needs; getting the right sound from your room on a budget; and the history and practical application of synthesis.

"I can't wait to read the rest of the series. As long as the quality of information keeps in the same realm of the Audio Fundamentals, it's a certainty that this training series will be quite a great investment for whoever wants to succeed in this business."
- Mateus Tebaldi, Music Gear Review
---
Contents
Title
ACKNOWLEDGEMENTS
PREFACE
FREE VERSUS CAPTURED SOUND
WHAT IS SOUND?
Understanding Sound
Frequency: Timbre
Amplitude: Loudness and Volume
Time: Morphology and Rhythm
TIMBRE--SOUND WAVES
The Single Sine Wave, in Detail
Two Sine Waves
Combining Sine Waves to Create Noise
DYNAMICS: THE DECIBEL
Defining the dB
Fletcher-Munson Curves
The Different Types of dB
Operating Levels
Power Rules
The Doubling Rule(s)
The Haas Effect (aka Precedence Effect)
Understanding Audio Headroom
MORPHOLOGY AND TIME
Sound Over Time: The Envelope
The Basics of Time Shift
CAPTURED SOUND
THE LIFE CYCLE OF SOUND IN THE STUDIO
Basic Electronics
MICROPHONES
Microphone Basics
Microphone Types
Dynamic Microphones
Condenser Microphones
Ribbon Microphones
Pressure Zone Microphones
Polar Patterns
Working with Microphones
Experiment 1: Close Miking
Experiment 2: The Mid- and Far-Field Mics: A Modest, Then Significant, Distance
Experiment 3: Trying More Than One Mic at Once
The Color Blend Rule: Red and Yellow Make Orange!
Set Your Phasers to Stun (A Little Phase Never Hurt Anyone)
The Dual-Mono Rule: Two Mics Don't Make It Stereo!
Stereo Microphone Techniques
X-Y Technique
The A-B, or Spaced-Pair Technique
The Blumlein Technique
The Mid-Side (M-S) Mic Technique
COMPUTER-BASED AUDIO
The Computer
Choosing a DAW
The Mac Versus PC Question
The OS Conundrum
The All-in-One Computer
Laptops
Desktop (aka, Tower) Computers
Upgrade Options
RAM
Hard Drives and Storage
Computer Displays
Digital Audio Basics
Sampling Rate
Bit Depth
MIDI AND SYNTHESIS
A Brief History of MIDI
Fundamentals of Synthesis
Oscillators
Filters
Amplifiers and Envelopes
Types of Envelopes
The LFO
DSP
What to Do If You Captured It "Wrong"
Equalization
Filters
Shelf-Type Equalization
Parametric Equalizers
Dynamics Processing
Compression
Limiting
Multiband Compression
Expanders
Noise Gates
Time-Based Effects: Depth
Delay
Reverberation (Reverb)
Specialty Effects
Pitch Correction
Emulation Plug-Ins
STUDIO MONITORS
Monitors: The End of the Life Cycle
Selecting Monitors
Monitor Types
The Crossover
The Translatability Issue
Guidelines for Achieving Translatability
Factors Affecting the Studio Listening Environment
Monitor Placement
Acoustical Considerations
THE FINAL WORD
About the Authors
Index
---
---
Stay Updated
Want to get the latest updates and special offers from Alfred Music?