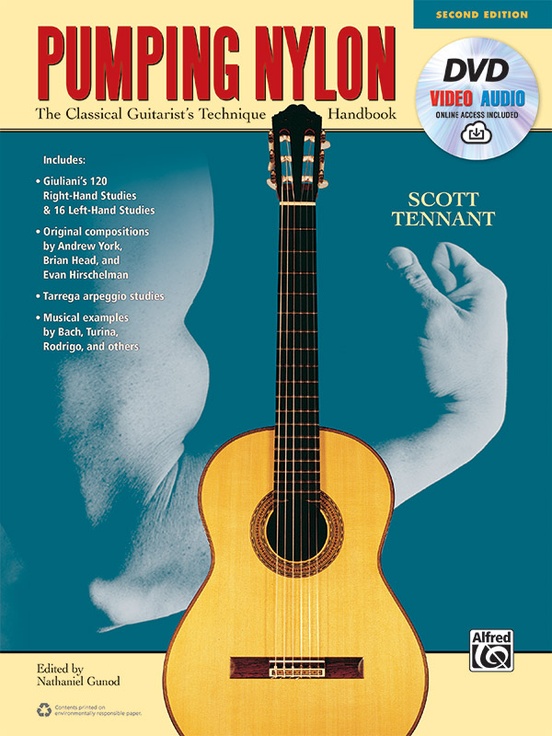 Pumping Nylon (Second Edition)
The Classical Guitarist's Technique Handbook
By Scott Tennant
Guitar Book, DVD & Online Video/Audio
Item: 00-44950
Add to Cart
Add to List
Related Items
| | | |
| --- | --- | --- |
| Pumping Nylon (Second Edition): Guitar Book & Online Audio | $18.99 | View |
Share
---
Description
Second Edition Includes:
* All of the original content
* Three new performance pieces
* Giuliani's Left-Hand Etudes, Op. 1
* New lessons and exercises
* Improved music engravings
* A brand new, high-definition DVD containing lessons and performances of the pieces is also available.

Upon its first publication in 1995, Pumping Nylon became an instant classic and a must-have technique handbook for all classical guitarists, and many players of other styles as well. Scott Tennant's encouraging style, sense of humor, and unique approach to technical training have garnered Pumping Nylon devotees throughout the world. At the heart of it all is the famous "Daily Warm-Up Routine," which includes 11 clever, helpful exercises to get both hands in shape and ready to play while improving your technical skills. The invaluable lessons in technique are supplemented by Giuliani's 120 Right-Hand Studies, Tarrega arpeggio studies, and examples from music by Bach, Turina, and Rodrigo. In addition, original compositions by guitar luminaries Brian Head and Andrew York reinforce the material while also providing concert-worthy repertoire. This new, improved second edition of Pumping Nylon incorporates even more great material with new pieces by Evan Hirschelman, Guiliani's Left Hand Etudes, Op. 1, and new technical exercises in tremolo and balancing chord voicings. The music engravings have been improved for easier reading, and a brand new correlating, high definition DVD has been created and all of the media is available online! If Pumping Nylon is already part of your library, it's time for an upgrade!

Pumping Nylon (Second Edition) is even better than the original. If you're just now finding Scott Tennant's masterpiece, this is a great opportunity to jump on board and start enjoying this classic book. Your practice routine and technical prowess will improve, and you'll have fun as you learn.
---
Contents
Title
Contents
Author's Preface
Editor's Preface
Some Do's and Don't
About the Hands
About the Body
About Holding the Guitar--The Triangle
The Left Hand
Finger Placement and Accuracy
Pressure and Release
Pressure/Release Exercise
Finger Exchange
Ascending Slurs (Hammer-ons)
Descending Slurs (Pull-offs)
Descending Slurs (Pull-offs)
Finger Independence
#1
#2
#3 - Opposing Motion
#4 - Horizontal Character Builders
#5 - Odair's Favorite Drill
#6 - "The Spider"
The Barre
Weight vs Pressure
Being Selective
Summing It All Up
"Quadrivial Quandary" by Andrew York--A Four-Voice Study for the Left Hand
"Fanfare"--A Slur Study by Brian Head
"May the Notes Be with You,"--A Slur Study by Evan Hirschelman
1st Movement
2nd Movement
Giuliani's Left Hand Etudes, Op 1
The Right Hand
Tone Production
Nail Length and Shape
Nail Length
Nail Types
Shaping the Nails
Angle and Placement
Rest Stroke (Apoyando)
Position
The Movement
Planting
Pressure
Release
Free Stroke (Tirando)
Right-Hand Finger Independence
Walking
Variations:
Arpeggios from Tarrega's The Complete Technical Studies
The Thumb
Shaping the Nail
Develop That Thumb!
Balance in Chords
Balancing Act
Flamenco Techniques
What Else Can the Thumb Do?
Soleares Falseta
Alzapua
Alzapua Falseta
Rasgueados
Some Practical Applications
from Turina's "Sevillana"
from Turina's "Ráfaga"
from Rodrigo's "Concerto de Aranjuez, 2nd Movement"
Daily Warm-Up Routine: The Core of Pumping Nylon
Left-Hand Walking--#1, #2, & #3
#1
#2
#3
Ascending Slurs--#4
#4
Descending Slurs--#5
Triplet--#6
Fixed-Finger Exercises--#7 & #8
#5
#6
Fixed-Finger Exercises--#7 & #8
#7
#8
Right-Hand Walking--#9
Two-Finger Rasgueados--#10
#9
#10
Tremolo
Psychological Outlook
Exercises
Exercises 1--3
Exercise 4
Exercises 5--10
Exercise 11
Lopsided Tremolos
"Chant" by Brian Head--A Tremolo Study
Chant Preparation
Chant
Scales: Contol and Velocity
Misconceptions about Speed
Right-Hand Velocity
Synchronization
String Crossing
Piecing Things Together
Some Other Speed Aids
Rhythmic Variations
Speed Bursts
Problem Solving in Scales
Marking String Crossings
Scale Study--Double from the Courante
Evolution of a Scale from "Tiento Antiguo" by Joaquin Rodrigo
Scale Study--Double from the Courante, Partita No1, BWV 1002, Johann Sebastian Bach
Arpeggios
Full Planting and Sequential Planting
Giuliani's 120 Right-Hand Studies
Practicing Tips
"Shapeshifting," An Arpeggio Etude by Evan Hirschelman
"Didactic Doodle" by Andrew York
Afterword
Performance Anxiety
A Simple Deep Breathing Routine
Practice
Inspiration
In Conclusion
Scott Tennant
---
Additional Information
| | |
| --- | --- |
| Series: | Pumping Nylon Series |
| Author: | Scott Tennant |
| Instrument: | Guitar |
| Format: | Book, DVD & Online Video/Audio |
| Page Count: | 144 |
| Item Number: | 00-44950 |
| ISBN 10: | 1-4706-3139-3 |
| ISBN 13: | 978-1-4706-3139-0 |
| UPC: | 038081510460 |
---
Stay Updated
Want to get the latest updates and special offers from Alfred Music?