Alfred Music Expands Sound Innovations Series with Sound Percussion
January 21, 2019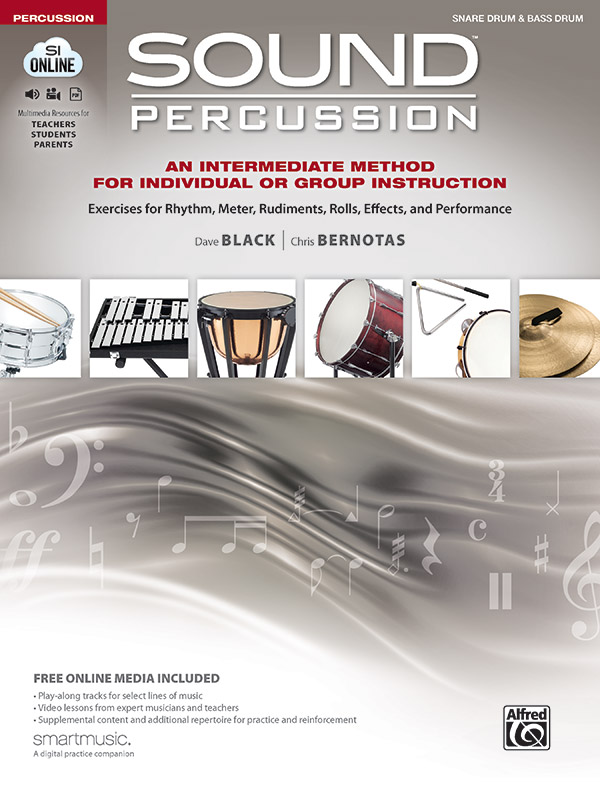 Alfred Music, the leading publisher in music education since 1922, is proud to announce the much-anticipated addition to the Sound Innovations series, Sound Percussion for Individual or Group Instruction. Dave Black, one of the biggest selling percussion authors in the world and composer, clinician, and instrumental music teacher Chris Bernotas, have teamed up to write this complete and comprehensive resource for teaching percussion.
Sound Percussion is comprised of four books: Snare Drum & Bass Drum, Mallet Percussion, Timpani, and Accessory Percussion, all which focus on developing skills of intermediate to advanced percussion students. Each book can be used independently to focus on a particular instrument or in any combination with each other as a full percussion ensemble. With a clear and consistent approach, students will learn the fundamentals necessary to become well-rounded percussionists. Lessons are presented in a fun and interesting way so that all members of the percussion section are engaged. Every student has a meaningful and thoughtful part for every exercise. A Teacher's Score is also available.
Sound Percussion is perfect for the director who is a non-percussion specialist with a clear progression of notes, rhythms, and skills. Sound Advice tips are offered for many pages in the books to support student learning, as well as provide teaching goals. One of the goals the authors had in writing the series was to help instill confidence in teachers and support their delivery of meaningful and appropriate lesson content for percussion students.
The progression of rhythms, skills and note introduction, as well as the pacing of each, has been carefully considered to promote true comprehension and student growth. Skills are introduced with a backward by design approach. Learning goals are first identified, and then exercises are designed with a logical approach with obtainable steps that lead you to achieving that goal. This method is particularly helpful for mallet-note recognition and snare drum rolls. For the mallet instruments, students will be introduced to 2–3 notes at a time using interesting rhythm patterns that will excite them and build their confidence.
Sound Percussion contains six chapters covering everything from setting up the drum to percussion ensemble performance. Depending on the specific educational objective of each lesson and the needs of the students, directors can work through the book(s) progressively or jump from chapter-to-chapter.
Chapters include:
• Sound Rhythm
• Sound Meter
• Sound Rudiments
• Sound Rolls
• Sound Effects
• Sound Performance
Comprehensive videos demonstrate techniques, allowing for better comprehension and fostering at-home practice. Videos include:
• Sound combinations with full percussion ensemble
• Sound Combinations with only mallets and timpani in order to build independence
• Roll demonstrations, including rolls on timpani, cymbals, bass drum, and other accessory percussion instruments
• Four-mallet grip and demonstration
• Sound effects
• 2 full recordings of performance pieces
Additional exercises and worksheets will be available for download on SIOnline.alfred.com to help reinforce note reading and other concepts used in modern percussion music.
Sound Percussion books are available for $14.99 (Teacher's Handbook for $49.99) at music retail stores, online retailers, and www.alfred.com/SoundPercussionPR.
Review copies are available upon request.
Back to Press Room
Stay Updated
Want to get the latest updates and special offers from Alfred Music?