Alfred Music Adds New Levels to "Xtreme" Piano Series
June 22, 2018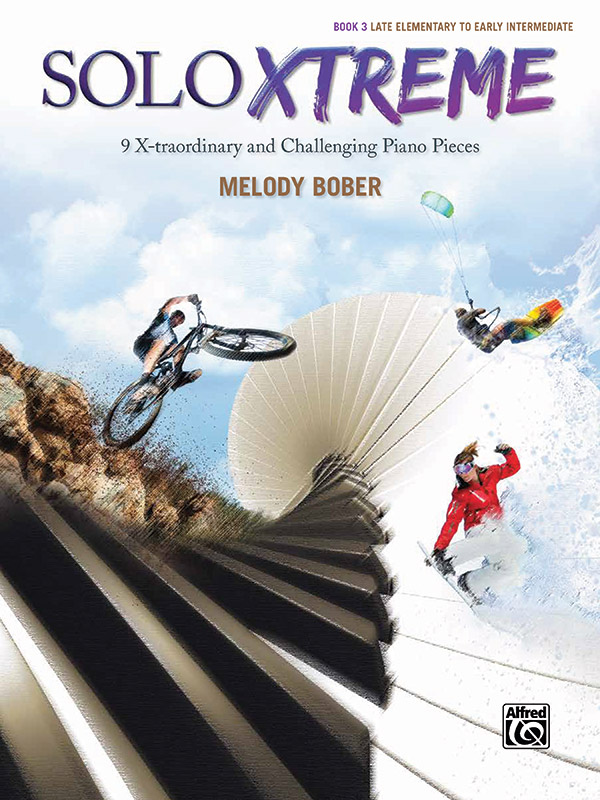 Alfred Music, the leading publisher in music education since 1922, announces the addition of books 4, 5, and 6, to the overwhelmingly popular solo piano series, Solo Xtreme.
The term "xtreme" is often used in sports to indicate feats that go beyond the ordinary. The pieces in the Solo Xtreme series encourage piano students to achieve feats beyond the ordinary. The pieces challenge students to change locations, cross hand-over-hand, use a variety of articulations, play harmonic intervals and accidentals, and use the pedal to create colors and moods. At the same time, they expand technique and musicianship.
Solo Xtreme Books 4–6 round out the series with Early Intermediate to Early Advanced levels, creating a complete series.
Book 4 Titles: Blues Harmony • Gallop Across the Plains • Kilkenny Jig • Lakeside Tranquility • Mountain Grandeur • Nocturne • Ragtime Escapade • Trieste Tarantella.
Book 5 Titles: Bassline Boogie • The Expedition • Intrepid Journey • Legends • Midnight Malagueña • Rags to Riches • Starry Night • Winter Solstice • Wonderland of Snow.
Book 6 Titles: Carnivale! • Island Jazz • Lazy Day • Prelude in E Minor • Scherzo • Soliloquy • Storia d'amore • Tempest.
Also available:
Book 1 Titles: Beach Fun! • Blues Band • Chitchat • Enchanted Forest Waltz • Hot Salsa! • Irish Fiddlin' • Kitesurfing • The Old Typewriter • Pizza to Go.
Book 2 Titles: Bike Trek • Evening Sail • Goosebump Boogie • Holiday Bells • La Celebración • Night Whispers • Stealth Mode • Steps to a Mystery • Taco Time!
Book 3 Titles: Festival Rag • Gentle Rain • Moonlight Skate • Ride Like the Wind • Roaming River • Rollerblade Race • Saturday Stomp • Sonoran Sunset • Twilight Echoes.
Solo Xtreme, Books 1–6 are available for $7.99 each at music retail stores, online retailers, and alfred.com/SoloXtreme.
Review copies are available upon request.
Back to Press Room
Stay Updated
Want to get the latest updates and special offers from Alfred Music?