Alfred Music Announces New Piano Collections: Movie Ballads, Timeless Popular Classics, and A to Z Praise and Worship Hits
January 19, 2018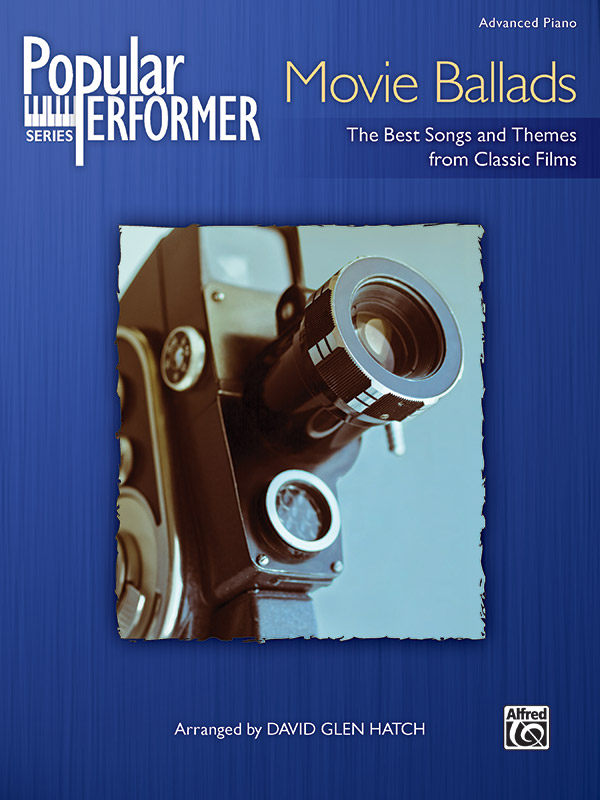 Alfred Music, the leader in educational print music publishing since 1922, is pleased to announce the release of three new piano collections: Popular Performer: Movie Ballads, Timeless Popular Classics, and A to Z Praise and Worship Hits.
Movie Ballads arrangements are full of rich textures, sophisticated harmonies, and inventive rhythms, which makes these arrangements ideal for hobbyists, advancing students, or professional musicians.
Movie Ballads titles include: Beauty and the Beast (from Walt Disney's Beauty and the Beast • Evergreen (from A Star Is Born) • Minor Piano Variation (from Finding Neverland) • Over the Rainbow (from The Wizard of Oz) • People (from Funny Girl) • Theme from Ice Castles (Through the Eyes of Love) • When You Wish Upon a Star (from Pinocchio) • The Wind Beneath My Wings (from Beaches).
Timeless Popular Classics is arranged by Dan Coates and includes 40 piano arrangements of the most-requested favorites to be used as supplementary pieces for late elementary / early intermediate students. These favorite songs are instantly familiar and motivating to learn. This collection is available in two editions: easy piano and big note piano.
Timeless Popular Classics titles include: As Time Goes By • At Last • Beauty and the Beast • Blue Moon • Bridge over Troubled Water • But Not for Me • Can You Feel the Love Tonight • Colors of the Wind • Don't Stop Believin' • A Dream Is a Wish Your Heart Makes • Embraceable You • The Greatest Love of All • How Do I Live • I Could Have Danced All Night • I Got Rhythm • If Ever I Would Leave You • If I Only Had a Brain • The Imperial March • In Dreams • Killing Me Softly • Let It Go • Misty • My Funny Valentine • The Notebook • Open Arms • Over the Rainbow • People • The Pink Panther • The Prayer • Singin' in the Rain • Someone to Watch Over Me • Stairway to Heaven • Star Wars® (Main Theme) • They Can't Take That Away from Me • Tomorrow • Try to Remember • Un-break My Heart • A Whole New World • The Wind Beneath My Wings • You Raise Me Up.
A to Z Praise and Worship Hits features 40 piano arrangements of contemporary Christian favorites. The professional-sounding arrangements by prolific Christian-music arranger Carol Tornquist are perfect for worship services as piano solos, with effective re-harmonizations and clever treatments of rhythms. Helpful fingerings are included, and approximate performance times are provided to help with planning. This collection is available as an easy piano edition and as an early advanced edition.
A to Z Praise and Worship Hits titles include: Amazing Grace (My Chains Are Gone) • Amazing Love (My Lord, What Love Is This) • Be the Centre • Beautiful Things • Cornerstone • Days of Elijah • Everlasting God • Forever • Forever Reign • Glorious Day (Living He Loved Me) • God of Wonders • Hallelujah (Your Love Is Amazing) • Holy Is the Lord • Holy Spirit, Rain Down • How Great Is Our God • How He Loves • I Can Only Imagine • I Could Sing of Your Love Forever • I Lift My Eyes Up • In Christ Alone (My Hope Is Found) • Indescribable • Jesus, Draw Me Ever Nearer • King of Heaven • Let It Rise • Lord, Reign in Me • Mighty to Save • No Other Name • Oceans (Where Feet May Fail) • One Thing Remains (Your Love Never Fails) • Open the Eyes of My Heart • Our God • The Power of the Cross (Oh, to See the Dawn) • Revelation Song • There Is a Redeemer • There Is None Like You • This Is Amazing Grace • Untitled Hymn (Come to Jesus) • Victor's Crown • We Believe • Your Grace Is Enough.
Movie Ballads is available for $12.99, Timeless Popular Classics is available for $17.99, and A to Z Praise and Worship Hits is available for $19.99. All books can be found at music retail stores, online retailers, and at alfred.com.
Review copies are available upon request.
Back to Press Room
Stay Updated
Want to get the latest updates and special offers from Alfred Music?