Alfred Music Releases Fun New Songbooks and Musicals for the Elementary Classroom
June 22, 2018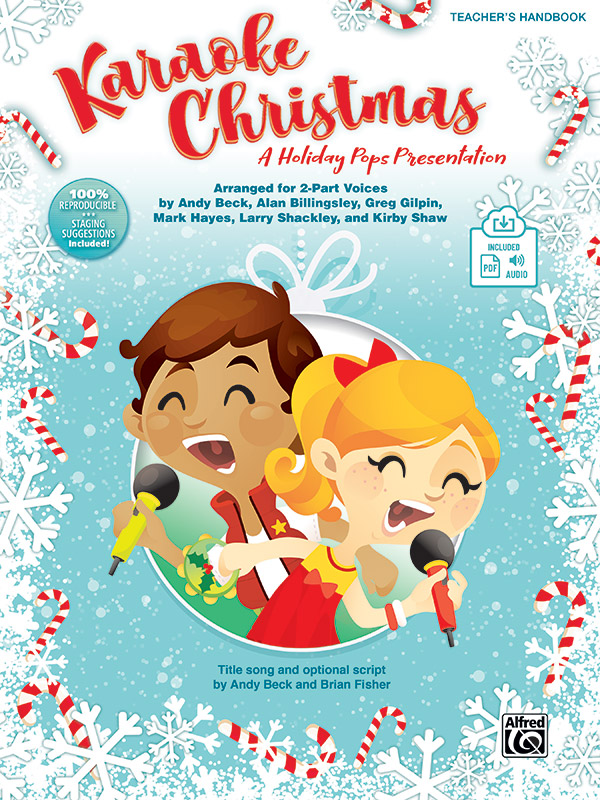 Alfred Music, the world leader in educational print music publishing since 1922, announces the release of four new songbooks and musicals designed for the classroom— Karaoke Christmas, Bada Bing, It's Spring!, Pop Kidz, and Ants in My Pants. Each is a sensational performance resource that teachers, students, and audiences will love!
Karaoke Christmas is an amazing list of holiday pops presented in kickin' arrangements, spot-on for young singers! This is a ready-to-go program for choral concerts, a collection of cool Christmas songs to choose from year after year, or a fun-filled musical when you incorporate the optional script (including roles for a popular principal, a dynamic party DJ, and a flexible number of students with spoken lines). Complete choreography (printed throughout the score) makes staging your show a cinch, and top-notch accompaniment tracks (on the enhanced CD) add a professional touch. Full-color cover art and student PDFs are also included on the CD. Recommended for grades 3—8 and 100% reproducible!
Bada Bing, It's Spring! is a charming, easy-to-stage musical designed specifically for grades K--4. The unison songs, brief rhyming script, creative costume ideas, and simple staging suggestions will make your primary production a snap. Reproducible student pages, full performance and accompaniment recordings, plus full-color cover art are included on the enhanced CD.
Kids love to sing popular music, but finding appropriate choices can be challenging. Until now! Pop Kidz is a stellar songbook that features familiar pop tunes selected especially for their uplifting lyrics and empowering themes. The targeted arrangements are just right for young singers, offering no fuss vocal ranges, hip musical hooks, and a few easy-to-sing optional harmonies. Parents, siblings, administrators, and even hard-to-motivate students will enthusiastically engage with this hit parade of contemporary chart toppers! Reproducible singer pages, full-color cover art, plus full performance and accompaniment tracks are included on the enhanced CD. Recommended for grades 3 and up.
Ants in My Pants is a creative, kinesthetic baker's dozen of unison animal songs designed for primary-aged singers. Each of the whimsical, kid-inspired tunes tips the hat to a favorite creature and their inherent actions. Helpful movement suggestions offer specific staging ideas, as well as clever classroom activities to encourage participation. Perfect for in-class exploration and on-stage entertainment. Recommended for grades Pre-K–3. Enhanced CD includes full performance and accompaniment recordings, plus reproducible student pages.
Karaoke Christmas, Bada Bing, It's Spring!, Pop Kidz, and Ants in My Pants are all available for $69.99 each at music retail stores, online retailers, and alfred.com.
Review copies are available upon request.
Back to Press Room
Stay Updated
Want to get the latest updates and special offers from Alfred Music?