Inspire Musicality and Creativity through Art with Alfred Music's Museum Masterpieces
January 13, 2020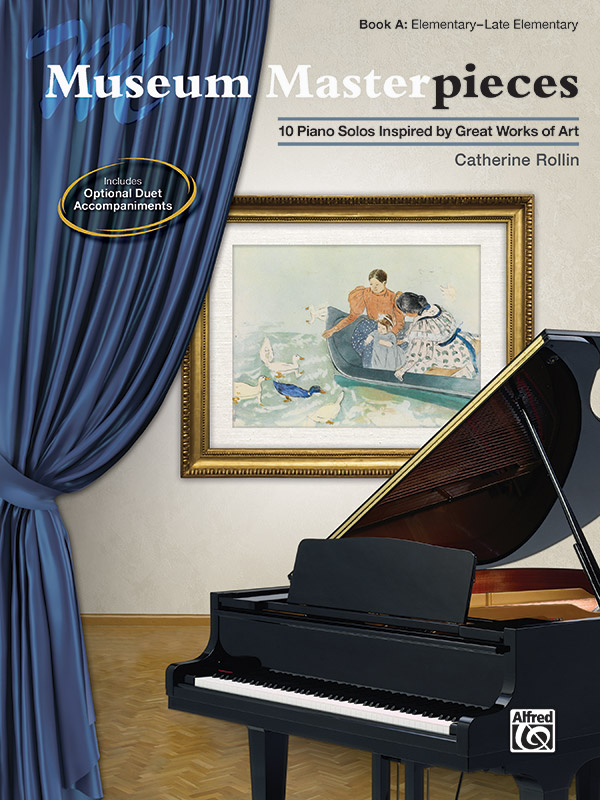 Alfred Music, the leading publisher in music education since 1922, is pleased to announce that two new prequel volumes, Books A and B, have been added to Catherine Rollin's uniquely beautiful and best-selling series, Museum Masterpieces.
In Museum Masterpieces, composer Catherine Rollin has created musical expressions of some of the great works of art found in museums throughout the world. The paintings that inspired these pieces are beautifully displayed on a four-page color insert at the center of the book, along with historical notes about each painting.
Museum Masterpieces Book A Titles: At Sea (Albert Edelfelt) • Feeding the Ducks (Mary Cassatt) • A Maratha Hunting Party (Edwin Lord Weeks) • Mountain Stream in Summer (Suzuki Kiitsu) • Napoleon Crossing the Alps (Jacques-Louis David) • The Oregon Trail (Albert Bierstadt) • Portrait of Adele Bloch-Bauer I (Gustav Klimt) • Rain (Vincent van Gogh) • The Swing (Jean-Honoré Fragonard) • Tiger in a Tropical Storm (Henri Rousseau).
Museum Masterpieces Book B Titles: Alexander Pushkin at the Seashore (Leonid Osipovich Pasternak) • Asbury Park South (Florine Stettheimer) • Butterflies (Odilon Redon) • The Cellist (Amedeo Modigliani) • Fishermen at Sea (Joseph Mallord William Turner) • Little Blue Horse (Franz Marc) • Poet on a Mountaintop (Shen Zhou) • Rush Hour, New York (Max Weber) • View of Le Crotoy from Upstream (Georges Seurat) • Wheatfield with Crows (Vincent van Gogh).
Museum Masterpieces, Books A–B are available for $7.99 each at music retail stores, online retailers, and alfred.com.
Review copies are available upon request.
Back to Press Room
Stay Updated
Want to get the latest updates and special offers from Alfred Music?