Develop Musical Awareness with Lyrical Landscapes, a New Piano Series from Alfred Music
January 19, 2018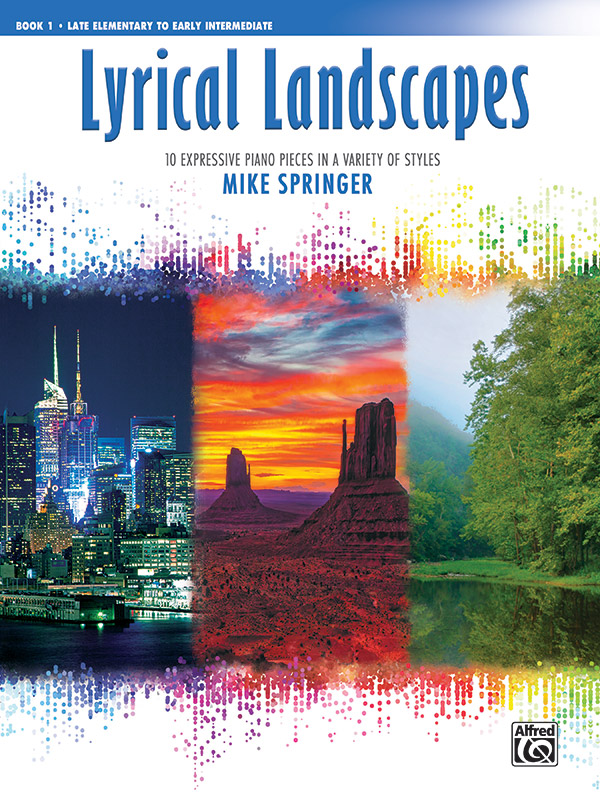 Alfred Music, the leading publisher in music education since 1922, announces a new series of books, Lyrical Landscapes, Books 1–3, a collection of expressive pieces in a variety of styles and tempos. Written by Mike Springer, this series provides late elementary to early intermediate students the chance to develop skills in projecting lyrical, melodic lines. From slow ballads to upbeat tempos, these pieces allow pianists to deepen their musical awareness through the use of technical control, rubato, and subtle tempo changes.
Book 1 consists of 10 expressive piano pieces in a variety of styles for the late elementary / early intermediate student. Titles: Canyon Shadows • Clear Mountain Sky • Colors at Dawn • Floating on the Pond • Fond Memories • Gentle Rain • Guarding the Castle Gates • Il tenero fiore (The Tender Flower) • Quiet Moments • Sea Fog.
Book 2 features 11 early intermediate / intermediate pieces. Titles: Campfire by the Lake • Fond Farewell • French Café • Jardin de Provence (Garden of Provence) • Medieval Castle • Mockingbirds • Morning Meditation • Mountain Breeze • Royal Procession • Spring Blossoms • Starlight Reverie.
Book 3 includes 9 pieces for the intermediate / late intermediate student. Titles: Ballad for Our Time • Cyclone • Mistral Waltz • Necromancer • Raging Sea • Serenity • Shooting Stars • Sparkling Stream • Sunrise.
Lyrical Landscapes, Books 1–3 are each available for $7.99 at music retail stores, online retailers, and alfred.com.
Review copies are available upon request.
Back to Press Room
Stay Updated
Want to get the latest updates and special offers from Alfred Music?