Support Diction Efforts in Choral Classrooms and Vocal Studios with IPA Made Easy Posters
June 22, 2018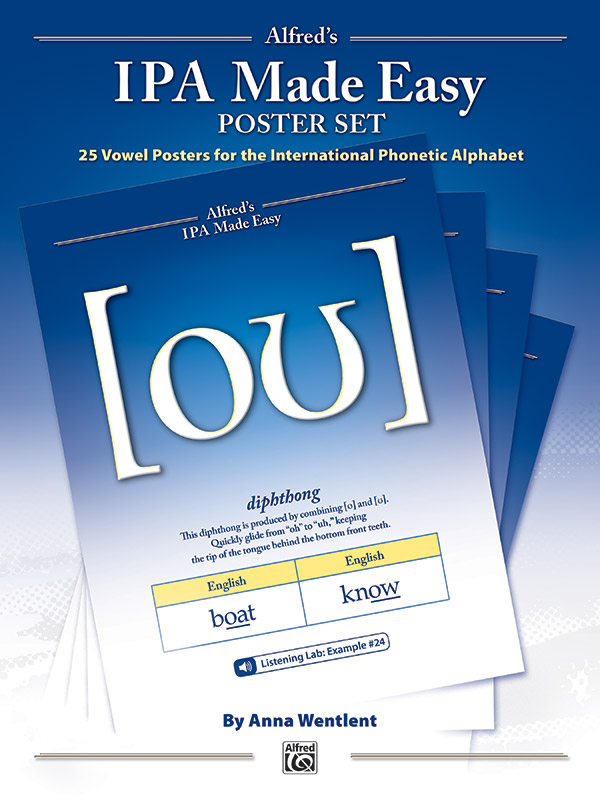 Alfred Music, the leading publisher in music education since 1922, announces the release of Alfred's IPA Made Easy Poster Set, a set of 25 vowel posters for the International Phonetic Alphabet.
A follow-up to the best-selling guidebook, Alfred's IPA Made Easy, this set of full-color 9" x 12" cardstock posters provides a practical tool and support in the classroom for teaching the International Phonetic Alphabet and uniform vowel formation. Each poster displays one of the primary vowel sounds, including its IPA symbol, pronunciation, and example words in English, Latin, Italian, German, French, or Spanish. Plus, an online resource at alfred.com/ipamadeeasy offers recorded demonstrations of every sound.
Alfred's IPA Made Easy Poster Set is available for $29.99 at music retail stores, online retailers, and alfred.com/IPAPosters.
Review copies are available upon request.
Back to Press Room
Stay Updated
Want to get the latest updates and special offers from Alfred Music?