Alfred Music Releases The Drummer's Lifeline by Renowned Percussionists, Peter Erskine and Dave Black
January 19, 2018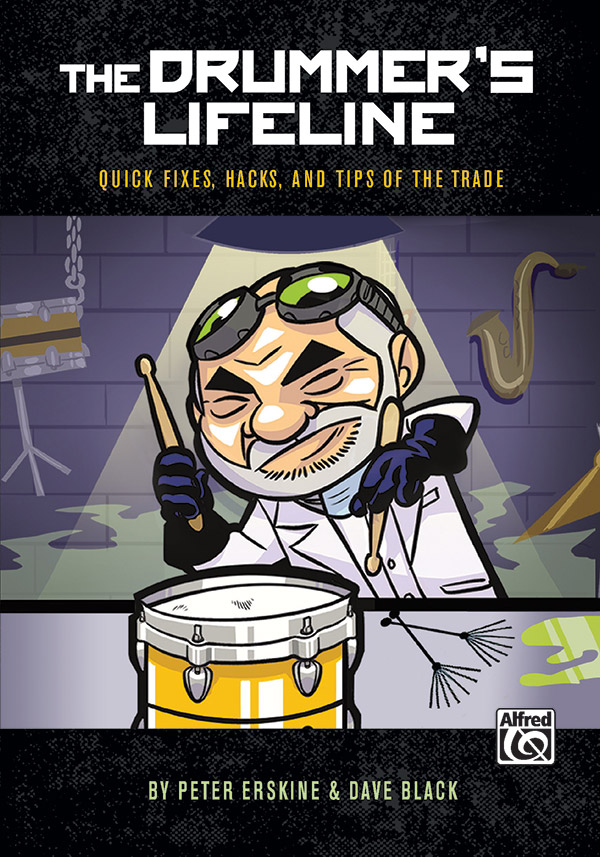 Alfred Music, the leading publisher in music education since 1922, announces the release of The Drummer's Lifeline: Quick Fixes, Hacks, and Tips of the Trade.
Written by renowned authors, Peter Erskine and Dave Black, The Drummer's Lifeline offers practical, yet "off-beat" solutions to just about any drumming situation someone will most likely encounter, whether you're a working pro, a student, or a weekend warrior who simply plays the drums for the fun of it. Whatever your musical preference or style, and whatever your level of drumming experience or expertise, the authors promise you'll find answers to questions you've asked yourself before, or answers to questions you didn't even know existed.
Topics include:
Over 80 practice, performance, recording, gear, and industry tips
Tricks to achieve the desired sounds from your drums
Care and maintenance solutions
Music business advice, such as fee negotiation and self-promotion
Instructions on choosing, changing, and tuning drumheads
Warm-up exercises and musical examples
A glossary of words you should know
Peter Erskine is known for his love of working in different musical contexts. He has recorded 600 albums, including several on his own Fuzzy Music label. His playing and recording credits include the big bands of Stan Kenton, Maynard Ferguson, and Bob Mintzer; groups such as Weather Report, Steps Ahead, Steely Dan, and the Yellowjackets; vocalists Diana Krall, Joni Mitchell, Kurt Elling, and Kate Bush; and jazz artists such as Chick Corea, Freddie Hubbard, Joe Henderson, Kenny Wheeler, and more.
Mr. Erskine conducts clinics, classes, and seminars worldwide, and teaches at the University of Southern California in Los Angeles and the Royal Academy of Music in London. He was awarded an honorary Doctor of Music degree from the Berklee School of Music, has been the recipient of a Drum! Magazine Drummies! Award, the winner of Modern Drummer Magazine's Readers' Poll in the Mainstream Jazz Drummer category numerous times, and has won a GRAMMY Award®.
A prolific composer and arranger, percussionist Dave Black received his Bachelor of Music in percussion performance from California State University, Northridge. He has traveled around the world, performing and recording with a wide variety of well-known entertainers and shows, and has had more than 60 of his compositions and arrangements published by most of the major music publishers. As one of the biggest selling percussion authors in the world, Mr. Black is the author or co-author of several bestselling books published by Alfred Music Publishing Company. He has been the recipient of numerous awards and commissions, including 26 consecutive ASCAP Popular Composer Awards, two GRAMMY Award® participation/nomination certificates, the Percussive Arts Society President's Industry Award, a Modern Drummer Readers Poll award (educational book), two Drum! Magazine Drummies! awards (educational books), and a certified Gold Record award for the sale of more than 500,000 copies of Alfred's Drum Method, Book 1.
The Drummer's Lifeline is available for $12.99 at music retail stores, online retailers, and alfred.com.
Review copies are available upon request.
Back to Press Room
Stay Updated
Want to get the latest updates and special offers from Alfred Music?