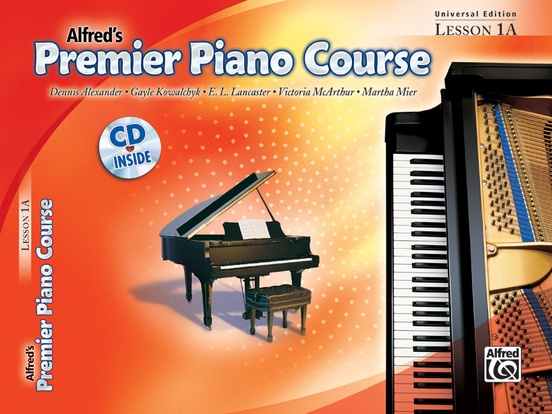 Premier Piano Course, Universal Edition Lesson 1A
By Dennis Alexander, Gayle Kowalchyk, E. L. Lancaster, Victoria McArthur, and Martha Mier
Piano Book & CD
Level: 1A
Item: 00-23860
Add to Cart
Add to List
Share
---
Description
Beautifully presented and intelligently paced, the Lesson Book combines unusually attractive music and lyrics. The book features note reading, rhythm reading, sight-reading and technical workouts. Each piece on the CD was recorded at a performance tempo and a slower practice tempo. The Universal Edition is designed for all English-speaking countries outside of the United States, including Canada, the U. K., and Australia. This edition uses the British system of terminology for rhythmic values such as "crotchet" for quarter note. This book is supported by a Theory Book 1A (Universal Edition) Alfred Item #23869.

To access the TNT recordings, visit: alfred.com/ppcdownloads.
---
Contents
Title
A Note to Teachers
A Note to Students (and Parents)
How to Sit at the Piano
The Secret to a Good Hand Position
Notes
Crotchet
The Keyboard: Two Black Keys
Rests
Crotchet Rest
The Keyboard: Three Black Keys
Bar Lines and Bars
Minim
Dynamic Signs (f and p)
Semibreve
Time Signature (4/4)
Sustain Pedal
The Music Alphabet
Keyboard Anchor: D
Dynamic Sign (mf)
Keyboard Anchors: G and A
Semibreve Rest
Step
New Time Signature (3/4)
Dotted Minim
The Stave
Bass Clef Treble Clef
Reading Middle C
The Grand Staff
Minim Rest
Bass F
Tempo
Semibreve Rest in 3/4
Treble G
Landmark Notes
New Note G (Bass)
New Note E (Bass)
New Landmark Note: Bass C
New Note D (Bass)
Stepping Up from Bass C
New Notes D and E (Treble)
New Note F (Treble)
Stepping Up from Middle C
New Notes B and A (Bass)
Stepping Down from Middle C
Skip
Skip Up from Middle C
Skip Up from D (Treble)
Skip Down from B (Bass)
---
---
Stay Updated
Want to get the latest updates and special offers from Alfred Music?