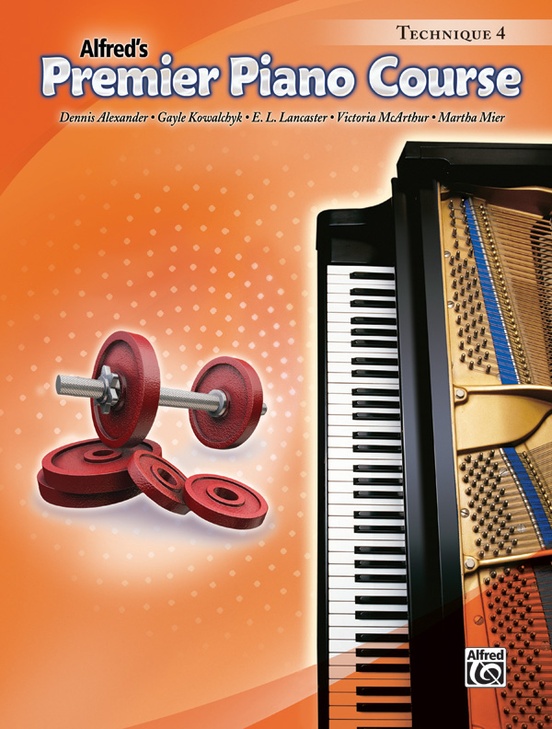 Premier Piano Course, Technique 4
By Dennis Alexander, Gayle Kowalchyk, E. L. Lancaster, Victoria McArthur, and Martha Mier
Piano Book
Level: 4
Item: 00-34106
Add to Cart
Add to List
Available Digitally
Related Items
| | | | |
| --- | --- | --- | --- |
| Midnight Adventure: Piano | | $3.99 | View |
Share
---
Description
Technique 4 continues and expands on the technical and artistic tools learned in Technique books 1A - 3. The five new Technique Tools introduced are: staccato against legato, playing in and out of black keys, speed links, open the hand, and rock the Alberti bass. Artistic Etudes showcase a student's technique in an expressive musical setting, and Hands-Together Workshops focus on developing the skills necessary for coordinating hands-together playing. Masterwork Etudes provide training to play standard masterworks. Each page in the Technique Book correlates with a specific page in the Lesson Book.
---
Contents
Title
Technical Goals for Level 4
Technique Tools Review
Artistic Etude 1 (Review—Playing Chromatic Passages Quickly and with Ease)
Hands-Together Workshop 1
The Primary Chords in A Minor
Technique Tool 1 (Staccato against Legato)
Playing Major and Minor Triads
Technique Tool 2 (Playing In and Out of the Black Keys)
Technique Tool 3 (Speed Links)
Technique Tool 4 (Open the Hand)
Masterwork Etude 1
Artistic Etude 2 (Changing Tone by Weight Transfer)
Technique Tool 5 (Rock the Alberti Bass)
Alberti Bass and Primary Chords
Hands-Together Workshop 2
The Primary Chords in E Minor
Mastering the Alberti Bass
Technique Tools Review
1st Inversion Triads
2nd Inversion Triads
Masterwork Etude 2
Artistic Etude 3 (Rhythmic Freedom)
Hands-Together Workshop 3
Masterwork Etude 3
Artistic Etude 4 (Choosing the Heart Note)
Hands-Together Workshop 4
Hanon in Sixteenth Notes
Masterwork Etude 4
Hands-Together Workshop 5
Artistic Etude 5 (Expressive Jazz)
Technique Tools Review
---
---
Stay Updated
Want to get the latest updates and special offers from Alfred Music?